This recipe has been featured in a post on The Recipe Girl blog: Caramel Pecan Brownies.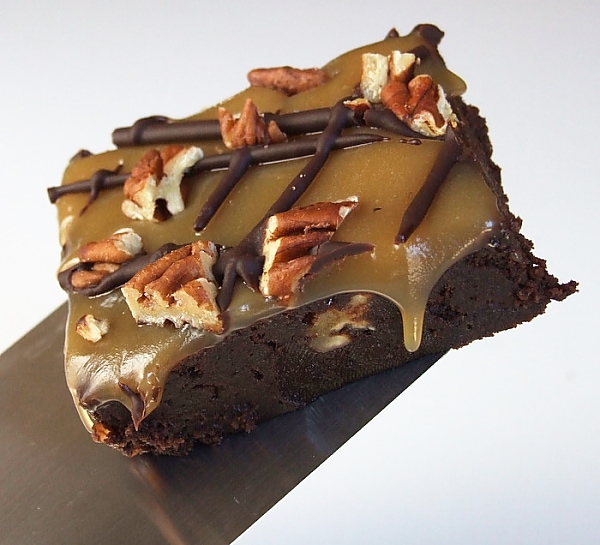 Yield: 36 brownies
Prep Time: 40 min
Cook Time: 30 min
Caramel- Pecan Brownies
One word... Amazing. Okay, three words: Rich and delicious too! These brownies were a huge hit with our friends.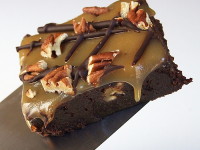 Ingredients:
FOR THE BROWNIES:
3/4 cup unsalted buttercut into small pieces
4 ounces unsweetened chocolate, chopped
4 large eggs
1 3/4 cups granulated white sugar
1 1/2 teaspoons vanilla extract
1/4 teaspoon salt
3/4 cup all-purpose flour
1/4 cup unsweetened cocoa powder
1 1/2 cups pecans, chopped
FOR THE TOPPING:
1 cup granulated white sugar
1/4 teaspoon lemon juice, freshly squeezed
1/4 cup water, chilled
1/2 cup heavy whipping cream
3 Tablespoons unsalted butter, cut into chunks
1 teaspoon vanilla extract
1/4 teaspoon salt
GARNISH:
2 ounces bittersweet chocolate, chopped
1 Tablespoon heavy whipping cream
1/2 cup pecans, toasted & chopped
Directions:
1. Make the brownies:
Position a rack in the center of the oven and preheat oven to 350°F. Spray bottom and sides of a 9x13-inch baking pan with nonstick spray.
2. Put butter and chocolate in a medium saucepan over low heat and stir constantly until melted and smooth. Remove from heat and set aside.
3. In a medium bowl, whisk eggs until well blended. Gradually whisk in sugar and then whisk vigorously until well blended. Whisk in melted chocolate mixture, vanilla extract, and salt. Whisk in flour and cocoa powder until blended. Stir in pecans and then scrape batter into prepared pan, smoothing it into an even layer with a spatula.
4. Bake until a toothpick inserted in center of the brownies comes out with a few moist crumbs attached, 20 to 22 minutes. Transfer the pan to a wire rack and, if necessary, gently press down any puffed areas with a spatula to make the top level. Let cool about 5 minutes.
5. Make the topping:
While the brownies are baking, make the caramel. Fill a cup measure halfway with water and put a pastry brush in it; this will be used for washing down the sides of the pan to prevent crystallization. In a heavy duty 2-quart saucepan, stir the sugar, lemon juice, and 1/4 cup cold water. Brush down the sides of the pan with water to wash away any sugar crystals. Bring to a boil over medium-high heat and cook, occasionally brushing down the sides of the pan, until the mixture starts to color around the edges, 5 to 8 minutes. Gently swirl the pan once to even out the color and prevent the sugar from burning in isolated spots. Continue to cook until the sugar turns medium amber, about 30 seconds more. (Once the mixture begins to color, it will darken very quickly, so keep an eye on it!)
6. Remove the pan from heat and carefully add the cream- the mixture will bubble up furiously. Once the bubbling has subsided, add the butter and gently whisk until completely melted. Whisk in the vanilla extract and salt.
7. Pour the caramel topping over the brownies (it won't be thick). Roll the pan around (or use a spatula) to spread the caramel evenly over the entire top. Let the brownies cool on the rack for 45 minutes and then refrigerate until the caramel topping has set (at least an hour and longer, if possible). The caramel will most likely sink into the brownies quite a bit, leaving a thin layer on top of the brownies.
8. Garnish the brownies:
Combine the chocolate and heavy cream in a small saucepan over low heat and stir constantly until melted and smooth. Pour chocolate into a small piping bag fitted with a 1/8-inch plain tip. (Or put in a small zip-top bag and seal the bag. Using scissors, snip off a corner of the bag to make a small hole.) Drizzle the chocolate over the brownies in a zigzag pattern. Sprinkle the chopped pecans over the top. Refrigerate until the chocolate is set, about 30 minutes.
9. Cut the brownies into 36 rectangles. Serve chilled or at room temperature. (Well- covered brownies will keep at room temperature for up to 2 days and in the refrigerator for up to 5 days). If your kitchen is warm, it's best to keep them chilled.
Tips:
*You are certainly welcome to make this recipe easier by using store-bought caramel. Eliminate steps 5 & 6 and continue with step 7. Use enough caramel to cover the top of the brownies (probably about 1 cup or so will do).
*These brownies are decadent and rich. A small piece is sufficient as a serving size.
*They can also be a little messy with caramel dripping slightly off of the sides. We displayed each brownie on a small square of parchment paper and then placed it onto the platter. Then it was able to become a hand-held dessert without being so messy for the person holding it.
Leave a Comment