Dulce de Leche Apple Bars with Browned Butter Icing
This recipe has been featured in a post on The Recipe Girl blog: Dulce de Leche Apple Bars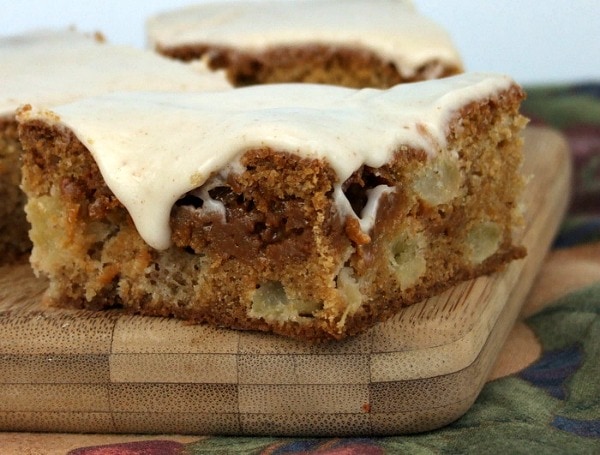 Yield: 16 bars
Prep Time: 35 min
Cook Time: 25 min
Dulce de Leche Apple Bars w/ Browned Butter Icing
There are so many good flavors in this bar that I just don't know where to begin! The dulce de leche is WONDERFUL as a surprise inside, and the browned butter icing tops it all off nicely.
Ingredients:
BARS:
1 1/2 cups all-purpose flour
3/4 teaspoon baking powder
3/4 teaspoon baking soda
3/4 teaspoon ground cinnamon
1/2 teaspoon salt
1/2 cup salted butter (1 stick), softened
1 cup packed light brown sugar
2 large eggs
1 teaspoon vanilla extract
1 1/2 cups chopped, peeled apples (See *Tips below)
½ cup dulce de leche
ICING:
2 Tablespoons salted butter
1 1/2 cups powdered sugar
1/4 teaspoon vanilla extract
1 1/2 to 2 Tablespoons half and half cream
Directions:
1. Preheat oven to 350°F. Grease and flour a 9x9-inch square baking pan.
2. In a medium bowl, whisk together flour, baking powder, baking soda, cinnamon and salt. Set aside.
3. In a large mixing bowl, use an electric mixer to beat butter, sugar, eggs and vanilla until fluffy.
4. Stir flour mixture into the wet mixture, just until combined. Carefully stir in apples.
5. Spoon 2/3 of the batter into the prepared pan. Drop dulce de leche by heaping Tablespoons over batter. Drag a butter knife through dulce de leche to swirl through the batter. Drop remaining batter over dulce de leche.
6. Bake 25 to 30 minutes, or until browned and firm to touch. Let cool completely.
7. Prepare icing: In a small saucepan, heat butter over medium until it begins to brown. Remove from heat. Add to a bowl with powdered sugar, vanilla and half/half. Beat on high speed with electric mixer until creamy. Drizzle and spread over bars, and chill until icing is set.
8. For cleanest cuts, chill completely and slice into the bars with a sharp, thin knife. Keep refrigerated until ready to serve.
Tips:
*You can make your own dulce de leche or purchase it already made. We can usually find it in a can in the Latin section of our local grocery store. The stuff in the can is pretty darn good. You just might want to heat it up for 20 seconds in the microwave before scooping it onto the bars.
*Suggested apple varieties for this recipe: Braeburn, Cox's Orange Pippin, Granny Smith, Jonathon, Golden Russet
Source: RecipeGirl.com (via "claire797" CLBB)
4 Responses to "Dulce de Leche Apple Bars with Browned Butter Icing"
Leave a Comment