This recipe has been featured in a post on The Recipe Girl blog: Eyeball Soup with Bugs… Anyone?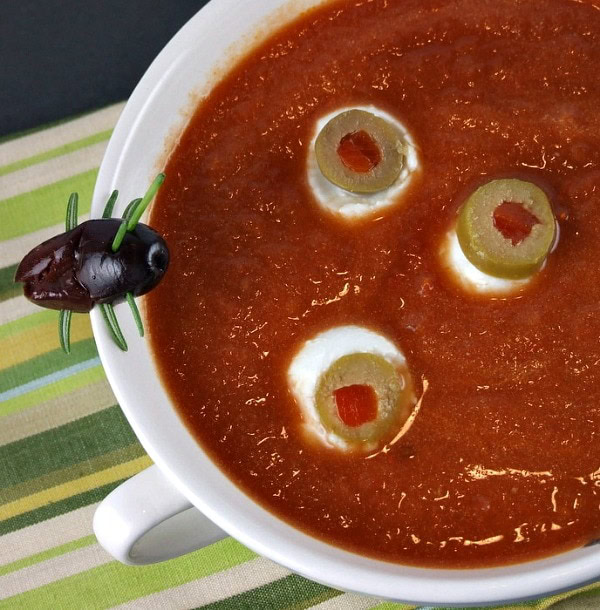 Yield: 6 servings
Prep Time: 45 min
Cook Time: 55 min
Eyeball Soup with Bugs
This is a fun recipe to make for dinner during the week of Halloween. Your family will be baffled when you tell them that you're serving Eyeball Soup for dinner! It happens to be a delicious tomato soup too.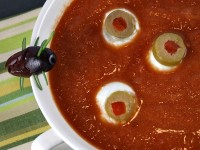 Ingredients:
SOUP:
2 Tablespoons unsalted butter
1 medium onion, finely chopped
3 cloves garlic, minced
1/2 cup dry white wine
Two 28-ounce cans crushed tomatoes
1 quart chicken broth
3 sprigs oregano
1/2 cup half and half cream
coarse salt and freshly ground black pepper
BUGS:
6 pitted black kalamata olives
2 sprigs fresh rosemary
4 fresh chives, cut into 1-inch pieces
1 pound (about 30) bocconcini (bite-sized fresh mozzarella balls)
1 jar small pimiento-stuffed olives
Directions:
1. Prepare soup: Melt butter in a large saucepan over medium-low heat. Add onion and garlic, and cook until onion is translucent, about 6 minutes.
2. Add wine, and cook until most liquid has evaporated, about 1 minute. Add tomatoes, stock and oregano, and bring to a boil. Reduce heat, and simmer gently until thickened, about 45 minutes.
3. Using a slotted spoon, remove herbs. Purée soup in small batches until smooth. Return to pan, and slowly pour in half-and-half, stirring constantly. Season with salt and pepper.
4. Make the bugs: Use a toothpick to pierce each Kalamata olive 3 times (all the way through to the other side). Insert a rosemary leaf into each hole to make six legs. Insert two pieces of chive into the small hole at the end of the olive to make antennae.
5. Make the eyeballs: Using a small melon baller, scoop out a hole from each mozzarella ball. Halve each pimiento-stuffed olive crosswise. Place a half, cut-side-out, in the hole in each mozzarella ball to make eyeballs.
6. Ladle hot soup into shallow bowls. Float 4 or 5 eyeballs in soup, and place a bug on the rim of each bowl.
Tips:
*Both kalamata olives and the fresh mozzarella balls can be found at Trader Joe's or other specialty markets.
One Response to "Eyeball Soup with Bugs"
Leave a Comment