Roasted Cauliflower with Tomato and Green Olives
Love all of the flavors going on in this dish:  Roasted Cauliflower with Tomato and Green Olives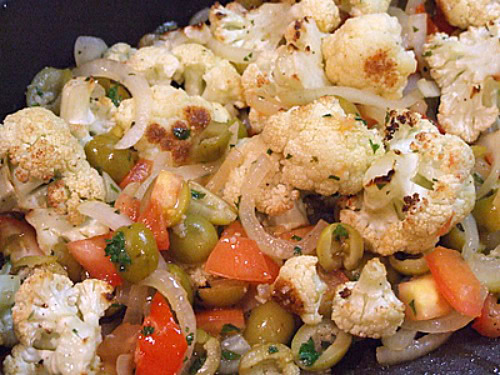 Yield: 4 servings
Prep Time: 20 min
Cook Time: 25 min
Roasted Cauliflower with Tomato and Green Olives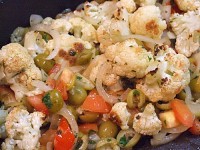 Ingredients:
1 head cauliflower, stem trimmed, cut into 2-inch florets
1/4 cup olive oil, divided
kosher salt
freshly ground black pepper
2 cups quartered and thinly sliced onion
1 teaspoon chopped garlic
1 teaspoon coarsely chopped fresh oregano
1/2 cup pitted and sliced green olives
1 cup seeded and diced tomatoes
1 tablespoon chopped fresh parsley
Directions:
1. Preheat oven to 450°F.
2. Toss cauliflower in a bowl with 2 tablespoons of olive oil, 1/2 teaspoon salt, and 1/8 teaspoon black pepper. Spread out in a single layer on a cookie sheet and roast until the cauliflower is just tender and lightly browned, about 20 minutes.
3. Meanwhile, heat remaining 2 tablespoons oil in large skillet over medium-high heat. Add the onion and cook until it is lightly browned but still has crunch, about 4 minutes. Stir in the garlic, oregano, olives, 3/4 teaspoon of salt and 1/4 teaspoon black pepper; cook a few seconds until the garlic is fragrant but not brown. Stir in the tomato and parsley, cook for 30 seconds, and remove from the heat.
4. When the cauliflower has finished roasting, return the tomato-onion mixture to high heat, toss in cauliflower, and sauté quickly to combine and heat through. Serve hot or at room temperature.
Leave a Comment