Beet and Goat Cheese Arugula Salad
This recipe has been featured in a post on The Recipe Girl blog: Best Salads of 2007.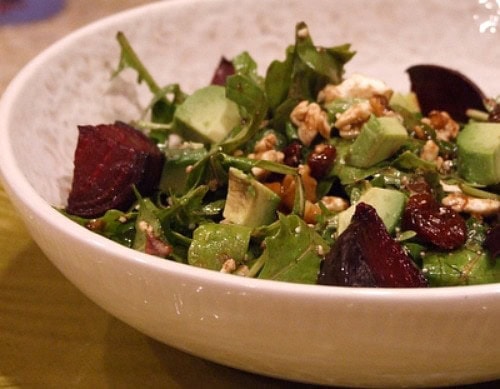 Yield: 6 servings
Prep Time: 20 min
Cook Time: 12 min
Beet & Goat Cheese Arugula Salad
This is definitely the best salad I've had in years! The caramelized beets are to-die-for!! I served it at a small dinner party and everyone scraped their salad plates clean & asked for more.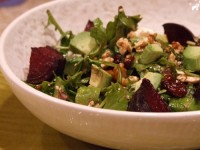 Ingredients:
DRESSING:
1/4 cup balsamic vinegar
3 Tablespoons shallots, thinly sliced
1 Tablespoon honey
1/3 cup extra-virgin olive oil
salt & freshly ground pepper, to taste
SALAD:
6 medium beets, cooked & quartered
6 cups arugula
1/2 cup walnuts, toasted & coarsely chopped
1/4 cup dried cranberries
1/2 large avocado, peeled, pitted & cubed
3 ounces goat cheese, crumbled
Directions:
1. Line a baking sheet with foil. Preheat oven to 450°F.
2. Whisk vinegar, shallots and honey in a medium bowl to blend. Gradually whisk in the oil. Season the vinaigrette, to taste, with salt and pepper. Toss the beets in a small bowl with enough dressing to coat. Place the beets on the prepared baking sheet and roast until the beets are slightly caramelized, stirring occasionally, about 12 minutes. Set aside and cool.
3. Toss the arugula, walnuts, and cranberries in a large bowl with enough vinaigrette to coat. Season the salad, to taste, with salt and pepper. Mound the salad atop 4 plates. Arrange the beets around the salad. Sprinkle with the avocado and goat cheese, and serve.
Tips:
*Can also use dried cherries in place of cranberries.
*You can find cooked beets in the produce section at Trader Joes. To cook them yourself, roast them in the oven until a knife can slip through the beet easily.
One Response to "Beet and Goat Cheese Arugula Salad"
Leave a Comment