Simplest Greek Salad with Lemon- Oregano Vinaigrette
This recipe has been featured in a post on The Recipe Girl blog: 3 Simple Salads This salad is gluten-free adaptable- please see notes below…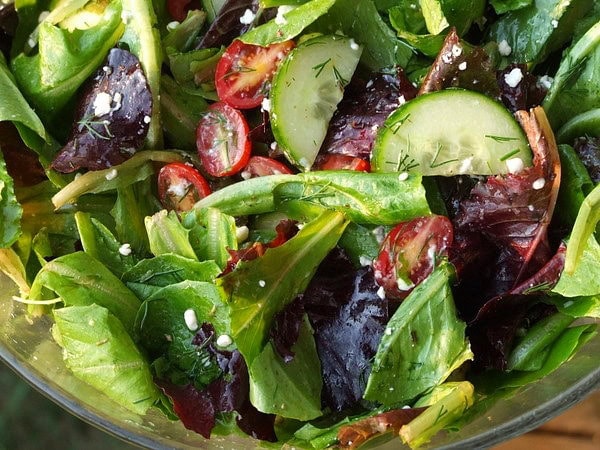 Yield: 4 servings
Prep Time: 20 min
Simplest Greek Salad w/ Lemon- Oregano Vinaigrette
I love this very simple Greek salad with fresh dill. Add kalamata olives if you'd like.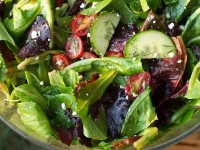 Ingredients:
LEMON- OREGANO VINAIGRETTE:
1/2 small clove garlic, minced
1/8 teaspoon salt
1/3 cup extra-virgin olive oil
2 Tablespoons fresh lemon juice
1 Tablespoon chicken or vegetable broth (or water)
1/2 teaspoon crumbled dried oregano, preferably Greek oregano
SALAD:
8 cups torn romaine lettuce leaves, (or one 10oz. bag romaine salad greens, washed, drained and thoroughly dried)
1/2 medium cucumber, halved lengthwise and sliced into half-moons
1 cup grape tomatoes (or halved cherry tomatoes)
1 teaspoon fresh lemon zest
1/4 cup chopped fresh dill (about 4 sprigs)
1/3 cup Lemon-Oregano Vinaigrette
2 ounces crumbled feta cheese (about 1/4 cup)
Directions:
1. Prepare dressing: Sprinkle minced garlic with salt; crush with the flat side of a large knife to make a paste. Scrape into a leak-proof 1-cup jar. Add remaining ingredients, seal tightly, and shake to blend.
2. Place lettuce in a large salad bowl. Top with cucumber, tomatoes, dill and lemon zest. Just before serving, drizzle with dressing and toss lightly. Sprinkle with feta and freshly ground pepper and serve at once.
Tips:
*If you are preparing this recipe as GLUTEN FREE, be sure to use water in the vinaigrette (or GF broth).
*Use leftover dressing on grilled fish or chicken.
Leave a Comment