Wild Rice and Cranberry Salad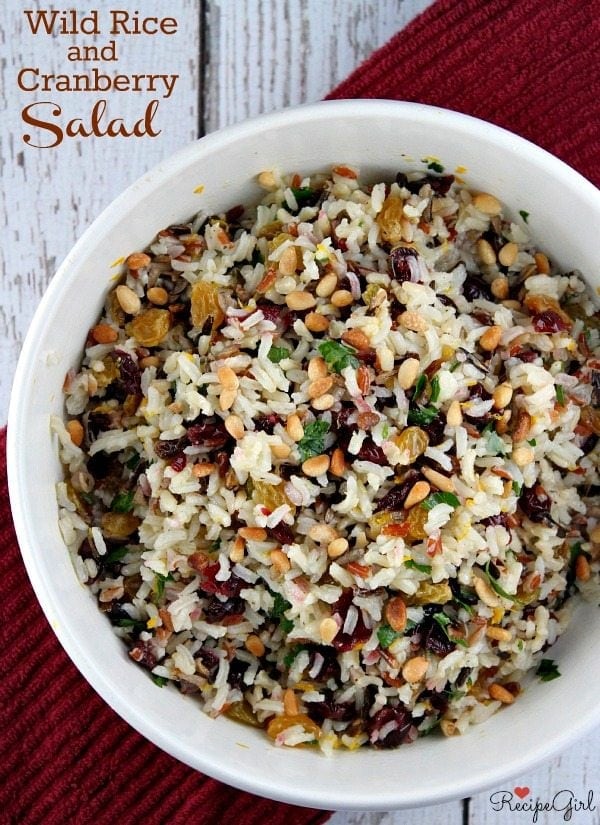 Yield: 6 servings
Prep Time: 20 min + marinating time
Cook Time: 40 min
Wild Rice and Cranberry Salad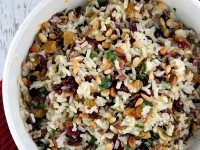 Ingredients:
3 1/4 cups water
1/4 cup chicken broth
1 1/4 cups wild rice
1/2 cup dried cranberries or Craisins
1/2 cup golden raisins
1/2 cup green onions, chopped (optional)
1/3 cup pine nuts, toasted
1/4 cup fresh parsley, chopped
1 tablespoon grated orange zest
1/4 cup freshly squeezed orange juice
2 tablespoons cider vinegar
1/4 cup extra-virgin olive oil
salt and pepper to taste
Directions:
1. Bring water and broth to a boil in a large saucepan. Add rice and bring to a boil. Reduce heat to medium and simmer until tender but still slightly firm to bite, stirring occasionally, about 40 minutes. Drain rice and transfer to a large bowl and cool.
2. Mix cranberries, raisins, onions, pine nuts, parsley, and orange peel into rice. Whisk orange juice and vinegar together. Gradually whisk in oil. Add enough dressing to rice salad to coat. Season with salt and pepper. Cover and refrigerate. Let marinate for several hours. Bring to room temperature before serving.
Tips:
*This may be prepared one day ahead. Keep refrigerated.
*If you are preparing this as gluten-free, make sure that you are using a wild rice blend that is gluten-free. Also be sure to use a brands of chicken broth and cranberries that are known to be GF.
2 Responses to "Wild Rice and Cranberry Salad"
Leave a Comment