Agave and Honey Oatmeal M&M Cookies
This recipe has been featured in a post on The Recipe Girl blog: Agave and Honey Oatmeal M&M Cookies.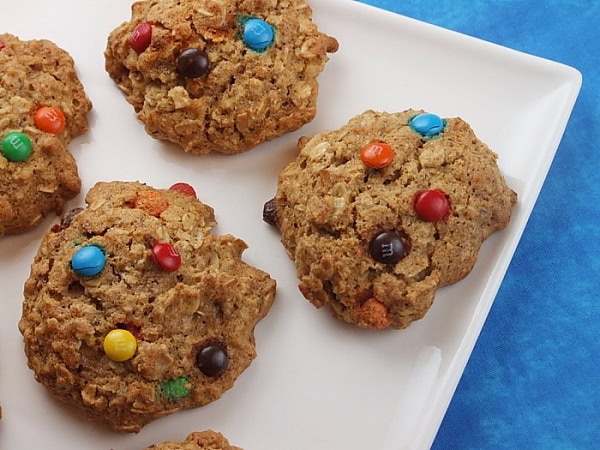 Yield: 8 cookies
Prep Time: 15 min
Cook Time: 10 min
Agave & Honey Oatmeal- M&M Cookies
These cookies are a healthy, delicious alternative to regular M&M cookies. Note that this only makes 8 cookies, which is a good idea for those who are watching their weight (not too many cookies lying around 🙂 ) Nutritional information included below.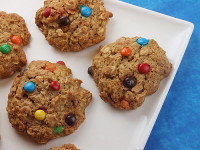 Ingredients:
2 Tablespoons lightly beaten egg
3 Tablespoons agave nectar
1 Tablespoon honey
2 Tablespoons vegetable or canola oil
1 teaspoon vanilla extract
1/2 cup whole wheat pastry flour
1 Tablespoon ground flaxseed (or wheat germ)
1/8 teaspoon baking soda
1/8 teaspoon baking powder
1/4 teaspoon salt
1/4 teaspoon (heaping) ground cinnamon
3/4 cup old fashioned oats
M&M's (or raisins)
Directions:
1. Preheat oven to 375°F.
2. Mix egg, agave, honey, oil and vanilla together in a bowl. Whisk together very well.
3. Combine flour, flax seed, baking powder, baking soda, salt and cinnamon in a bowl. Whisk very well, then stir into agave mixture until blended. Stir in oats and desired amount of M&M's (or raisins). Let batter sit for about 5 minutes.
4. Scoop Tablespoonfuls of dough onto a parchment lined baking sheet. You should be able to fit 8 cookies on one sheet.
5. Bake for 10 to 11 minutes, until set and golden. Cool completely. Store in covered container.
Tips:
*Agave nectar can be found at Trader Joe's and other specialty markets & health food stores.
Nutritional Information per serving:
Serving size: 1 cookie (M&M's/raisins not included in nutr. info)
Calories per serving: 132
Fat per serving: 5g
Saturated Fat per serving: .5g
Fiber per serving: 2.14g
Protein per serving: 3.05g
Cholesterol per serving: 16.06mg
Carbohydrates per serving: 20g
WW POINTS per cookie (M&M's not included in points total):
Points Plus Program: 4 Old Points Program: 3.5
6 Responses to "Agave and Honey Oatmeal M&M Cookies"
Leave a Comment