This recipe has been featured in a post on The Recipe Girl blog: Tuscan Vegetable Soup. You can prepare this soup as gluten free if you wish- see tips below the recipe.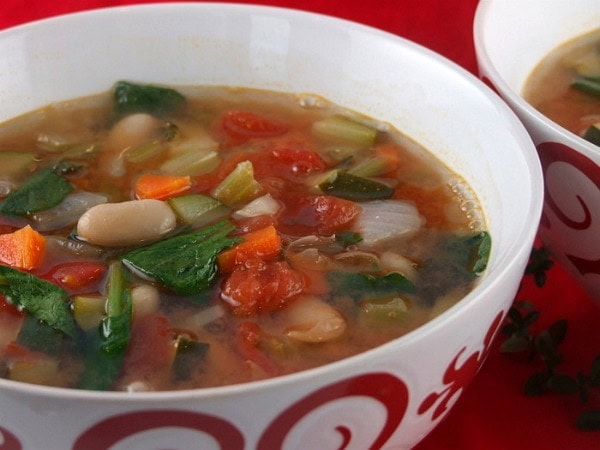 Yield: 4 servings (1 1/2 cups per serving)
Prep Time: 15 minutes
Cook Time: 25 minutes
Tuscan Vegetable Soup
Really great, low cal soup. Very easy to make too! Add chicken to make it more of a meal.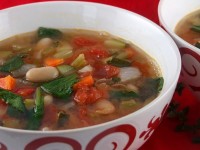 Ingredients:
1 (15.5 ounce) can cannellini beans (or other small, white beans), rinsed & drained
1 Tablespoon olive oil
1 cup diced onion (about 1/2 large)
1 cup diced carrots (about 1 large)
1 cup diced celery (about 2 stalks)
1 cup diced zucchini (about 1 medium)
2 cloves garlic, minced
1 Tablespoon chopped fresh thyme (or 1 teaspoon dried)
1 Tablespoon chopped fresh sage (or 1/2 teaspoon dried)
1/2 teaspoon salt, plus more to taste
1/4 teaspoon freshly ground black pepper, plus more to taste
4 cups low-sodium, fat free chicken or vegetable broth
1 (14.5 ounce) can diced tomatoes, with juice
2 handfuls baby spinach leaves (about 2 cups packed)
1/3 cup freshly grated Parmesan cheese
Directions:
1. In a small bowl, mash half of the beans with the back of a spoon; set aside.
2. Heat oil in a medium-sized soup pot over medium-high heat. Add veggies and spices (onion thru pepper), and cook, stirring occasionally, until the vegetables are tender, about 5 minutes.
3. Add the broth and tomatoes and bring to a boil. Add the mashed and whole beans and the spinach leaves and cook until the spinach is wilted, about 3 minutes more.
4. Serve topped with Parmesan.
Tips:
*If you're preparing this recipe as GLUTEN FREE, just be sure to use a brand of chicken or vegetable broth that is designated as GF.
Nutrition Facts- Amount Per Serving of 1 1/2 cups:
Calories 243, Calories From Fat (24%) 59, Total Fat 6.68g, Sat Fat 2g, Cholesterol 7.33mg, Sodium 1191.12mg, Potassium 1250.24mg, Carbohydrates 35.35g, Dietary Fiber 9g, Sugar 8.27g, Net Carbs 27g, Protein 13.5g
WW POINTS per serving:
Points Plus Program: 6 Old Points Program: 6
2 Responses to "Tuscan Vegetable Soup"
Leave a Comment