Whole Wheat Fresh Strawberry Scones with Maple Sugar
Ah, there's nothing like it… a cup of coffee, the Sunday paper, and the cardboard crunch of a dried-out scone.  Yuck.  Most scones should be made the morning that that they're eaten, for fear of turning them into the sort that you may often pick up at a dud coffee shop.  These are that sort of scone… the sort that should be consumed warm out of the oven… because that's when they're best… that's when they're moist, and that's the best chance for butter and honey to soak into their piping-hot  interior.  Not to worry though, these will no-doubtedly be gobbled up in one sitting:  Fresh Strawberry Scones.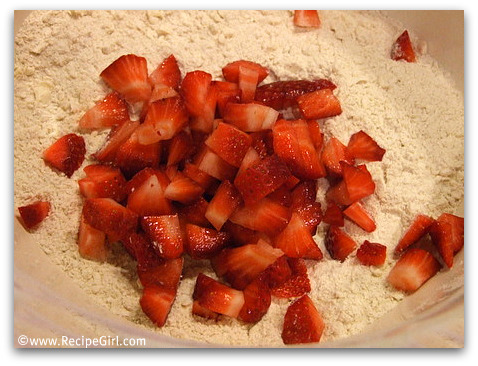 Adapted from Confessions of a Tart, these are a normal sort of scone mixed with a cream & butter base, but I mixed in half whole wheat flour to add a slightly healthy twist.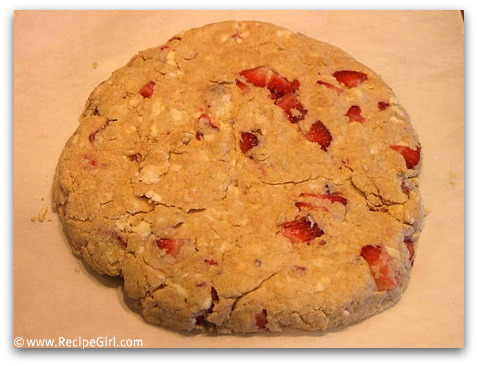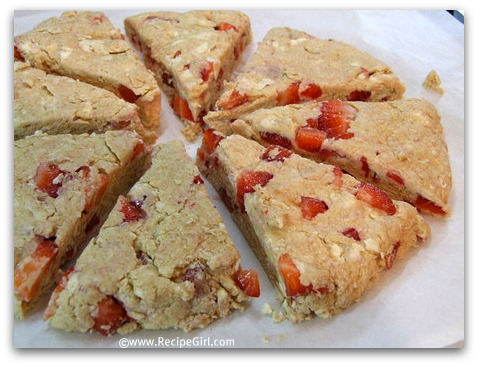 What I love about scones is that they really are easy to whip up quickly. Just mix the dough, pat it into a round, cut into wedges and bake. I used maple sugar in these scones & sprinkled a little on top too.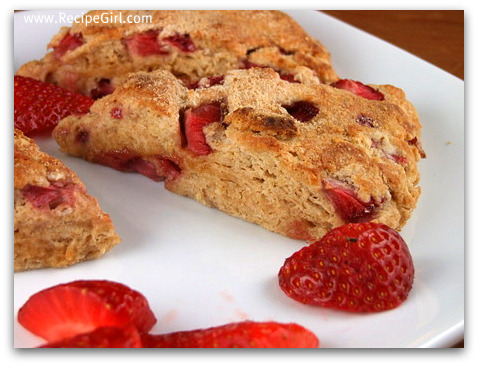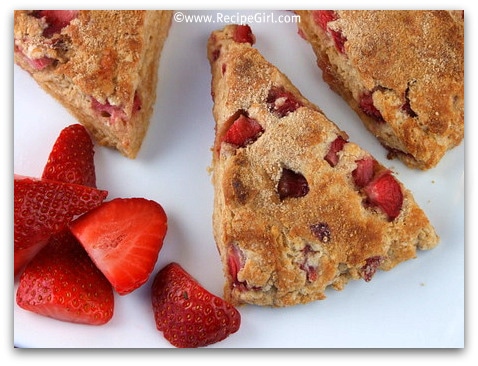 A slightly crunchy crust with a tender & moist interior, these scones were fabulous. The sweeter your strawberries, the more strawberry flavor that will come through. If you do have maple sugar at hand, it adds a nice flavor to the scones as well. (Regular white sugar and all white flour may also be used.) Strawberries are at their ripest, so be sure to utilize them for some good recipes (like these scones 🙂 )  For the record, we did have a couple of these leftover and ate them the next day.  Warmed up, they were almost as good as fresh out of the oven.
This recipe can be found here: Whole Grain Strawberry Scones
——————————————–
More delicious-looking strawberry recipes on the blogs:
Cupcake Project: Strawberry Whipped Cream
Laylita's Recipes: Strawberry & Rhubarb Empanadas
Life's Ambrosia: Sparkling Strawberry Lemonade
Apple Pie, Patis & Pate: Strawberry Cheesecake Ice Cream

26 Responses to "Whole Wheat Fresh Strawberry Scones with Maple Sugar"
Leave a Comment