Fudgy Caramel Brownies (Ooey Gooey Brownie Heaven)
Sometimes I bake things that I'm not really quite sure about. I mess with existing recipes and I develop my own, and I don't always really know if all is going to work out. I guess that's pretty normal for recipe development… trial and error.  And then trial and error again until you meet with success.  This was one of those recipes: Fudgy Caramel Brownies.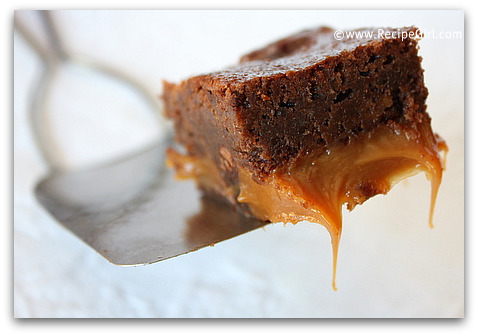 Caramel + Chocolate is pretty much heaven to me. Gimme a warm fudgy brownie, top it with vanilla ice cream, drizzle some hot caramel on top, and that's one dreamy dessert. When I made this brownie, I cooked up some caramel to swirl into the brownie… but caramel is heavy, and brownie batter is light… so the experimenting began. I actually baked up some of the batter for about 15 minutes before pouring the caramel on top, then scooped the rest of the batter into the pan and baked it up some more.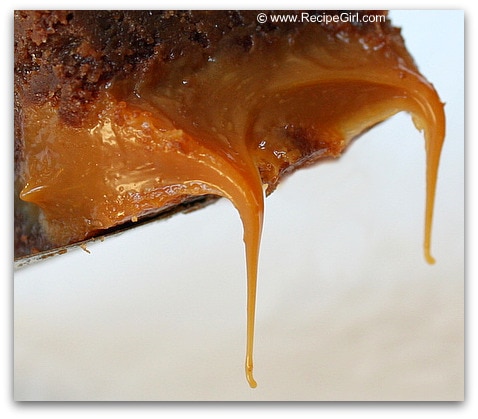 It all worked out.  For the most part, the caramel pretty much stayed near the bottom of the brownie. I chilled the baked product overnight before I attempted to get these out of the pan (I'd say that's a must). With an oiled metal spatula, they were fairly easy to get out. The result was a very, very good ooey-gooey brownie- a good one for the caramel-obsessed.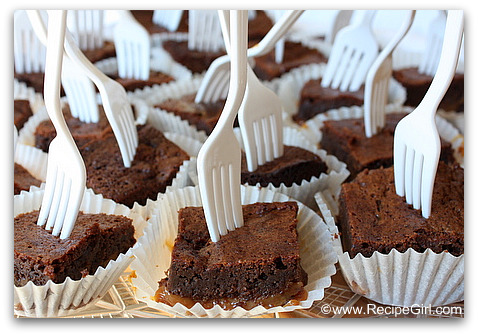 This was the best way I could think of to serve these. They're not a pick-up-in-your-hand-and-eat-them-neatly kind of brownie, but they're worth slapping on a cupcake paper and sticking a fork on top for easy eating.   The teachers at my son's school wrote me a really nice thank you note for these.  I think they liked them… a lot (we did too) 🙂
This recipe can be found HERE.
———————————————-
More chocolate-caramel creations on the blogs:
Lottie + Doof:  Chocolate- Caramel Tart
Chez Pim:  Chocolate- Caramel Shortbread Sandwiches
A Dash of Sass:  Chocolate- Caramel Cookie Bites
Tammy's Recipes:  Chocolate- Caramel Almond Cheesecake
Love and Olive Oil:  Black & Gold Dark Chocolate- Caramel Cupcakes
32 Responses to "Fudgy Caramel Brownies (Ooey Gooey Brownie Heaven)"
Leave a Comment