Cookies and Cream Cheesecake Bars: You Made That Dessert?
I have the pleasure of introducing a brand new cookbook today- one that was written by Fellow Food Blogger Beth Lipton (Cookie Pie blog):  You Made That Dessert?  Create Fabulous Treats, Even if You Can Barely Boil Water.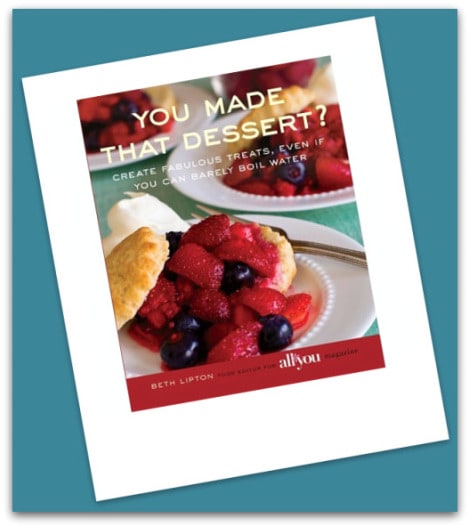 Currently a magazine editor, Beth is also a trained pastry chef based in New York who has created 100 simple-yet-sophisticated desserts for her cookbook. There's a colorful picture of every single recipe (my favorite cookbook feature), and the book is divided into the regular sorts of dessert chapters. Each recipe includes prep and baking times as well as a list of 'tools' needed for the preparation. Recipes that caught me eye upon first read… S'Mores Bars, Toblerone Brownies, Strawberry Ice Cream Cupcakes, Chocolate-Date Cake, Butterscotch Pudding, Caramelized Banana Bread Pudding, Chocolate-Peanut Butter Pie, and Pumpkin-Chocolate Truffles. I settled on making: Cookies-and-Cream Cheesecake Bars.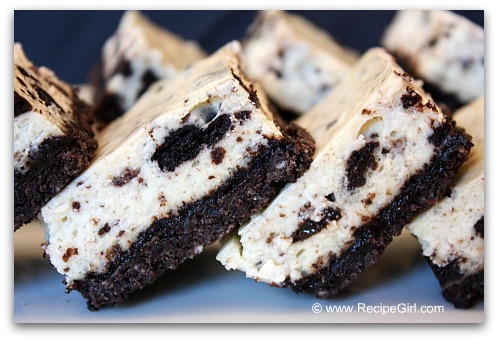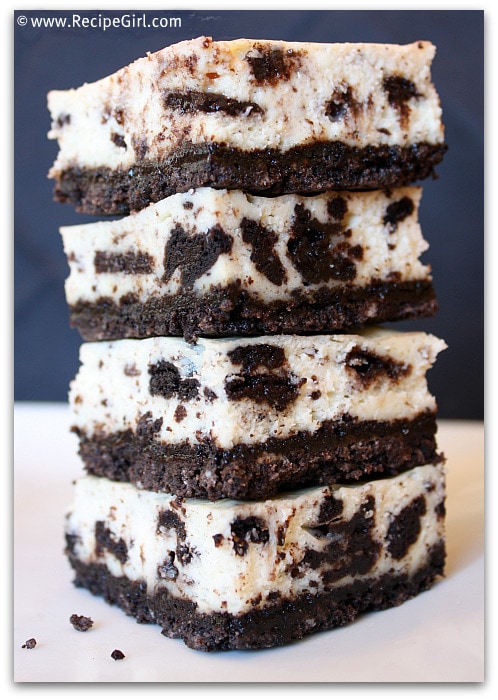 These bars are a crumbly Oreo-cookie crust topped with a creamy Oreo chunk- swirled cheesecake layer. I really tried not to taste them too much as I was attempting to be *good* this week. My plan was to make them and them shuffle them out the door to the teachers at my son's school as soon as possible. I couldn't resist though. I let them chill overnight (as I do most bars) for easiest cutting. For cleanest cutting, wipe your knife off after each cut. There were a couple of pieces that I goofed up and weren't fit for the platter (but they were perfectly fit for eating… and oh. my. god…. yummm!)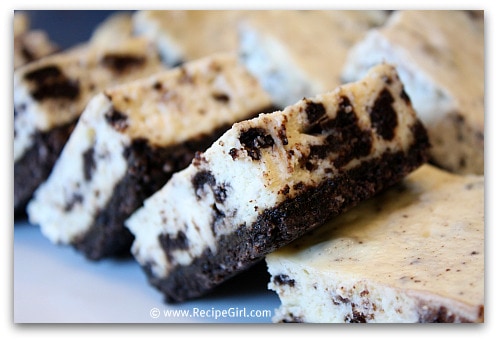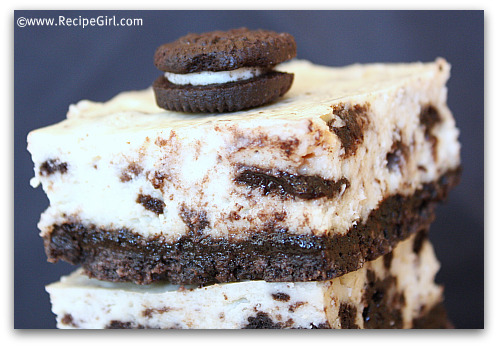 I'm definitely going to be testing out some more of Beth's incredible creations!  Order Beth's new cookbook, You Made That Dessert? HERE.
The recipe for Cookies and Cream Cheesecake Bars can be found HERE.
I'm incredibly envious of food bloggers who transition to writing cookbooks, and I'm exceedingly proud and supportive too because, after all, food bloggers really do make the best food.  When I'm looking for something new and unique to cook or bake, I utilize Food Blog Search long before I Google.  Trust the food bloggers.  They cook all the time, and their recipes are some of the best out there.
Here are some more cookbooks written by food bloggers- many of which are being released within the next month or so… I suppose cookbook publishers are realizing that food bloggers have a lot to offer!
A Homemade Life by Molly Wizenberg (Orangette)
Artisan Bread in 5 Minutes a Day and
Healthy Bread in 5 Minutes a Day by Jeff Hertzberg & Zoe Francois  (Zoe Bakes)
Field Guide to Cookies and
Field Guide to Candy by Anita Chu (Dessert First)
The Everything Cookies & Brownies Cookbook by Marye Audet (Baking Delights)
Chocolate and Zucchini by Clotilde Dusoulier (Chocolate & Zucchini)
New Flavors for Appetizers by Amy Sherman (Cooking with Amy)
Super Natural Cooking by Heidi Swanson (101 Cookbooks)
The Pioneer Woman Cooks by Ree Drummond (The Pioneer Woman)
The Steamy Kitchen Cookbook by Jaden Hair (Steamy Kitchen)
Gluten Free Girl by Shauna Ahern (Gluten Free Girl)
My Sweet Vegan by Hannah Kaminsky (Bittersweet)
Make it Fast, Cook it Slow by Stephanie O'Dea (A Year of Slow Cooking)
The Perfect Scoop and
The Sweet Life in Paris by David Lebovitz (David Lebovitz)
Delicious Days by Nicole Stich (Delicious Days)
42 Responses to "Cookies and Cream Cheesecake Bars: You Made That Dessert?"
Leave a Comment