Apple Muffins Drizzled with Maple Glaze
The chill is in the air… sort of. Well, not really, but at least at night it's a little bit chilly. It's around 80 degrees today here in Southern California, and it's predicted to be nearing the low 90's by Saturday. That's our typical September weather, so it's tough to get into the fall spirit of things. I have to work hard pretend that we're in the midst of a cool, autumn day… one where you'd like to light a fire to warm up the family room… one where you'd like to drive to the local mountains and pick buckets of apples… one where you begin to dream about carving pumpkins and making hot apple cider. That's fall, to me. Hot weather won't stop me though from baking up a seasonal storm this time of year. Today was a morning treat for my family: Maple- Drizzled Apple Muffins.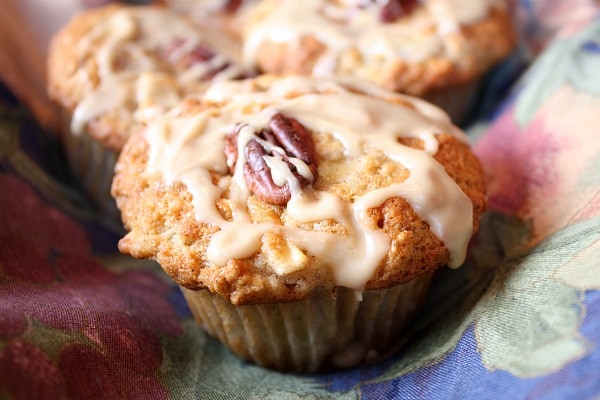 These are a light and crumbly muffin topped with a pecan and then drizzled with a sugary maple glaze. They're plump-full of apple chunks and cinnamony spice.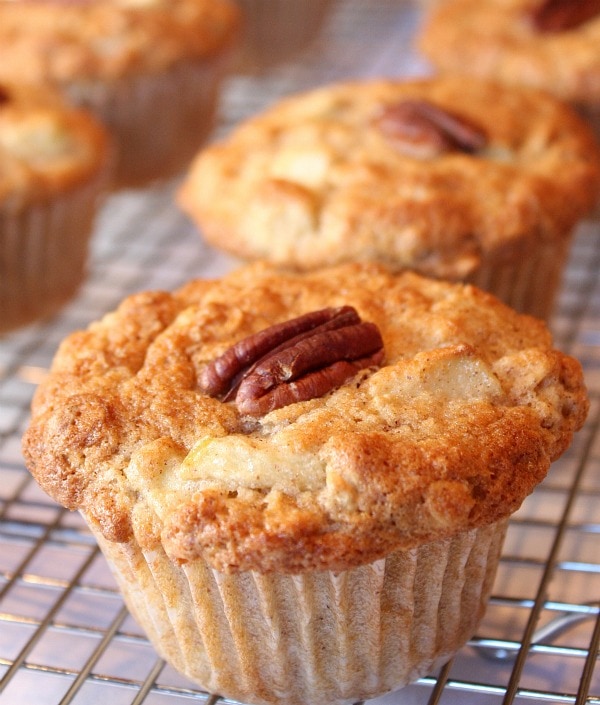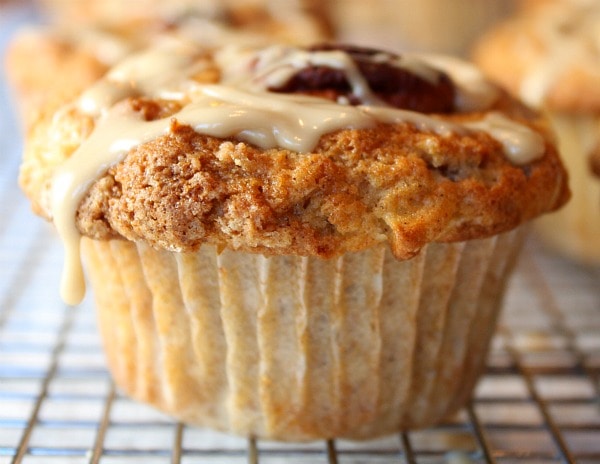 The glaze hardens, and they stay absolutely fresh for a couple of days after baking. If you don't wish to have the glaze, you can always leave it off, but it does make for a nice addition to the muffin.  Throw them in a freezer zip bag and toss them in the freezer to save some for later.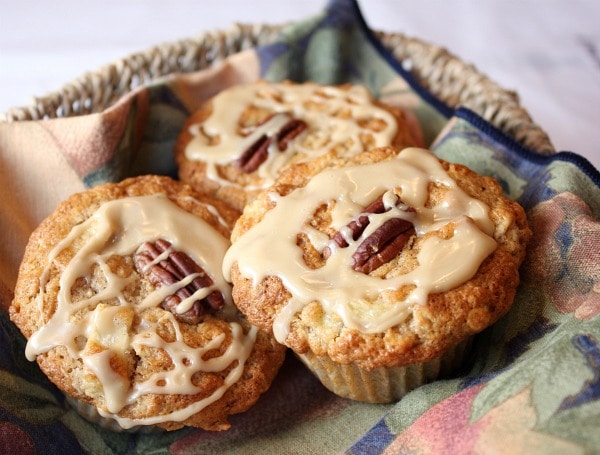 If we close all our blinds, turn on the air-conditioning, slip on turtlenecks and light a fire, we can simulate fall pretty well. Instead, we'll just eat my fall baked goods and wait for the chill to arrive 🙂
This recipe can be found here:  Maple Drizzled Apple Muffins
———————————————–
More apple breakfast treats you might enjoy:
Easy Apple-Cinnamon Muffins
Big Apple Pancake
Spiced Apple Waffles
Apple Cream Scones
Fresh Apple Bread
31 Responses to "Apple Muffins Drizzled with Maple Glaze"
Leave a Comment