Pumpkin & Spinach Manicotti with Bechamel- Sage Sauce
I recently attended the BlogHer food conference in San Francisco, where I had the opportunity to meet loads of other bloggers that I've known forever via Twitter & blog visiting, etc. It was truly exciting to meet face-to-face so many fabulous and talented food writers, bloggers and cookbook authors all in one place (far too many to mention them all here)!  The workshops were valuable… tips on photo styling and photography from Matt, Heidi, Todd and Diane… and insight from pro bloggers Ree Drummond, Elise Bauer, and David Lebovitz. And an excellent party organized by rockstar bloggers Ree, Elise and Jaden turned out to be a perfect way to end the day- goodies from Foodzie, cocktails from Starbucks, dancing & a super cool swag bag from CHEF'S Catalogue.
One of the highlights of the weekend was attending a dinner in Napa Valley at St. Supery winery. The dinner was sponsored by Bertolli, and we got to hang out with their cutie-pie spokesperson- Chef Rocco DiSpirito,  who was charming and friendly, all night. The folks from Bertolli were gracious and fun, and they spoiled us with a fun-filled evening. I loved meeting bloggers Jennifer (In Jennie's Kitchen), Gina (Bowl Licker), Kelsey (The Naptime Chef), Katrina (Baking & Boys), Sara (Supper Starter), Katy (Simply Yummy Goodness), Genie (The Inadvertent Gardener), and many more! Great company, great fun, and lots of wine 🙂 A bottle of St. Supery wine was sent home with us, and I managed to tuck it into my suitcase and get it safely back to San Diego. My husband and I popped it open the other night, and we were delightfully surprised with how much we enjoyed it.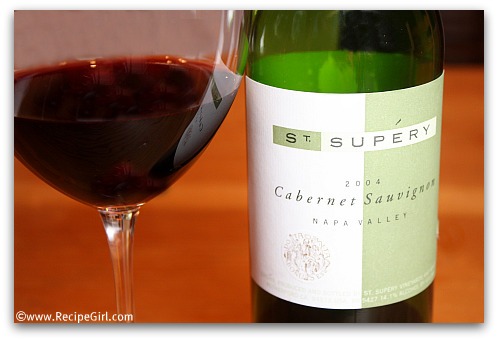 Knowing we'd be popping open this bottle of wine for dinner, I put together a fall pasta recipe for the occasion: Pumpkin Manicotti with Bechamel Sauce.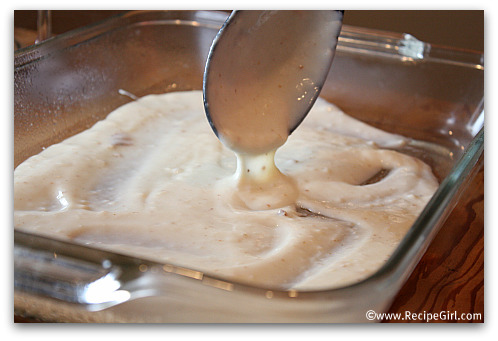 I wanted to use pumpkin (real sugar (pie) pumpkin) in my pasta dish- I roasted it up with a little bit of olive oil and maple syrup. Then I mixed it with some 'typical' manicotti filling ingredients… cream cheese, ricotta cheese, chopped spinach, etc. and added some chopped fresh sage in there too. A creamy, white bechamel sauce seemed like the perfect choice to accompany the flavors of pumpkin and sage.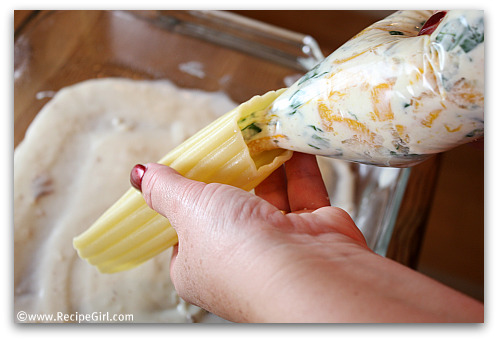 I discovered a little secret for stuffing manicotti noodles:  I scooped the stuffing into quart-sized zip bags, snipped the end and squeezed the filling  into the noodles. It worked really well, and I didn't have to struggle with the mess of trying to spoon it in.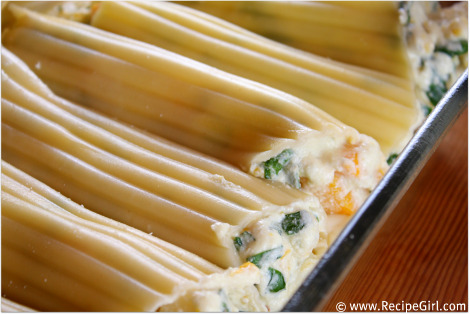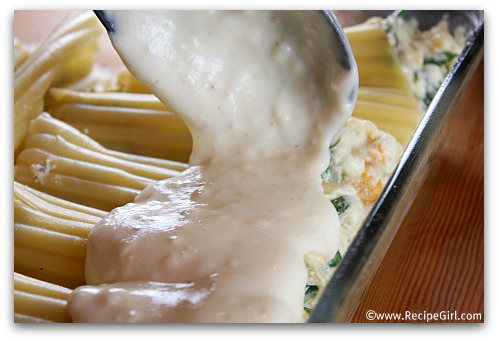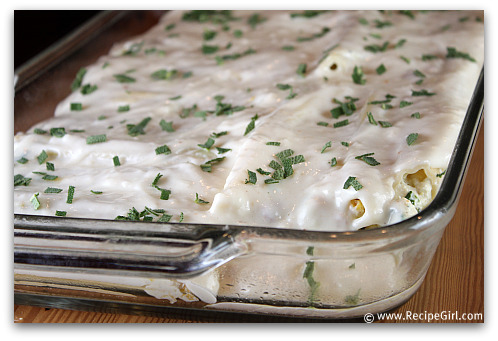 I scooped the remaining bechamel sauce on top and threw on a little chopped fresh sage to finish it off.  It was covered and baked for an hour.  When it emerged from the oven, it was hot and bubbly, flavors having had a chance to meld together.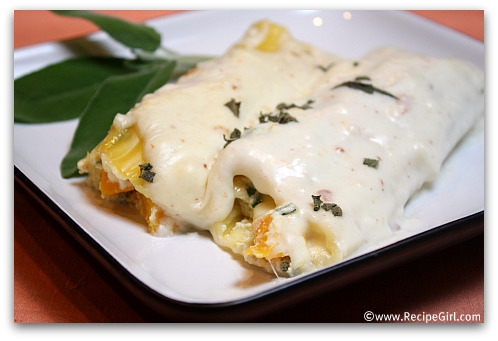 This manicotti turned out to be a really excellent fall dinner. The roasted pumpkin was perfectly textured and wonderful with the melty mozzarella cheese & sage as well as the nutmeg-tainted sauce.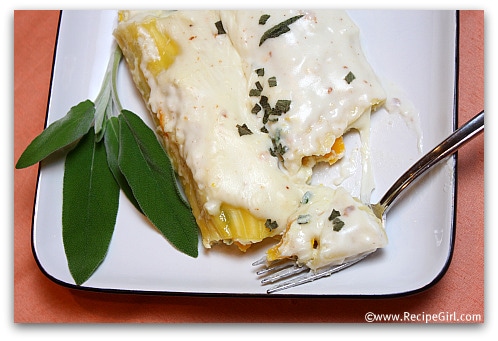 I'm no wine expert, but I'm pretty sure you're supposed to pair a white with a bechamel sauce. Didn't matter for us… the bottle of St. Supery was long gone by the time we ate dinner 😉 Loved the manicotti (the kiddo even ate this one) & loved the wine too (we didn't let the kiddo have any of that).
This recipe can be found here:  Pumpkin Manicotti with Bechamel Sauce
*NOTE: I'm quite sure you can sub butternut squash for the pumpkin if you'd like (with similar results).
31 Responses to "Pumpkin & Spinach Manicotti with Bechamel- Sage Sauce"
Leave a Comment