Chocolate- Iced Maple Cookies
While traveling through the state of Vermont last summer, we passed quite a few of those little soft serve ice cream stands that you often see on the side of the road when you're on a family road trip. In my part of the world, these soft serve ice cream cones are known as "Frosties" but for some reason, in the good state of Vermont they're called Creamies. Most specifically, because it's the land of Maple Syrup, there are big signs inviting folks to try Maple Creamies. As many times as we saw these wonderful little ice cream shacks, I never once stopped to try a Maple Creamy. I've been thinking about those darn creamies ever since. Just before we left Vermont, we stopped at a Maple Farm near East Montpelier: Bragg Farm Sugarhouse, where I purchased a few maple-themed goodies.  Can you believe they had Maple Creamies at this place too and I didn't get one there either?? Clearly, there were too many regional food choices on the trip, and the state's beloved ice cream cone didn't quite make the cut.
One of the goodies I purchased at the Maple Farm was a bottle of maple flavoring that I hauled back to California with me. Cookies seemed like a good way to try the maple flavoring, so I decided on Chocolate Iced Maple Cookies.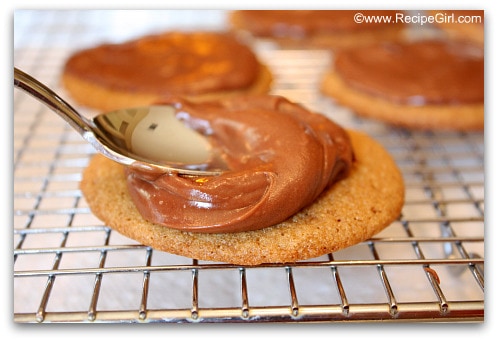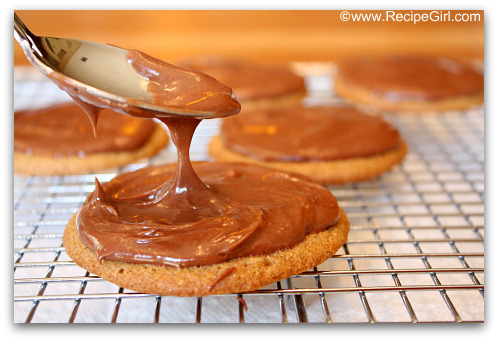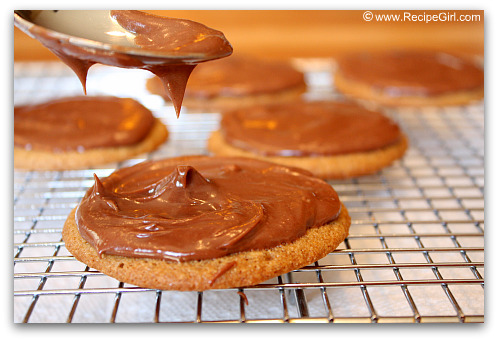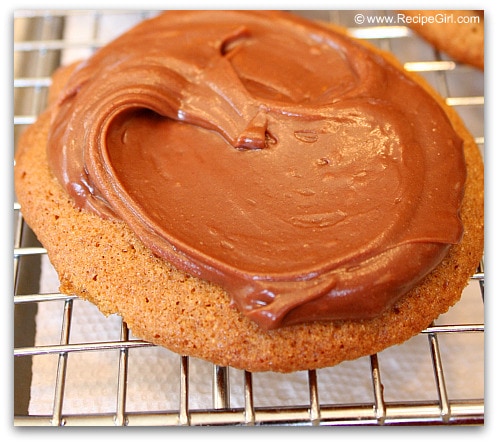 You absolutely must use maple flavoring (extract) for this recipe.  Don't try to substitute maple syrup, thinking it will add the maple flavor that you need because you just won't get it.   The maple cookies themselves are nothing to write home about… they're just a maple-flavored cakey type of cookie.  They're not bad… just nothing special.  Add a good smear of that chocolate icing, however, and they're transformed into quite a delicious little treat. Chocolate and Maple turn out to be a nice flavor pairing.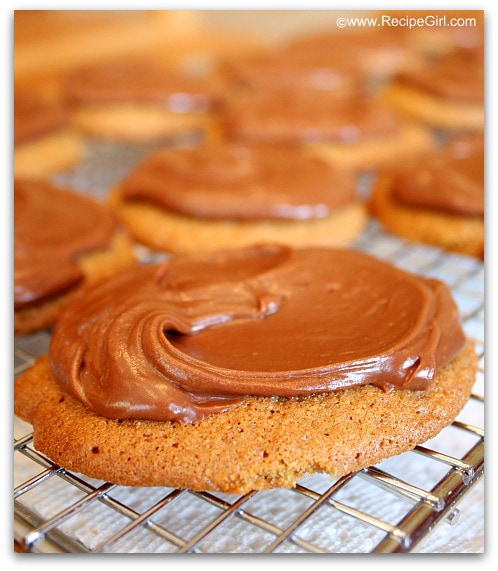 You don't have to go to Vermont to get maple flavoring.  Your regular old grocery store will carry an imitation maple extract but  I'd do everything I could to locate a real maple extract.  Imitation is, well… imitation (it's just not as good).  Online, King Arthur Flour offers a natural maple flavoring, and you can check Amazon and Watkins too.
You will have to go to Vermont, however, to taste one of those Maple Creamies… something I'll be sure to do on my next trip to that beautiful state.
This recipe can be found here:  Chocolate Maple Cookies
25 Responses to "Chocolate- Iced Maple Cookies"
Leave a Comment