Smoked Ham Soup with White Beans (Warming Frozen Toes)
I understand that many folks are in the midst of a deep freeze at the moment.  I'm sorry for you.  If I could send you a bucket of our Southern California sunshine, I would.  We really have it good here in California.  We have more clear, warm & sunny days here than you can count, and we tend to fret on the rare occasion that jackets are needed.  My son gets through the school year in mostly shorts and short-sleeved shirts, and flip flops are pretty much everyday wear for me.  Life is very, very good 🙂
BUT… we don't experience the lovely seasons that much of the rest of the world experiences, so it's not all perfect.  The moment the thermometer drops below 60 degrees and clouds take over our normally blue sky, we make plans to prepare soup.  It's the only time it seems appropriate to do so around here.  On one recent (and rare) rainy day, I made soup- a good one, a healthy one:  Smoked Ham Soup with White Beans.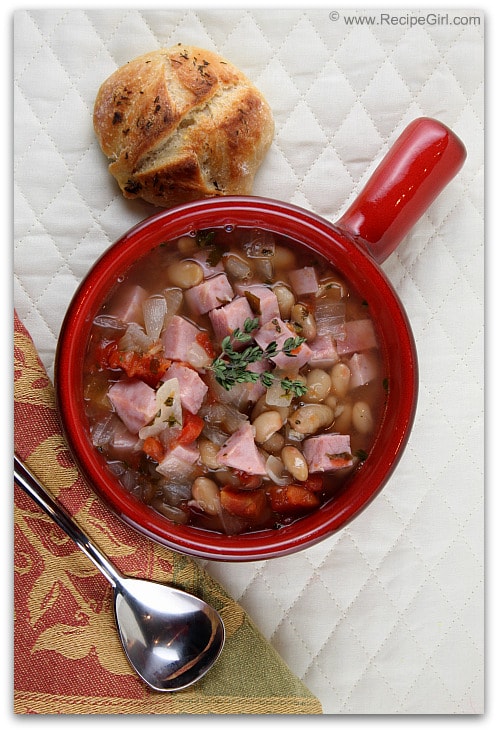 This soup is a high fiber soup (6.6g) that is low in fat (4g) and calories (235). If you're counting Weight Watcher points, you'll use up 6 for this soup. And it makes 8 servings, so you can make it on Sunday and eat it for lunch all week. If you don't have ham lying around, just pick up a slice of it at your market- they usually sell packaged slices near the bacon.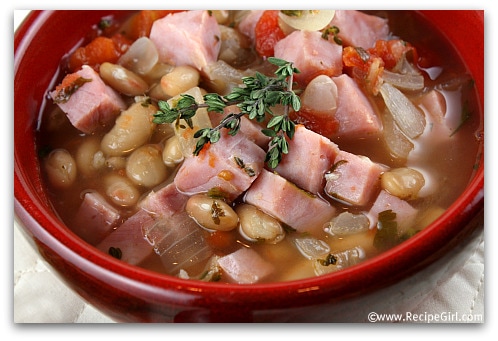 When I'm watching my weight, I like to eat soup. It feels filling and satisfying to me when I'm starving and otherwise ready to fall off the wagon and raid my pantry in a mad fury. Having a big bowl of soup in the fridge -ready for immediate consumption- helps fend off that crazy idea. We enjoyed this soup (even the kiddo). And it felt good to eat on our blustery day (which really consisted about 55 degrees and light rain, which we hadn't seen for 141 days).
This recipe can be found here: Smoked Ham Soup with White Beans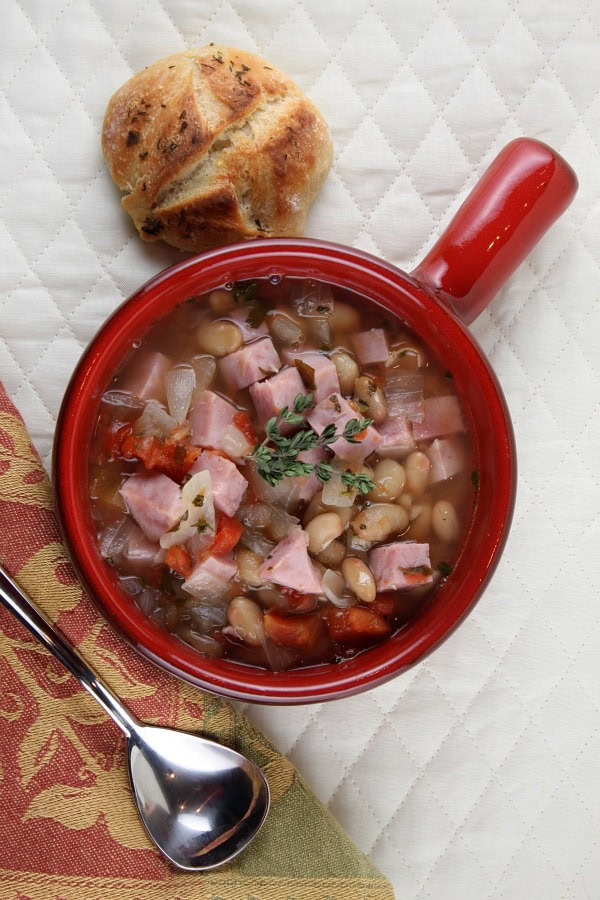 15 Responses to "Smoked Ham Soup with White Beans (Warming Frozen Toes)"
Leave a Comment