Blood Oranges: Where Have You Been All My Life?
On a trip to my local produce supplier last week, I asked them to show me what was in season… what they had that was looking really great. They walked me right over to the citrus and pointed out the blood oranges. "They're extremely juicy and delicious, and they're gorgeous inside too," I was told. They didn't need any more endorsement than that. I had never had this type of orange and was anxious to try it. Several blood oranges made their way into my bag, and I was on my way.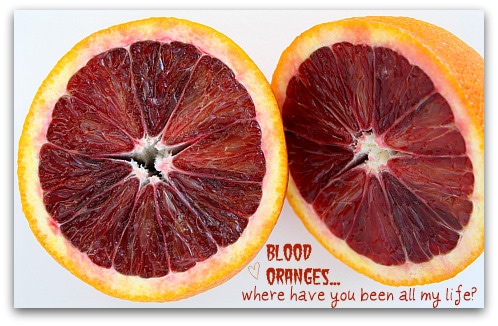 Oh, Lordy these are bloody good (pun intended). If you close your eyes and take a bite, you'll absorb a mouthful of sweet-tart orange juice . Open your eyes, and you can admire its scarlet hue and pink juices, which makes it a natural beauty to include in recipes. I utilized my stash to make a Blood Orange- Spinach Salad.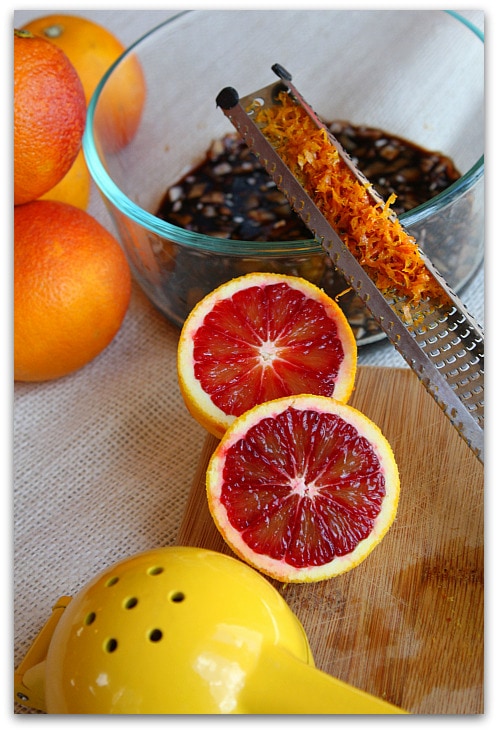 The spinach is accompanied by a dressing highlighted with balsamic-marinated shallots and fresh blood orange juice & zest…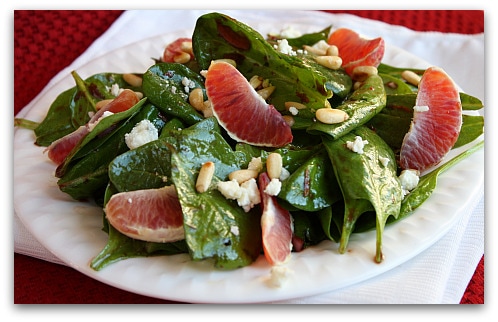 … and then it's tossed with fresh baby spinach, gorgonzola, toasted pine nuts and – of course – blood orange segments.


But naturally, the star of this salad is the Blood Orange. What a delicious discovery!
This recipe can be found here: Blood Orange- Spinach Salad
Thanks to Specialty Produce for supplying the Blood Oranges 🙂
———————————————————————————
Other bloggers utilizing blood oranges in their recipes:
Blood Orange Cocktail from The Hungry Mouse
Blood Orange Sorbet from David Lebovitz
Kale Salad with Blood Orange & Meyer Lemon from The Kitchn
Blood Orange Tart from Lottie + Doof
Blood Orange "Lemon Bars" from Eating Out Loud
27 Responses to "Blood Oranges: Where Have You Been All My Life?"
Leave a Comment