Is Buying Organic Important to You?
I shop the markets almost every day, poring over fruits, vegetables and meats to decide what to make for dinner. I see the signs… "organic," "grass-fed," "no antibiotics," "cage-free," etc… and then I go into sticker-shock. Usually the good-stuff is far more expensive than the alternative. I have a large enough monthly grocery bill as it is without worrying about whether or not I'm buying things that are going to be healthy and safe for me and my family to consume. This concept seems to resonate with many people: the expense of buying organic.
If you haven't yet seen the documentary Food Inc., it's definitely worth watching. I was shocked and dismayed to see what's going on in the chicken industry (& many others). After viewing the film, you'll be thinking long and hard about buying certain things in the grocery store. I always buy organic, hormone-free milk.  And I buy the better meats when I can. The vision of animals being cared for in a certain humane-way, before slaughtering them for consumption, somehow makes me feel better about what I'm eating. And the meat tastes better too… a lot better.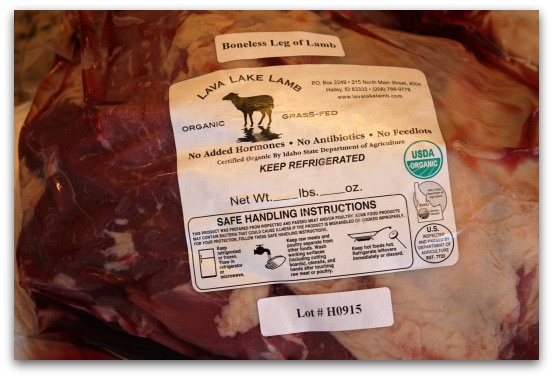 Lava Lake Ranch is one of many online sources for ordering organic meats directly from their family operation. Located in Idaho, they raise lamb that can roam over thousands of acres, grazing on grasses and herbs-only, and continuing to drink mother's milk all of their lives. Their lamb is all-natural & certified organic grass-fed- never placed in a feed lot, never given any hormones or antibiotics. Lava Lake Ranch sells restaurant-quality cuts of lamb, and they ship anywhere in the U.S. They sent me some samples recently, which arrived on my doorstep beautifully packaged in dry ice. Since I grew up with my Grandmother making the most delicious lamb roast ever (fresh off of her own Ranch), I was excited about this opportunity. Here are a couple of things I made with the lamb…
Rosemary and Garlic Leg of Lamb Roast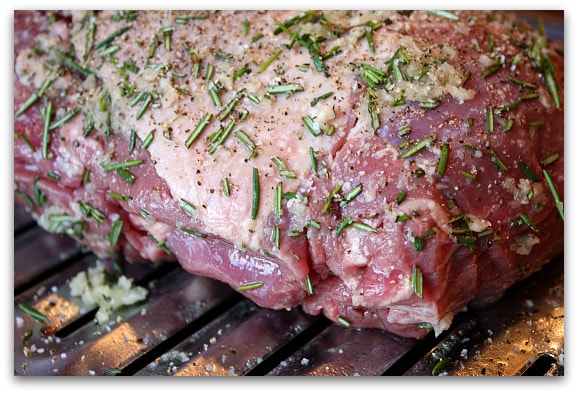 You can see from the picture that there isn't a lot of fat tucked inside the roast. I can't tell you how many lamb roasts I've purchased that I've spent a fortune on, roasted to perfection and then sliced into the roast finding huge pockets of fat. Gross. Grass-fed is typically lower in fat than grain-fed meat. There was just enough fat on top of the roast to result in a tender, roasted meat. We served this at a dinner party when I was testing out recipes for Easter, and it was a big hit.
We also received some ground lamb. I agonized over whether to make meatballs, sloppy joes, meatloaf, ?? and then I came up with a recipe for Lamb Spaghetti with Spinach.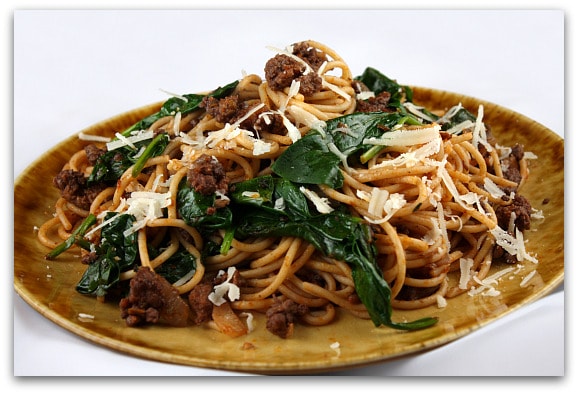 This was a simple, great recipe adapted from Food & Wine. The lamb is simmered with garlic, onions, tomato paste & red wine. It's then tossed with spinach, mint and spaghetti. It's all topped off with freshly grated Romano cheese. If you're not familiar with using ground lamb, it does have a distinctively different flavor than ground beef… one that I absolutely love. My son didn't notice any difference at all and he gobbled up this meal and asked for seconds.
Beth Lipton of All You magazine offered some great tips for affordable organics in a TV spot that she did this week. Organic meat & dairy products can be expensive, so look for them on sale, stock up and freeze. Another alternative is to buy meat that is labeled "no antibiotics," which is still a good option but cheaper than organic. Lipton explains that there are some fruits and vegetables that tend to have more pesticide residue than others, so you should try to purchase these organically whenever possible. A few other produce items are safer to purchase conventional. View All You's suggested lists of organic foods here. Another money-saving tip is to buy frozen organic vegetables- they're less expensive than fresh and you can defrost only what you need.
All You Magazine suggests the following sites as resources for finding coupons for organic products:
www.mambosprouts.com/coupons
www.deliciouslivingmag.com/coupons
www.organicvalley.coop/coupons
www.organicdeals.blogspot.com
www.stonyfield.com/coupons
www.wholefoodsmarket.com/coupons
www.healthesavers.com
BONUS TIP: Many manufacturers' coupons for conventional products work on the brand's organic line as well, even though that often isn't indicated. Try this strategy with brands that carry separate organic lines, such as Bertolli pasta sauce.
And finally, buying locally is by far the best option. Most produce in the US is picked 4 to 7 days before being placed on supermarket shelves, and is shipped for an average of 1500 miles before being sold. And this is when taking into account only US grown products! Those distances are substantially longer when we take into consideration produce imported from Mexico, Asia, Canada, South America, and other places. By doing so you'll be helping preserve the environment, and you'll be strengthening your community by investing your food dollar close to home. Only 18 cents of every dollar, when buying at a large supermarket, go to the grower. 82 cents go to various unnecessary middlemen. Cut them out of the picture and buy your food directly from your local farmer. Check http://www.localharvest.org/  to find farmers' markets, family farms, and other sources of sustainably grown food in your area, where you can buy produce, grass-fed meats, and many other goodies.
The lamb roast recipe can be found here: Rosemary & Garlic Leg of Lamb Roast
The spaghetti recipe can be found here: Lamb Spaghetti with Spinach
Disclosure:  Lava Lake Ranch sent me free samples of their lamb.  I was not under any obligation to write about their product on my website and I did not receive any compensation for doing so.  Note:  If I fully stand behind a product & believe in it, I'll write about it.
17 Responses to "Is Buying Organic Important to You?"
Leave a Comment