NYC Celebrity Journey… "Into the Heart of Italy" Premiere
Bertolli recently launched a new series of webisodes titled "Into the Heart of Italy: Six Adventures, Three Celebrities, One Mission… To Unlock the Secrets of Italian Passion for Food and Life." This online series features celebrity chef Rocco Dispirito and actors Marisa Tomei and Dan Cortese as they explore the food and culture of Italy. You can enter to win a culinary vacation in Italy HERE. Bertolli invited me to come to New York City to attend a luncheon celebrating the launch of their Into the Heart of Italy series. I said, "Uh… let me think about it… okay, YES!"
We stayed at a very chic (and dark) hotel (Hudson) that was impossible to find without an address… apparently the new, hip thing is to NOT include a big-'ol sign announcing what hotel you are. It has a pretty cool vibe, a funky bar, is affordable for New York, and has a great location right near Columbus Circle. The rooms and bathrooms are teeny tiny. I didn't mind it so much since I traveled alone, but you'd be a bit claustrophobic if you had a hotel mate. And the room service food was just so-so.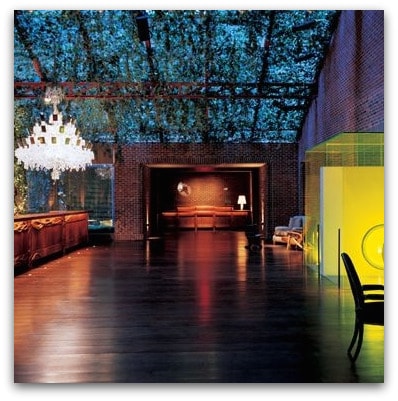 My husband happened to be on a biz trip in New Jersey, so he came into the city on the night I arrived and took me out to dinner.  We managed to hit two places:  First up was appetizers and drinks at Buddakan, which is modern Asian cuisine.  We sat in the downstairs bar on long, black leather couches and sampled pork potstickers and edamame dumplings.  Both appetizers were amazing, and the place was very downtown chic, fun and hip.  It's located at 75 9th Ave in the meat-packing district area.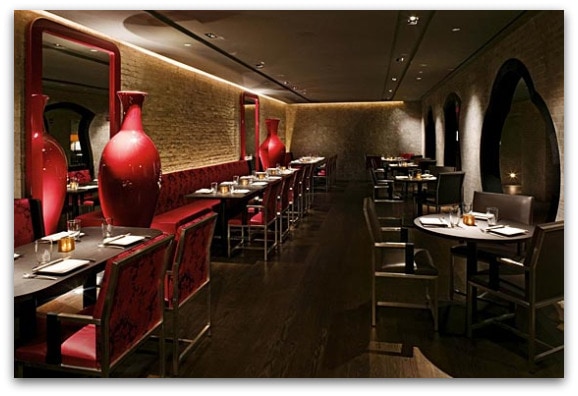 We then headed to dinner at Del Posto Ristorante, a joint venture by Joe & Lidia Bastianich and Mario Batali.  The food was very, very good.  The prices seemed reasonable for a nicer New York restaurant.  And they brought us samples of appetizers and dessert, even though we didn't order any.  I ordered a spinach pasta with a vegetable bolognese sauce.  I must admit that I was really hoping for some down-home, casual Italian food that night… that wasn't the type of food this restaurant offers… it's more upscale Italian, but I ended up being happy with the food that we ordered.  Del Posto is located at 85 10th Ave in the meat-packing district area of NYC.  My driver had recommended Rocco Ristorante, which apparently has that down-home Italian feel, so next time I'll be trying that one!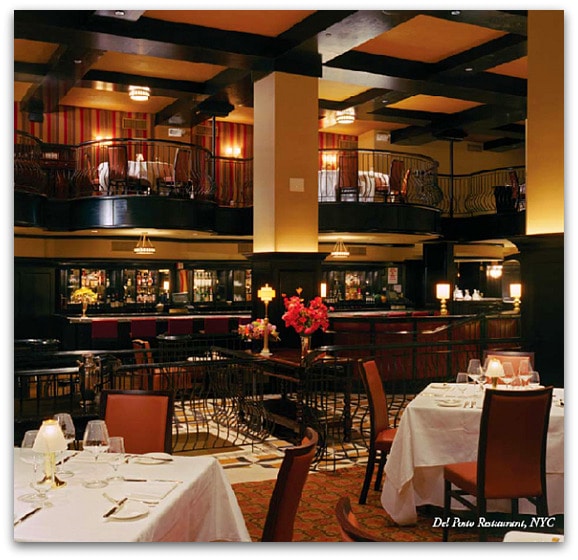 How do people sleep in the city?  I think I got a total of about 4 hours of sleep on the 19th floor of the hotel.  The honking, sirens, and creaky pipes… I'm used to the suburbs, I guess.
The next morning I met a few of the bloggers for breakfast at Landmarc Restaurant (in Time Warner Center).  My breakfast was an Egg Sandwich with Gruyere cheese + hash browns.  It was awesome & everything everyone else had looked good too.  The waiter brought us cotton candy for dessert 🙂
Paula and I had some time to walk around before the luncheon.  We took a brisk stroll through Central Park and then pretty much wandered all over the city, looking for something important to see.  We walked through the Theater District and *finally* happened upon Times Square (yay!).  It was fun to check out the heart of the city.  Our ultimate goal was to find a cupcake shop.  We were failing miserably at that when, all of a sudden, we noticed a guy walking with a box of cupcakes.  Paula attacked asked the guy where he got them.  We headed to Crumb's Bakeshop.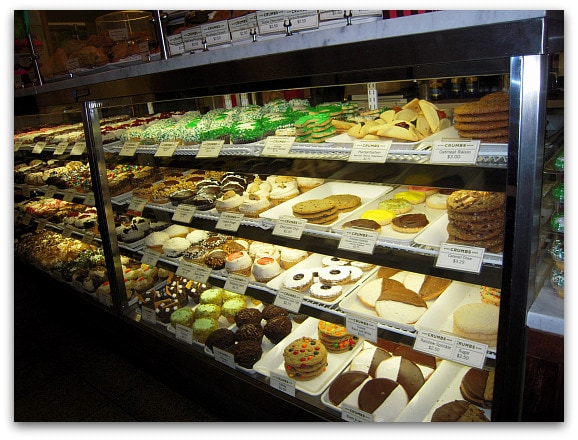 Everything looked fabulous.  I picked a strawberry cupcake.  Bad choice.  The only thing strawberry on it was the frosting.  The cake itself was just vanilla.  Next time I hope to get to Magnolia Bakery.
The luncheon was held at A Voce Restaurant (in Time Warner Center). The three stars of the series were there: Rocco, Marisa and Dan, as well as various media representatives, Bertolli and PR executives, and a handful of bloggers.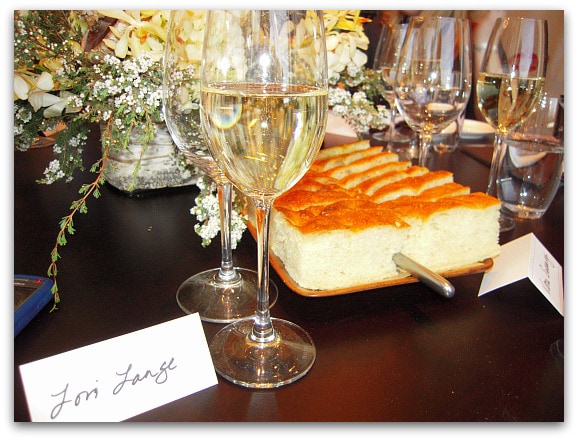 We were treated to a 5 course meal in a private dining room.  Our menu (photo by Tina)…  I loved everything, but the mushroom salad and the dessert bomboloni were the most amazing.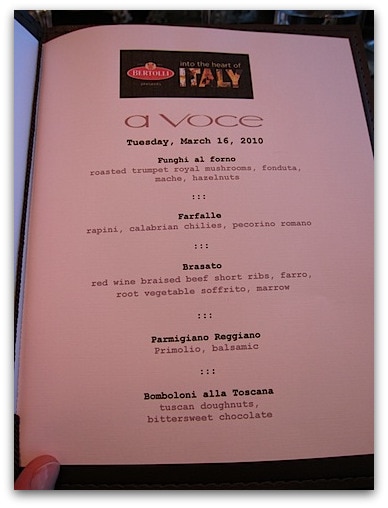 And then, of course, we watched the launch of Bertolli's series. Have you seen the commercials yet? They really did a nice job on it and it looks like the three stars had a blast exploring Italy. Here's Chef Rocco DiSpirito and Marisa Tomei, who popped in and out of the luncheon so quickly that no one got to visit with her 🙁  Photo credit:  Kevin Mazur, Getty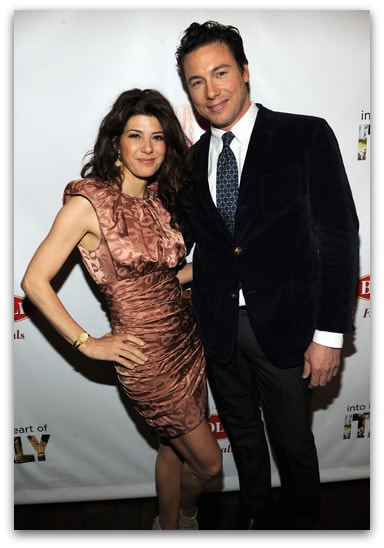 After the event, Rocco, Dan and the chef from the restaurant did a pasta demo for us.  We basically learned how to shape farfalle (bowtie) pasta.  Photo Credit:  Kevin Mazur, Getty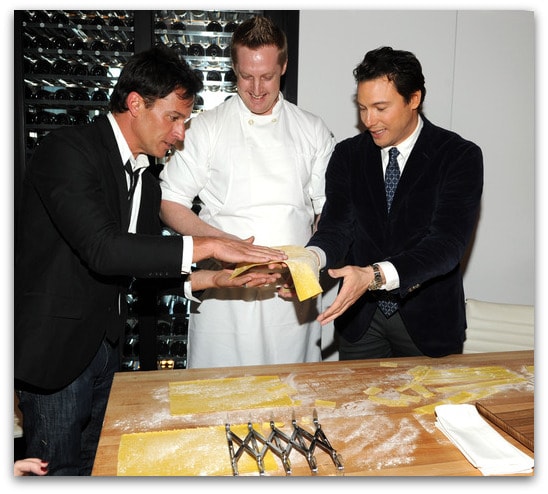 Here are the bloggers who were in attendance: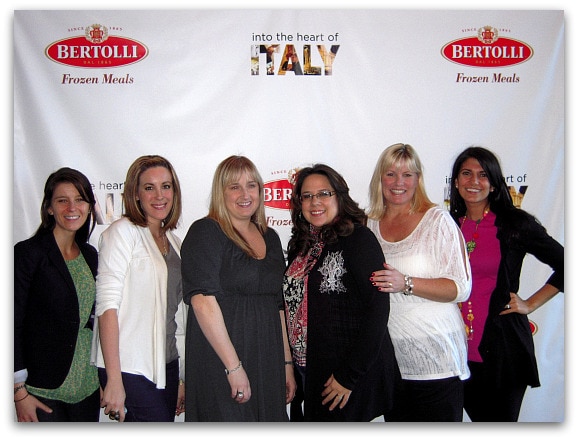 Tina, Vera, Paula, Lori, ME, and Sabrina.  I loved meeting all of these new blog friends, and we had a great time together.  Thanks, Bertolli for the amazing trip!
24 Responses to "NYC Celebrity Journey… "Into the Heart of Italy" Premiere"
Leave a Comment