Roasted Pumpkin Bisque w/ Mushroom- Gruyere Crostini
I entered this recipe into the Pacific Foods Everyday Chef Challenge:   Roasted Pumpkin Bisque w/ Mushroom- Gruyere Crostini. I didn't win the contest, but I came away with a really great soup recipe!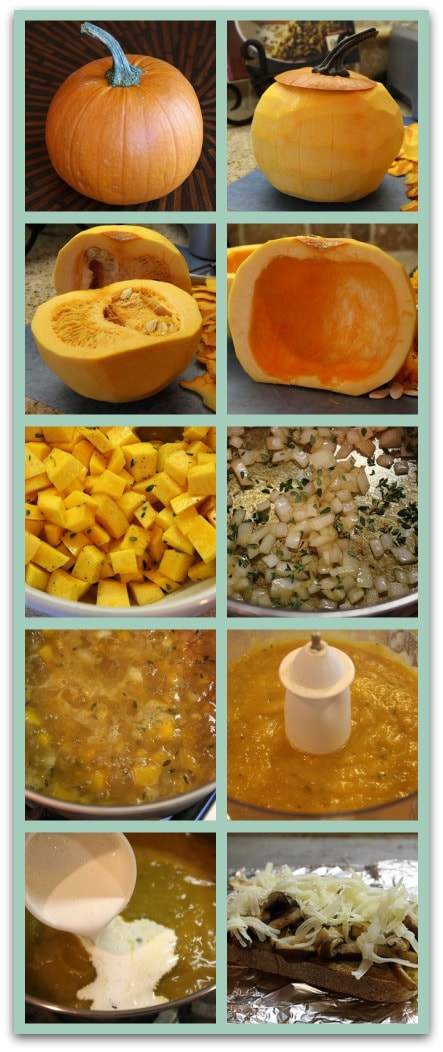 The challenge was to come up with a recipe using Pacific Natural Foods broth and mushrooms. My recipe starts with a sugar pie pumpkin, roasted and then pureed with sauteed onions, spices and mushroom broth. Cream is swirled in at the end, and the soup is served with toasted bread topped with sauteed mushrooms and melted Gruyere cheese (meant for dunking!)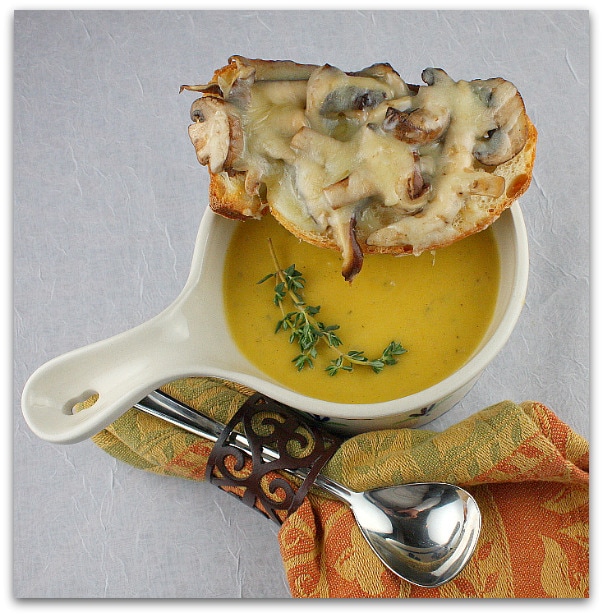 What would I have won? Something I'd really use… a Culinary School Bootcamp in Napa Valley!  Bummer… didn't win.
Oh well- enjoy my soup recipe anyways!
Yield: 4 servings
Prep Time: 40 min
Cook Time: 50 min
Roasted Pumpkin Bisque w/ Mushroom- Gruyere Crostini
Utilizing some fabulously rich mushroom broth, it complements the 2-mushroom- Gruyere crostini that is served with this soup… dunking is encouraged!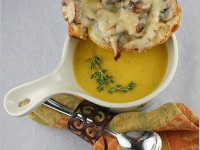 Ingredients:
ROASTED PUMPKIN:
1 small sugar pie pumpkin (about 1/2 pound), peeled and cut into 3/4-inch pieces
1 Tablespoon melted butter
1/2 teaspoon chopped fresh thyme
1/2 teaspoon sea salt
1/8 teaspoon freshly ground black pepper
SOUP:
1 Tablespoon extra-virgin olive oil
1/2 medium onion, chopped (about 3/4 cup)
1 1/2 Tablespoons chopped fresh thyme
2 cups Pacific Natural Foods Mushroom Broth
1/2 cup dry white wine
1/2 cup apple cider (or juice)
1/2 teaspoon ground cardamom
1/4 teaspoon ground ginger
1/8 teaspoon ground cayenne pepper (or more, to taste)
1/2 teaspoon sea salt (or more, to taste)
1/8 teaspoon freshly ground black pepper (or more, to taste)
1/3 cup whipping cream
CROSTINI:
4 thin slices French bread (8 if you're using baguette)
1 Tablespoon extra-virgin olive oil
1 Tablespoon minced garlic
5 ounces sliced shiitake mushrooms
5 ounces sliced cremini mushrooms
1 1/2 cups shredded Gruyere cheese
Directions:
Prepare the Roasted Pumpkin:
1. Preheat oven to 425 degrees F. Spray baking sheet lightly with nonstick spray.
2. In a medium bowl, toss pumpkin with butter, thyme, sea salt and pepper. Spread on baking sheet; bake for 20 minutes, or just until tender.
*Reduce oven to 400, so it's ready for preparing the crostini.
Prepare Soup:
1. In a medium saucepan, heat olive oil to medium-heat. Add onion; saute until onion is tender and beginning to brown lightly at the edges (about 5 minutes). Add in thyme, broth, wine, cider, cardamom, ginger, cayenne, salt and pepper. Scoop roasted squash into the broth; bring to a boil. Reduce heat and simmer for 10 minutes. Remove from heat.
2. Pour soup mixture into a food processor and process until smooth and creamy. Return to the pan. Add cream, stir and keep on low heat.
Prepare Crostini:
1. Place bread slices on baking sheet. Place in the oven for 3-4 minutes, just until lightly toasted. Remove from oven.
2. In a large saute pan, heat olive oil at medium heat. Add garlic and mushrooms. Saute until garlic is fragrant and mushrooms are no longer dry.
3. Divide mushrooms between toasts, piling them on top. Sprinkle with Gruyere cheese. Place toasts back in the oven until cheese is melted, about 3-4 minutes.
Serve Mushroom-Gruyere Crostini with the Pumpkin Bisque. Dunking is encouraged!
25 Responses to "Roasted Pumpkin Bisque w/ Mushroom- Gruyere Crostini"
Leave a Comment