Halloween Recipes for Fans of Cinnamon Toast Crunch & Cocoa Puff's cereals
A couple of weeks ago, the folks at General Mills contacted me to see if I might like to create some Halloween-Themed recipes (using General Mills cereals) for the Betty Crocker website. I did this last year & it was fun, so I thought I'd give it a shot. Any excuse to buy Cinnamon Toast Crunch cereal and make some sweet treats with it sounds good to me 🙂
Last year I made what is now a family-favorite in our house: Pumpkin French Toast w/ Cinnamon Toast Crunch Crust. This year, I thought I might stick with the breakfast theme using the same cereal. We're big on oatmeal in my house, and I thought I'd combine pumpkin with oatmeal to make a fun Halloween morning treat. So I created a Baked Pumpkin Pie Oatmeal with Crunchy Cinnamon Crumbles.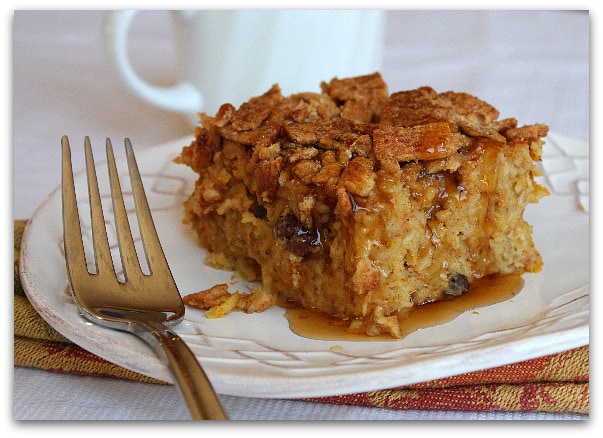 A pumpkin-spiced oatmeal mixture is baked in the oven. About half-way through baking, the oatmeal is topped with crumbled Cinnamon Toast Crunch Cereal. It bakes into the top layer of the oatmeal & it provides a slightly sweet crunch as you bite into the baked oatmeal with a drizzle of maple syrup. This is delicious when eaten nice and warm-  just as it comes out of the oven, and it's best the day it's made. Leftovers are good too, but you'll need to add more crunch to any warmed up leftovers.
For my second recipe I used Cocoa Puffs.  I can't tell you how excited that my son was that I actually purchased chocolate cereal for breakfast.  He was pretty bummed when I told him that he couldn't eat any until I had a chance to come up with a recipe.  I created a fun Halloween treat for the kiddos: Chocolate- Hazelnut Spider Cupcakes.  And lucky for my son, there are leftover Cocoa Puffs for breakfast.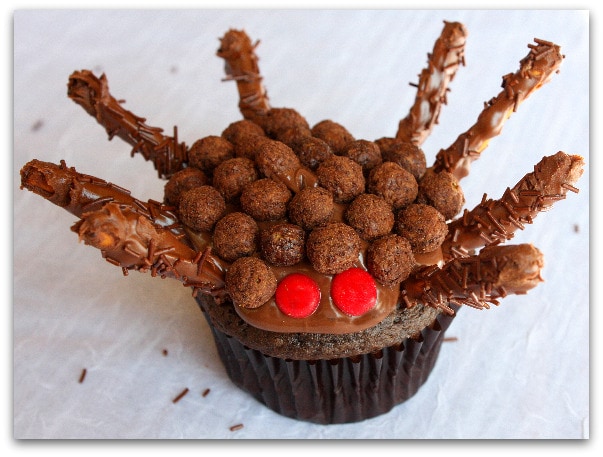 I made these super easy by using a boxed Betty Crocker chocolate cake mix to make the cupcakes (because you and I both know that kids can't tell the difference between homemade and boxed mixes). The legs are the only time consuming part- I dipped stick pretzels in melted chocolate and then covered them with chocolate sprinkles. You can make that part a whole lot easier too by using Magic Shell to cover the pretzels with chocolate– no dipping required. Let the chocolate dry, then they're ready to assemble.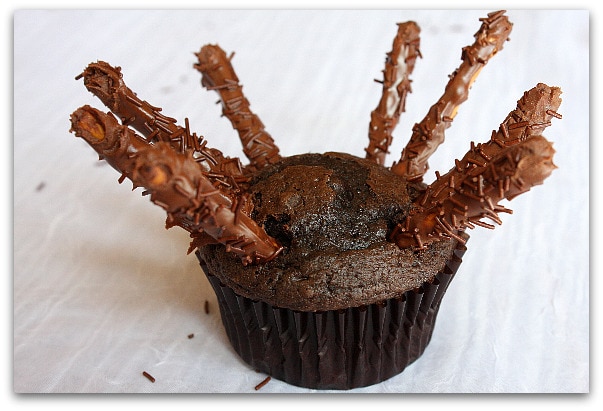 Top the cupcake with a good dollop of the oh-so-amazing Chocolate- Hazelnut Spread (otherwise known as Nutella). If you don't want to drop $$ for Nutella, go ahead and top it with your favorite chocolate frosting instead.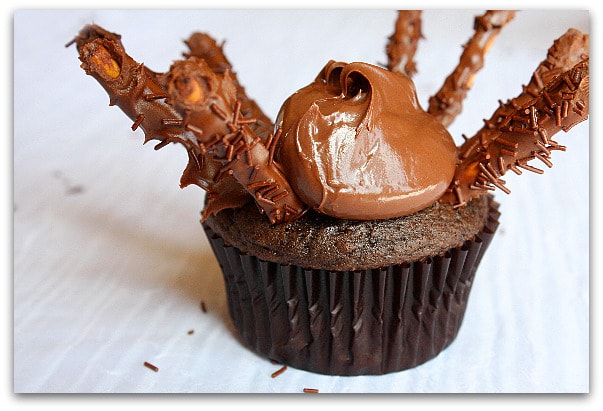 Spread out the "frosting," and give your spider cupcake two cinnamon red hot eyes.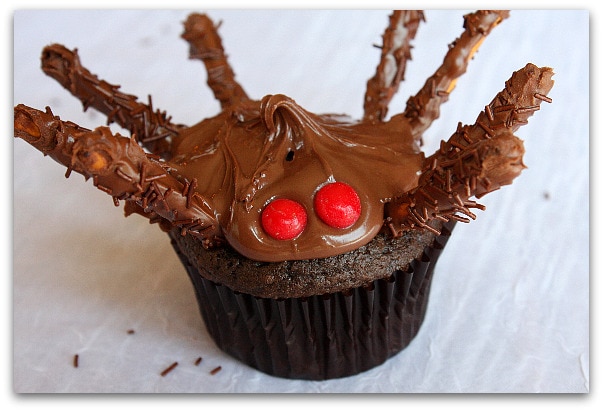 Dot the top of the cupcakes with Cocoa Puffs cereal.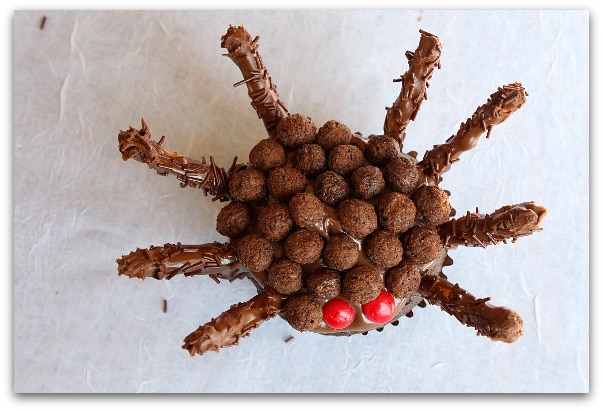 Now the spooky, spidery cupcakes are ready for eating.
Have you thought about what treats you might be making for Halloween yet? You better get on that. It's already Sept. 23rd 😉

Recipes w/ instructions can be found here:
Baked Pumpkin Pie Oatmeal with Crunchy Cinnamon Crumbles
Chocolate- Hazelnut Spider Cupcakes
Disclosure: I was not paid to write this post, but was merely invited to contribute to Betty Crocker's holiday recipe collection.  General Mills sent me a $50 grocery card to cover the cost of groceries for recipe testing.
22 Responses to "Halloween Recipes for Fans of Cinnamon Toast Crunch & Cocoa Puff's cereals"
Leave a Comment