Pork Chops with Creamy Apple- Cranberry Sauce
Here's my video recipe for Pilgrim Pork Chops, one of the winning recipes in the Real Women of Philadelphia recipe contest. Click the box below to view the very short video on how to make this recipe as well as how to enter the contest for a chance to win $500. Scroll down to print the recipe below the video.
These pork chops turn out moist as can be, and they're topped with a very flavorful and velvety, cream sauce. My family enthusiastically gave this recipe a big thumbs up. It's nice to know that a winning recipe is really a "winner!"
Disclosure: This post is being sponsored by Kraft and the Real Women of Philadelphia Recipe Contest.

Yield: 4 servings
Prep Time: 25 min
Cook Time: 20 min
Pork Chops with Creamy Apple Cranberry Sauce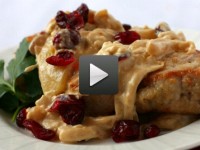 Ingredients:
4 (1-inch thick) pork chops
4 Tablespoons all-purpose flour
1 teaspoon garlic powder
1 teaspoon salt
1/2 teaspoon freshly ground black pepper
1 1/2 Tablespoons butter
2 Tablespoons canola or vegetable oil
6 ounces light cream cheese
1 medium onion cut in half and sliced thinly
2 Honeycrisp apples (or any good, sweet baking apple) peeled, cored & cut in slices
1/2 cup dried cranberries
1 cup apple cider
Directions:
1. Preheat oven to 350 degrees F.
2. In a large skillet heat butter and oil on low until melted and bubbling while dredging the pork chops in flour mixed with garlic powder, salt and pepper. Bring the heat in the pan up to medium high and saute the chops for 3 minutes on both sides. Remove the pork chops to a pan and place in oven to finish and stay warm for ten minutes.
3. Keep the oil and butter left in the skillet. If it is burned then wipe the pan and add one tablespoon of oil. Add onions to the same skillet and saute with oil from the chops until slightly caramelized; add apples and saute until they tender. Add cream cheese to the apple-onion mixture along with the apple cider; stir until the sauce becomes smooth and creamy. Add the cranberries and stir for one minute.
4. Remove pork chops from the oven and plate them with the sauce. Place a spoonful of sauce on a plate, top with a pork chop + more sauce. Add an additional sprinkle of dried cranberries and a sprig of parsley, if desired. Serve immediately.
Tips:
*If you are preparing this recipe as gluten free, just be sure to substitute GF flour for the all-purpose flour.
*You can sub apple juice for the apple cider, but I liked the extra spice that the cider imparted into the sauce.
*Leftovers of this dish are great too. Just heat up in the microwave and serve.
Source: RecipeGirl.com (Recipe adapted from RWoP recipe contest winner Suzanne Aiken
9 Responses to "Pork Chops with Creamy Apple- Cranberry Sauce"
Leave a Comment