Pork Cutlets with Creamy Mushroom and Caramelized Shallot Sauce
Today I'm sharing with you a quick and easy dinner idea: Pork Cutlets with Creamy Mushroom and Caramelized Shallot Sauce. Click the video below to view a short how-to for how to make this recipe.
I created this easy dinner recipe for The Real Women of Philadelphia and GoodBite. Check out RealWomenofPhiladelphia.com for details on their recipe contest and how you can have a shot at winning $500.
Yield: 4 servings
Prep Time: 25 min
Cook Time: 20 min
Pork Cutlets w/ Creamy Mushroom and Caramelized Shallot Sauce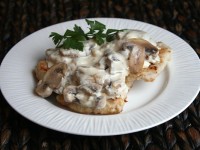 Ingredients:
1 pound pork tenderloin
1/4 cup all-purpose flour
3 shallots, peeled and chopped
8 ounces sliced mushrooms
1 cup Kraft Savory Garlic Cooking Crème
Directions:
1. Prepare pork: Cut pork crosswise into 8 pieces. Place each pork piece between 2 sheets of wax paper; pound to 1/4-inch thickness using a meat mallet or rolling pin. Sprinkle both sides of pork with salt and pepper.
2. Place flour in a shallow bowl. Dredge pork in flour, turning to coat; shake off excess.
3. Heat 1/2 tablespoon olive oil in medium nonstick skillet over medium-high heat. Add half of pork; cook 2 minutes on each side or until pork is done. Remove pork from pan; keep warm. Repeat procedure with another 1/2 tablespoon oil and pork.
4. Prepare Sauce: Heat 1 tablespoon of oil in the same skillet to medium heat. Saute shallots until they become soft, golden and slightly caramelized (5 to 6 minutes), stirring often and turning down heat if they are browning too much. Add mushrooms and continue to sauté until mushrooms have softened, 3 to 4 minutes. Add Cooking Crème and stir until heated through.
5. Serve sauce over pork.
Tips:
*Kraft Cooking Creme can be found near the other cream cheese products.
Disclosure: This post has been sponsored by The Real Women of Philadelphia.
9 Responses to "Pork Cutlets with Creamy Mushroom and Caramelized Shallot Sauce"
Leave a Comment