Every Family Needs a Good, Old-Fashioned Blackout Now and Then
There was a big-time Blackout in Southern California a couple of weeks ago.  It happened suddenly, as Blackouts tend to do. We were all just going about our afternoons as usual when everything went dead.  And I mean everything… everywhere.  I was able to find out rather quickly through Twitter via my iPhone that this was a county-wide problem affecting millions.  The whole power grid for SoCal and part of Arizona was out.  Traffic jams ensued as everyone scrambled to get home on the roads and freeways.  And what was the cause of all of this?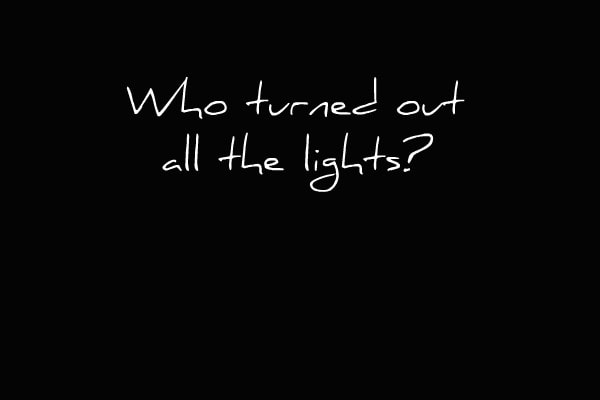 Most people thought that since it was such a warm day that maybe the power grid couldn't take all of the air conditioning units blasting at once.  And since it was just a couple of days before 9/11, rumors were circulating that it could be part of some kind of a terrorist plot.  It was none of that though.  Turns out that a worker at the main plant made an error when he was fixing something, and the entire grid failed at once.  Wonder if that guy still has a job?
We've had blackouts before- mostly because of that "hot day air conditioning excess" reason.  The power usually comes back on within a couple of hours. But by 7 o'clock, we started searching for candles.  My son finished up his homework by candlelight, and I made boxed macaroni and cheese for dinner on my gas stove.  I was afraid to open the refrigerator since this blackout had no end in sight.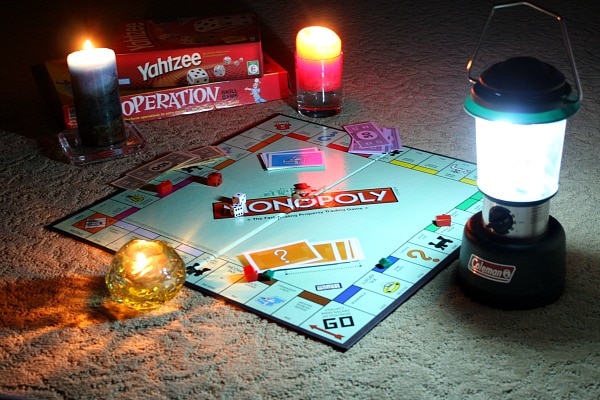 My husband got out the flashlights and the camping lanterns.  We played board games by candlelight and talked as a family.  At 9 o'clock we grabbed a few flashlights and went for a long walk.  A full moon was lighting up the neighborhood.  A few generators were going, but other than that it was peaceful and quiet.  You could hear families talking and laughing and enjoying their time together.  It was all very exciting and unusual, and we loved it!
Word got out that school had been canceled for the following day.  We made plans to go to the beach with friends and enjoy our unexpected day off.
At 2am, we were startled from our sleep when the burst of power came back on.  Although I was happy that all of the things in our freezer and refrigerator would now be safe and not go to waste, I admit feeling a tinge of disappointment.  With the power off, we were seemingly in another world… where we were forced to relax and spend time together as a family.  Soon we'd be returning to our computers and video games and TV shows.  I think every family needs a good, old-fashioned blackout now and then.
Do you have a blackout story?  Ours was so short-lived and uneventful, but I'm sure there are others out there that may not have had such a happy ending…
18 Responses to "Every Family Needs a Good, Old-Fashioned Blackout Now and Then"
Leave a Comment