How to Lose Weight… the Healthy Way
Yeah, I'm gonna talk about losing weight today. Stay with me if you've ever struggled with keeping those pounds off, and if you want to spill any magical secrets sharing how it should be done and how to keep it off forever.  And if you have a success story, by all means… share it with us in the comments.
This post shall also be titled, "How to Lose Weight When You Love Food So Much," and "How to Lose Weight When You Write About Food Every Day," and "How to Lose Weight and Still Enjoy a Foodie Life." I've talked about my lifelong battle with excess poundage many… times…before. I've tried all of the diets. I've exercised extensively. I've been successful at times, and I've struggled even more times. I'm on that path to getting thinner and healthier again (starting yesterday). I think about that path every night when I go to bed, feeling like I've over-indulged during the day, and I think about that path every morning when I wake up and feel the pudge in my mid-section that most definitely should not be there. I think about that path when I find myself staring at favorite jeans in the closet that I can no longer get over my thighs, and I think about that path when I'm nibbling cookie dough and somehow can't seem to stop.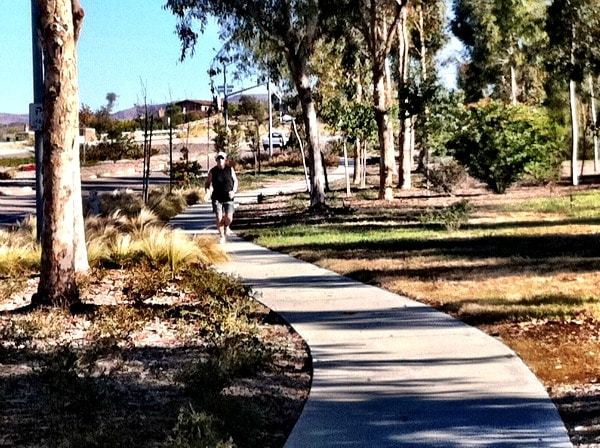 The path begins here- exercise. It has always made me feel better, look better and help melt off unwanted flab. My exercise of choice has always been running. I've been struggling with Plantars Fasciitis for a few months now. If you're not familiar, it's a painful foot condition brought on by over-usage of the plantar fascia- the thick connective tissue which supports the arch on the bottom of the foot, running from your heel to your toes. Yes, it seems that I am being punished for exercising TOO MUCH. What the heck?! In any case, my Doc and physical therapist have limited me to biking (ick), swimming (bathing suit? No way!), and walking (I suppose I can manage that).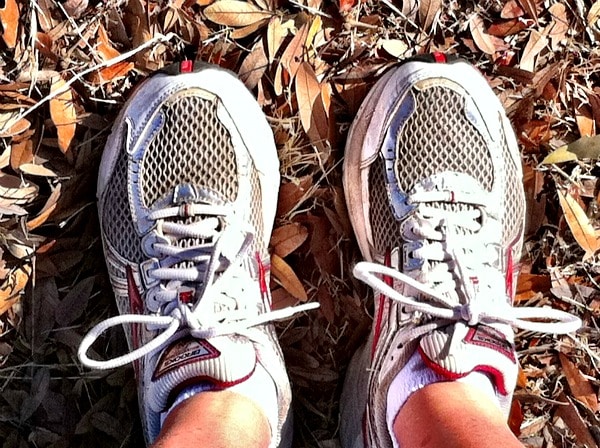 Yesterday I ventured out for the first time in a while. I told myself I'd walk for 45 minutes, and then I became obsessed with clocking exactly one hour. I walked briskly, listened to new songs on my iPod, and created recipes in my head. It's good "ME" time. I intend to walk at least three days a week and then hit the gym for strength training a couple of days a week too. I'm pretty good at convincing myself that I'm "too busy to work out today." I need to get my butt out the door before 9AM (preferably earlier) or exercise just isn't going to happen.
I don't have 100 pounds to lose. But I'm definitely in need of losing 30, or at the very least 20. That darn weight just creeps on and at some point I just give up and give in to food. It's a battle that I hate to fight.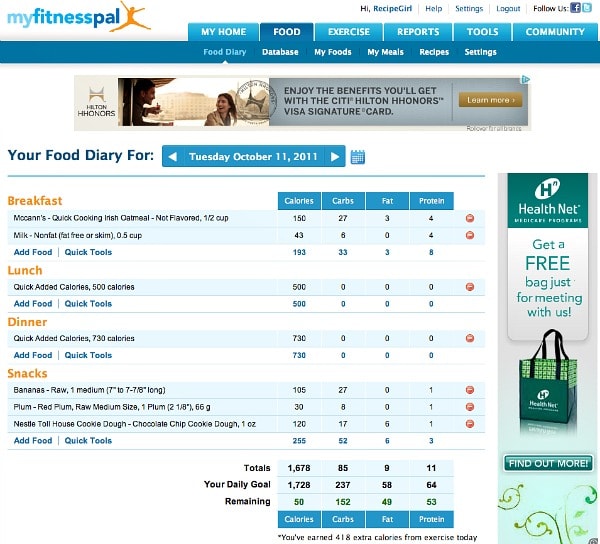 MyFitnessPal.com was recommended to me. I started using it yesterday, and I'm quite pleased with how it is set up. It's a way of tracking your daily food intake and exercise, it calculates everything for you based on your weight and how much you are trying to lose, and IT'S FREE- if you can believe that! You can see my first day above. Because I'm constantly recipe testing and developing, I had to estimate calories for lunch (butternut squash soup) and dinner (two kinds of fish tacos). Otherwise, they have a huge database of foods that you just plug in and the calories and nutritional info. pops up. I burned 418 calories from my exercise- which it adds on to the calorie count for the day, allowing you to consume more calories if you wish and still be on track for losing a pound or so a week. There is an APP for MyFitnessPal too so you can use it when you're out an about. I'm still learning how to use all of its great features.
For me, losing weight the healthy way is about eating what I want… in moderation.  If you squint at the small print in my day planner yesterday, you'll see that I had an ounce of cookie dough.  That's not something that I have every day, or even something that I "want" to have every day.  But my son made cookies for a school project, and I chose to use up 120 calories to have a taste of that dough.  Were the 120 calories worth it?  Yes, I believe they were.  Had I not counted that dough, I might have eaten three spoonfuls instead.  One was plenty, and it satisfied that sweet taste I was craving.
So, I guess I'll be giving an update here once in a while if I discover a cool new exercise that I want to share, or if I pick up some unbelievably cute tennis shoes that everyone should have, or if I just want to shout to the world that I'm being successful at this go-round. Perhaps I'll motivate someone else to get healthy too. Then this will all be worth it.
P.S. My food blog will remain just as it always has… a mix of desserts and dinners and holiday favorites and healthy recipes.
Need an inspiring success story? Read my food blogging, cookbook author friend Amanda's story: Ready to Talk- My Story of Obesity
69 Responses to "How to Lose Weight… the Healthy Way"
Leave a Comment