Getting Skinny and Staying There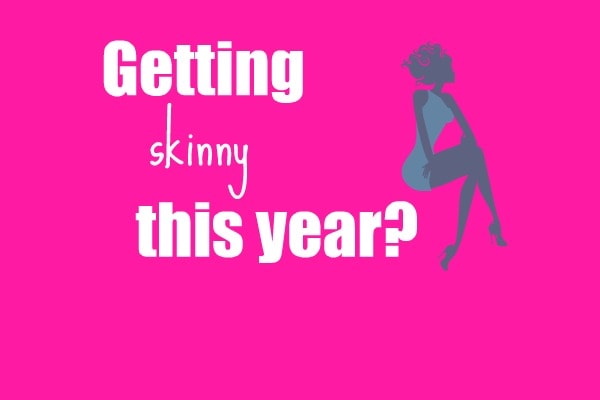 So you've had your fun with food this year… and the scale is tipping the wrong way… and you're not fitting into your favorite jeans… and you're just plain miserable.  Is that you?  Yeah, that's pretty much most of the world at the beginning of a new year, right?  How will you make this year different and really stick to your guns about getting skinny and staying there?  Let's be realistic:  by "skinny" I mean whatever weight makes you feel good about yourself (not actually skinny skinny model skinny).  My feeling is… if you're feeling skinny and healthy- then you're skinny in my book.
I'm a big believer in making a list of  reasons why you feel like you need to lose weight.  Here are a few that apply to me.  Perhaps some of these apply to you too.
1.  You feel fat.  There is nothing worse.  On the flip side, feeling skinny is just about the best feeling in the world.
2.  Getting healthy, and all of that mumbo jumbo.  A doctor who operated on me once told me that it's a whole lot easier to operate on someone when they don't have to cut through a thick layer of fat to get to where they need to operate.  That grossed me out.  I was glad I didn't have a thick layer of fat for him to navigate!  Eating lots of fruits and vegetables, having a balanced diet, limiting "treat" time, and exercising regularly are all part of the journey to getting skinny.  It's stuff we should be aware of on a daily basis, but many of us ignore it and have another cookie.  I've always found that Weight Watchers is a healthy program to follow (it at least teaches you how to manage a healthy diet and limit your intake) and I'm pretty hooked on My Fitness Pal (find me & friend me!) for keeping track of food and exercise.
3.  All of your friends are skinnier than you are.  This one kills me.  Have you ever been with a group of friends and realized that you're the fattest one of the bunch?  Not a great feeling.
4.  Skinny jeans don't look good on you unless you're skinny and long shirts don't hide the fact that you're overweight.  No matter how long your shirt is that is covering your butt, the skinny-pants thing just isn't for those who are overweight.  And long shirts in general aren't hiding anything.  Fact:  I once hung a pair of my favorite (skinny-er) jeans in my kitchen to serve as a reminder that I wanted to lose weight.  Guess what?  It helped!  And eventually I was able to fit into those jeans again!
5.  You don't have any energy to play with your children.  Too tired to throw the ball around or take your kids to the park?  If it's because you're working and you're too exhausted then you have a good excuse.  If it's because you are so full of sugar and fast food that your lethargy is preventing you from doing pretty much anything… then that's just sad.
6.  Cooking at home is much better than fast food anyways.  You simply cannot manage to lose weight if you eat out all of the time.  Cooking healthy can be simple (i.e. a piece of grilled chicken, some vegetables, a potato… or a large salad with loads of great things mixed in).  Shop, chop and plan on the weekends and that will mean that your week of eating healthy will be that much easier.
7.  You are nicer to people when you feel skinny.  Let's face it.  Feeling fat makes us grouchy.  Get skinny, your confidence and mood follows, and you'll be more (cheerfully) social.
8.  It's much more fun to go shopping.  As you watch the pounds drop, you get to watch the pant's sizes drop too.  There is nothing better than getting to the point of trying on clothes that are smaller than the size you've been filling up for quite some time.  And dig out your skinny clothes from the back of your closet too.  Yippee!
9.  Surely you have some sort of event or vacation coming up.  This year I have two weddings, a long vacation and a family reunion!  I'd say those are all good motivators to get my body where I'd like it to be.
10.  It's just time to TAKE ACTION.  You've complained to yourself and your spouse and your social networking friends for far too long about how you need to get on board with diet and exercise.  Just do it.
Personally, I'm participating in a "Biggest Loser" competition at my gym- which begins in two days.  It's 7 weeks long, and I figure it will give me a good jump start into eating healthy and exercising.  After that I plan to follow a 1/2 marathon training program to run my 2nd half in June.  My number one reason for wanting to get skinny this year and stay there is because IT JUST MAKES ME HAPPY! 🙂
Exercise links that may be helpful for you:
Couch to 5K Program (if you're not an exerciser AT ALL, this is a terrific way to get started)
Train for your first 5K!  Here's a training program (for people who are already running) to get you started!
100 exercise songs for your iPod
And here are a few more exercise songs for your iPod
Healthy food links that may be helpful to you:
RecipeGirl Weight Watchers Recipes (nutritional info & WW Points included)
Skinny Taste blog (nutritional info & WW Points included)
Eat Yourself Skinny (nutritional info & WW Points included)
Skinny Kitchen (nutritional info & WW Points included)
Kalyn's Kitchen (South Beach Diet recipes)
So how about it?  What's your plan for getting healthy in 2012? 
39 Responses to "Getting Skinny and Staying There"
Leave a Comment