10 New Recipes to Try for Dinner
So, here's the deal: I make dinner for my family most nights, and I secretly sneak most of those dinner recipes onto RecipeGirl.com without sharing them on the blog. So you may be browsing through the recipe index once in a while and think, "Hmmmm, I don't remember seeing that one on the blog!" That's right. Some recipes are delicious and worthy enough to make for dinner, but I don't necessarily share them all on the blog. I've decided to share 10 dinners that we've enjoyed in the last couple of weeks that have not been a feature on the blog.  Maybe there's something in here that will inspire you to cook something new for your family. Just click the recipe title to reach the actual recipe. Here ya go: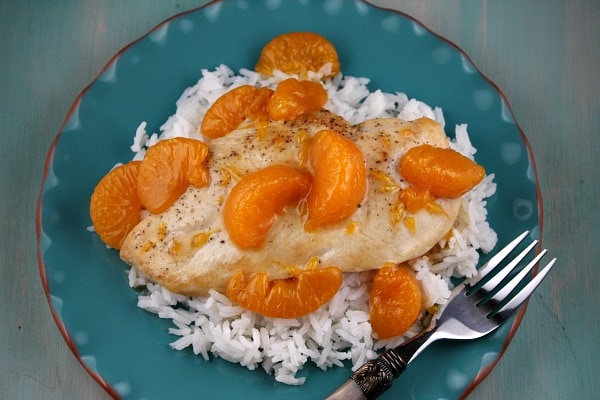 Orange Chinese Chicken: This is a simple sautéed chicken with a mandarin-orange sauce. Very quick to make. We served it over rice.
*gluten-free adaptable
*nutritional info & WW Points included.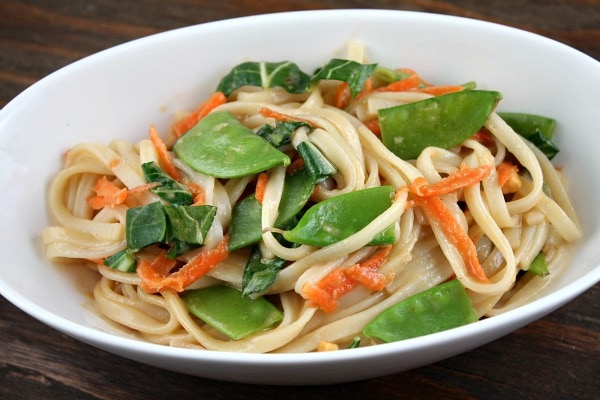 Udon Noodles with Asian Vegetables and Peanut Sauce– I didn't expect my family to love this as much as they did. It's a simple vegetable stir fry with a light peanut sauce and mixed with udon noodles. Very good.
*gluten-free adaptable
*nutritional info & WW Points included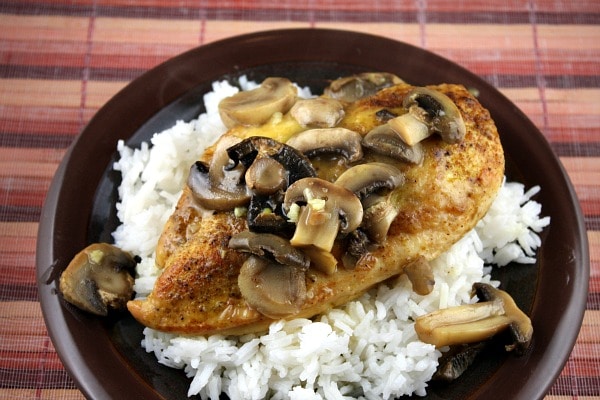 Amaretto Chicken: This chicken has flavors of curry and amaretto and is topped with sautéed mushrooms. I enjoyed it more than my husband. I think he was a little "chickened-out" when he tried this.
*gluten-free adaptable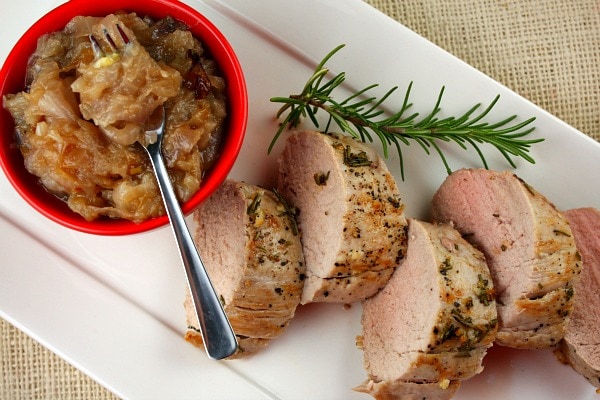 Herb- Crusted Pork Tenderloin with Red Onion Jam– LOVED this recipe of a simple herb crusted, roasted pork tenderloin served with slowly sautéed red onions that turn themselves almost into a "jam" consistency. A bite of pork with a bit of the jam- so good.
*gluten-free
*nutritional information and WW Points included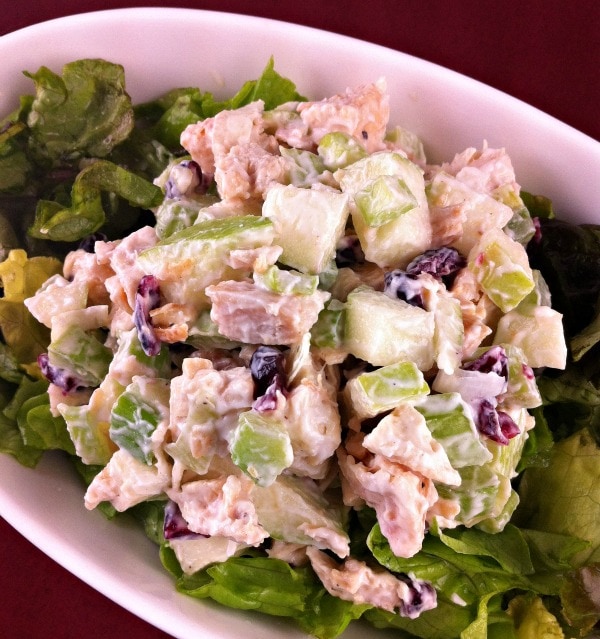 Chicken Apple Crunch Salad– I made this one night just for my son and I to eat and we both enjoyed it a lot! It's pretty much a simple (light) mayo-based chicken salad with dried cranberries, celery and apple mixed in. We served it on top of lettuce to make it more of a "salad."
*gluten-free adaptable
*nutritional information and WW Points included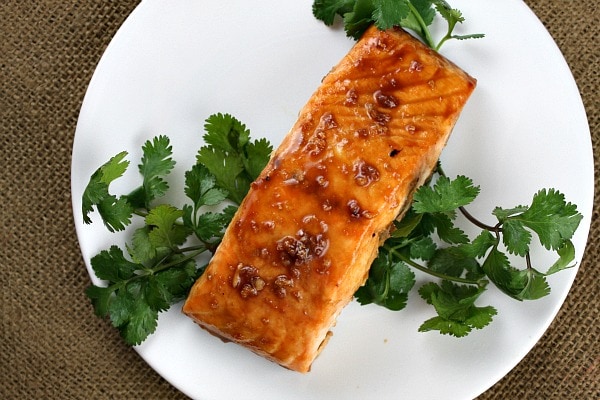 Asian Salmon– My family loves salmon every which way. This way is a simple soy/lime/honey/ginger/garlic marinade. Simple and delicious.
*gluten-free adaptable
*nutritional information and WW Points included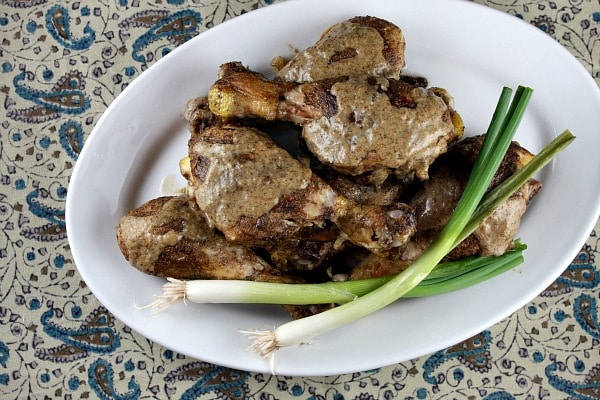 Jamaican Jerk Chicken Drumsticks– This one has a marinade that is spicy in terms of spices (allspice/thyme/cinnamon) and it can be spicy in terms of heat (jalapeño) if you'd like it to be. We made ours with just a little heat. Really enjoyed the flavors in this one- it was a family favorite, all around.
*gluten-free
*nutritional information and WW Points included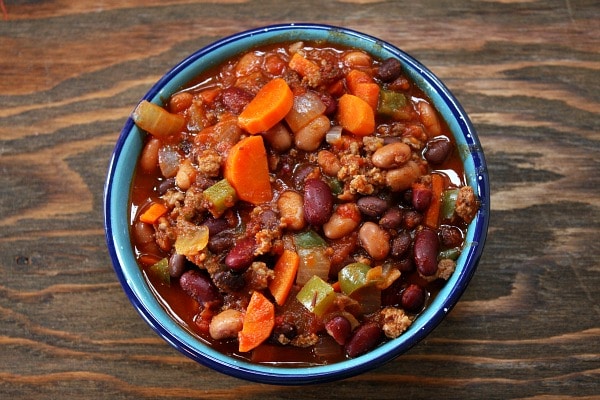 Three Bean and Beef Chili– Just another good, hearty and filling chili recipe. Nice for these chilly days.
*gluten-free adaptable
*nutritional info and WW points included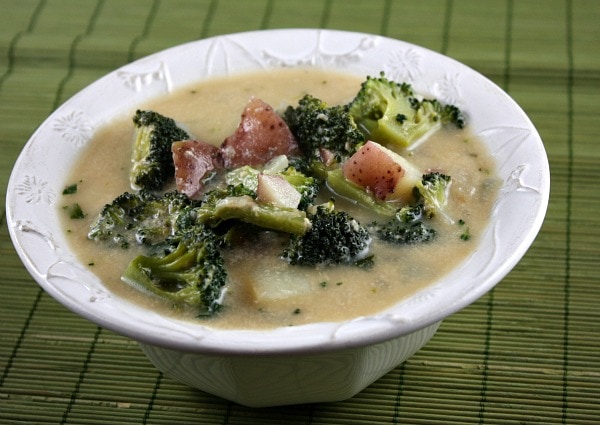 Broccoli- Potato Soup: A nice, warm-you-up soup recipe that is light and healthy. We enjoyed it as lunch leftovers for a few days.
*gluten-free adaptable
*nutritional info and WW Points included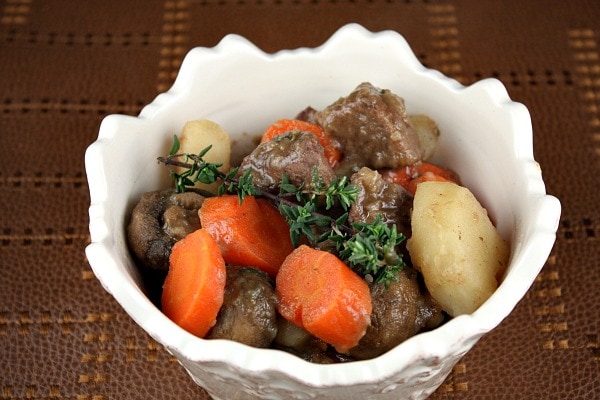 Basic Beef Stew: Ahhhh, as this stew simmered on the stove for a couple of hours, it made our house smell amazing. We all couldn't wait to dive in. It was delicious and comforting.
*gluten-free adaptable
*nutritional information and WW Points included
So, do you see anything you'd like to try?  Are you interested in seeing regular posts like this?  Let me know.  I aim to please 🙂
37 Responses to "10 New Recipes to Try for Dinner"
Leave a Comment