Getting Skinny- an Update- 2 Months Later…
By "skinny" I mean whatever weight makes you feel good about yourself (not actually skinny skinny model skinny).  My feeling is… if you're feeling skinny and healthy- then you're skinny in my book.
Well, it's been a couple of months now since I took the "Getting Skinny in 2012" plunge (like the rest of the world, right?)  Thought I'd give you a little update…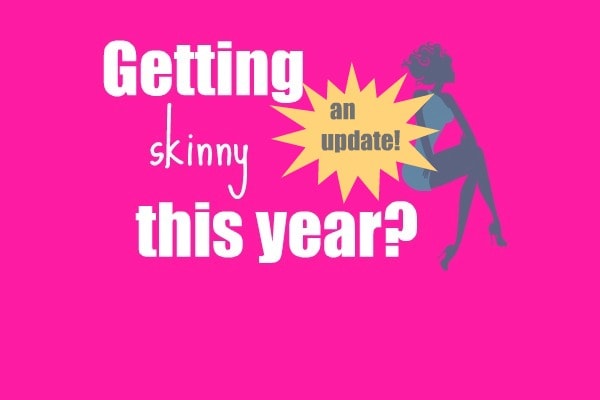 Since January 1st, I've lost a total of 13 pounds and 12 1/2 inches.  It's shocking that I was able to lose at all when I was working on wrapping up the final recipes in my cookbook, but I managed to power through it with small tastes and a lot of exercise!  Although it's a slow pace, I'm happy with the results so far (since those skinny jeans are on the not-too-far horizon).
I started out participating in a Biggest Loser contest at my gym for 7 weeks.  It was great for keeping me on track for limiting my calories and making good food choices, and it was motivating to exercise since Biggest Losers were awarded weekly prizes based on weekly results.  I did end up winning the contest (barely)- yay!
Since the contest ended, my husband has jumped on the healthy eating bandwagon too and we've decided to cut out a good deal of carbs from our diet.  I just think we felt overloaded and icky with excessive bread and pasta consumption.  I can tell you that the fat really comes off a lot faster in your mid-section when you limit carbs.  I know… I know… if I start eating carbs like a mad-woman again that it will all come back.  Been there, done that.  My plan is to count my carbs and keep an eye on limiting consumption when I get to the weight that I'm satisfied with.
For now, it's lots of grilled fish and chicken, salads with all kinds of yummy veggies and beans added in, vegetable soups, a few fruits and nuts.  I love making scrambled eggs/egg whites for breakfast with spinach, tomatoes and feta cheese.  And believe me, I'm not perfect.  I drink wine when I want to, and if I eat a little more at a special function I'm attending then I'm just really conscious about eating better the rest of the week.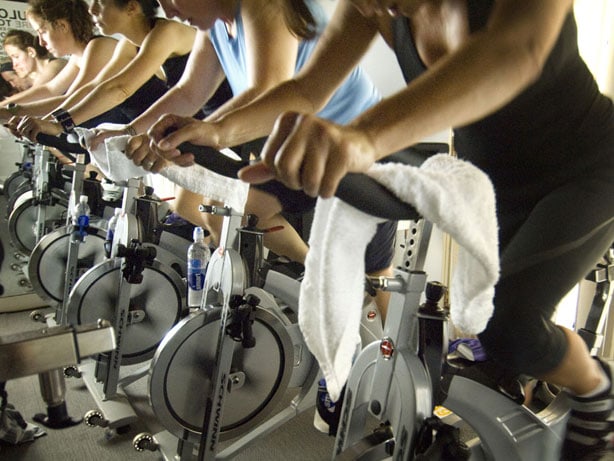 I have found a new fitness-love:  Spinning!  If you would have told me a year ago that I'd be a Spin Class Fanatic, I'd have slapped you silly.  I really do not like riding bikes much at all unless I'm on a really flat road.  But ironically, I love spin class!  It takes a couple of weeks to power through the soreness-in-the-seat, but after that you're home-free and not sore anymore.  I've been spinning twice a week- a huge calorie burner at 600 to 700 calories in just one hour.  A bonus:  the way your muscles are worked, you actually re-shape your butt by spinning.  Flat butts have the potential to transform into more curve.  Ask my husband- it's working 🙂  My gym just started offering a Pure Barre class, and I'm looking forward to trying that too.  I've abandoned the idea of running another half-marathon.  I'm still running occasionally, but my knee is just not ready for a half-marathon.  Oh well.  I'm still using My Fitness Pal for keeping track of daily fitness.
I think the biggest problem for most is staying motivated.  What keeps me motivated?  I have two weddings, a Bat Mitzvah and a family reunion this year.  And having my skinny clothes prominently displayed in my closet is a good reminder that I'd actually like those to fit me comfortably.  I'm sooooo much happier in the summer when I feel fit and thin.  That's big motivation for me.  And when I think of eating cookie dough or taking a bit of that glazed brownie that I just made, I think… I've worked so hard to get where I am- why should I ruin that now?  I know it's no big deal to take a bite of things now and then, but for me… a bite sometimes turns into a downward spiral into eating bad again.
I took a "before" photo… so maybe I'll be brave enough to post before/after in a few more months.  We'll see!
How are you doing on your fitness/eating goals this year?  Please share your secrets with the world… we can all use a little advice from you! 
Links:
Hal Higdon Half Marathon Training
Couch to 5K 
Kalyn's Kitchen (South Beach/Low Carb Recipes)
Skinny Taste (WW recipes)
Eat Yourself Skinny (more WW friendly recipes)
RecipeGirl (WW category)
Pinterest (my Healthy Eating Links board)
Motivational weight loss story from my friend Dara
My Fitness Pal (friend me, and I'll friend you back)
100 Workout Songs for your iPod
32 Responses to "Getting Skinny- an Update- 2 Months Later…"
Leave a Comment