Brown Butter- Toffee Pecan Blondies
Are you as in love with Seattle as I am? I've been there several times, but I feel like I need another 42 1/2 days to explore and really get the lay of the land. Though it might be a fact that it rains a fair amount in Seattle, they do get 48 sunny days on average per year, it's truly beautiful country and a fun city… and the FOOD opportunities are endless.
The recipe I'm sharing with you today comes directly from the Volunteer Park Cafe in the North Capital Hill neighborhood of Seattle. It's a happenin' place serving coffee, pastries, soups, sandwiches, and dinner too. VPC is committed to using locally sourced food. Pastry Chef Heather Earnhardt contributed her recipe for Brown Butter Bars to the recently published Food Lover's Guide to Seattle. I've renamed them Brown Butter Toffee- Pecan Blondies.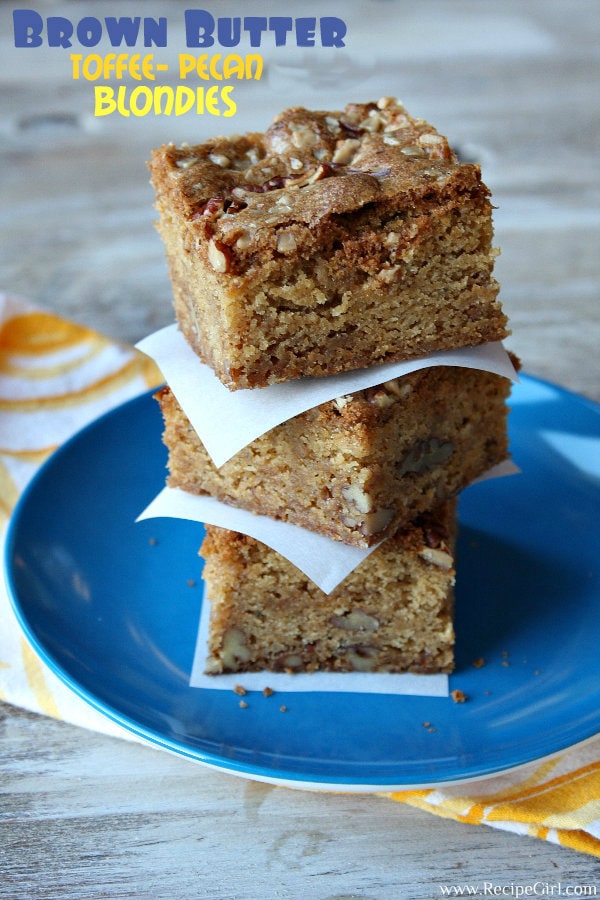 These are brown butter blondies in the best way… with added toffee bits and pecan pieces. Everything about them is perfect. They are moist and tender with a slight crunch from those added goodies.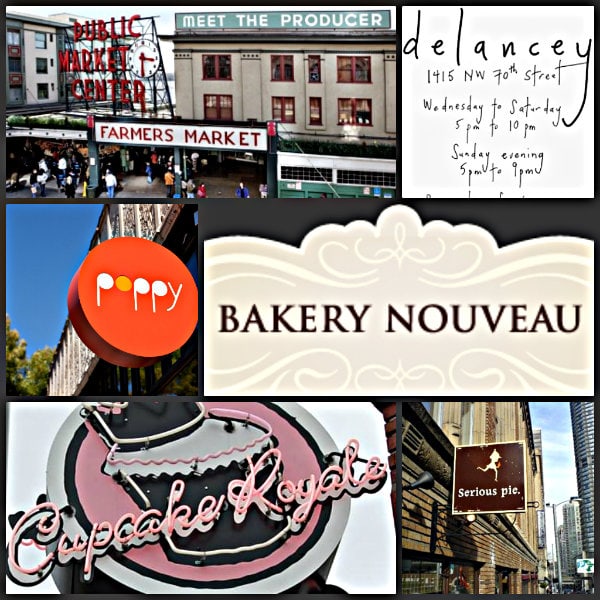 These are just a few of the fun food places that have been highly recommended that I check out on my next visit to Seattle. My son and I are headed there in June for the BlogHer Food Conference (yep, I'm taking RecipeBoy – age 10- to his 1st food conference! He's very excited!)  My son plans to visit a zillion of Seattle's bakeries.  I guess I can go along with that plan (twist my arm…)
If you have plans to go to Seattle, you'll want The Food Lover's Guide to Seattle to keep handy. It was written by Keren Brown, who is an expert in putting together events that educate and connect Seattle's food world.
Inside The Food Lover's Guide to Seattle, you'll find favorite restaurants and landmark eateries, specialty food stores and markets, farmers' markets, food festivals and culinary events, recipes from top Seattle chefs, the city's best cafes, taverns, and wine bars, cooking classes, and complete coverage of the infamous Pike Place Market. It's definitely a useful guide (easily fits in your purse/ camera bag/ backpack/ man purse) if you live in or near Seattle or if you ever intend to visit.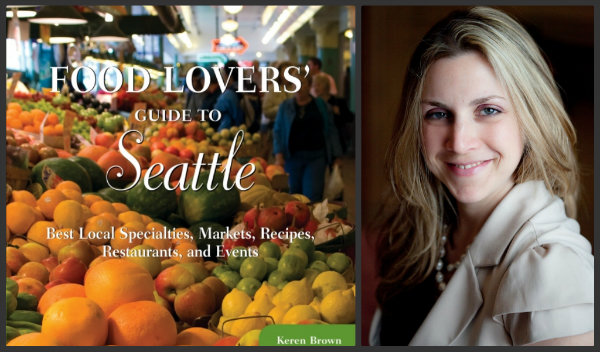 Author Keren Brown is offering 2 copies of The Food Lover's Guide to Seattle to two Recipe Girl readers. This giveaway is open to anyone who has a mailing address in the USA. Two winners will be chosen via random.org on Sunday, April 29th and will be contacted via email. The winners will each receive one copy of The Food Lover's Guide to Seattle.
This giveaway is now closed.  The randomly selected winners are commenters #36 Lacey and #78 Erin.  Thanks to all for entering!
The Food Lover's Guide to Seattle is available for purchase on Amazon, and it's in bookstores too. You can visit author Keren Brown on her blog: Frantic Foodie, and on Twitter and Facebook.
Yield: 25 blondies
Prep Time: 20 min
Cook Time: 40 min
Brown Butter Toffee- Pecan Blondies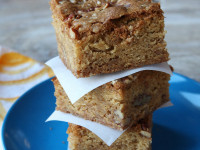 Ingredients:
1 1/2 cups (3 sticks) unsalted butter
2 1/4 cups all-purpose flour
1 1/2 teaspoons baking powder
1 1/2 teaspoons kosher salt
4 large eggs
2 cups packed light brown sugar
1 tablespoon vanilla extract
1 cup pecan pieces
1 cup toffee bits
Directions:
1. Preheat the oven to 325 degrees F. Spray a 9x9-inch baking pan with nonstick spray. Line the pan with a strip of parchment paper so that it covers the bottom and comes up two sides of the pan. Spray the parchment paper with nonstick spray.
2. In a saucepan over medium heat, melt the butter and continue to simmer until it turns a deep golden brown (3 to 4 minutes- watch it closely and keep stirring every so often so it does not burn); remove from heat and let it cool to room temperature.
3. Sift together the flour, baking powder and salt. Set aside.
4. In a large bowl, use an electric mixer to combine the eggs and sugar. Beat on medium-high speed until light and fluffy, about 3 minutes. Mix in the vanilla and browned butter, scraping the sides of the bowl to incorporate all of the ingredients, as needed. Add the dry ingredients, pecans and toffee. Mix just until combined. Scrape the batter into the prepared pan.
5. Bake 45 to 55 minutes, or until a toothpick inserted into the center comes out clean (don't over bake- start checking on it at 45 minutes... it should feel pretty firm in the center). And it may take up to 60 minutes to get these baked to the right consistency, depending on your oven and the pan you use. Let the bars cool to room temperature before cutting.
Source: RecipeGirl.com (adapted slightly and re-printed with permission from the Food Lover's Guide to Seattle- recipe comes from Pastry Chef Heather Earnhardt of Volunteer Park Cafe)
104 Responses to "Brown Butter- Toffee Pecan Blondies"
Leave a Comment