My Obsession with TOM'S Shoes
A while back, I decided that TOM'S were quite an ugly shoe.  Over the years, they've grown on me a bit.  I suppose that seeing more of them around these days and watching the new styles begin to surface have made them more appealing.  I'm not sure what it is exactly, but I've been hopelessly obsessed with TOM'S lately.  Here are three pairs that I've picked up in the last month.

The ballet flats are a newer style.  I bought the Lina print TOM'S first.  They feel like a classic flat, and 1/2 size down from my normal size fits well.  They're not super comfortable, but people tell me that they will be when they're broken in.
The Linen Ballet Flats were my next purchase.  It's always so hard to find light colored shoes to wear in the summer without wearing sandals or flip flops, so I thought these would be perfect.  I ordered my normal size in these and they feel just right.
The "classic" TOM'S were released in Crochet-style this year.  I saw a woman at my son's baseball game wearing these in an ivory color.  She said that she absolutely loved them but they were hard to keep clean.  That made ordering "black" an easy decision.  The crochets run very big.  I ordered one whole size down from my regular size and they are very comfortable.  They feel like slippers.
I wouldn't recommend any of them as a shoe to walk great distances in… or to be on your feet all day long (no arch support).  But I think they're a pretty fun, casual summer shoe.  As a Southern California girl, I wear an assortment of flip flops 92% of the time anyways, so these are a sweet addition to my out-of-control shoe collection.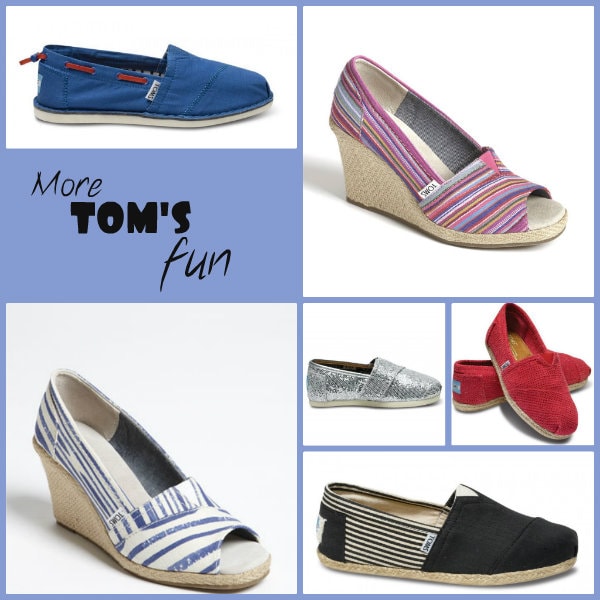 Here are a few of the newer styles that I'm thinking are pretty cute too.  They come in a bunch of different colors.  I tried the glitter style, but they made me look like a teenager wannabe.  Plus, my 10 year old was horrified when I brought them home .  I promptly returned them.  You can buy these and other styles of TOM'S on their website, but if you order them online… Nordstrom is actually a really great place to get them.  Shipping is free, and if they don't fit or you don't like them… they will pay for return shipping too OR you can just bring them in to the store to return.
If you are not familiar with the TOM'S company, they have a nice story behind how they started.  With every pair of TOM'S sold, the company gives a pair of shoes to a child in need.  How awesome is that?  I returned a pair of TOM'S that I bought the other day, and my husband teased me… he said, "Oh great, now they're gonna take a pair of shoes away from some kid that really needed them!"  Yeah, funny guy- my husband. 🙂
So what do you think?  Are you a fan of TOM'S?  Do you have a pair, or would you like to check them out?
Disclosure:  There is none.  I'm writing about TOM'S because I like them… and I bought my own shoes, thank you! 
21 Responses to "My Obsession with TOM'S Shoes"
Leave a Comment