I've become awfully fond of my Kindle for reading books, but I still like to hold my cookbooks in my hands.  I won't be ordering any electronic versions of cookbooks… ever!  And I hope you still like to shelve them in your kitchen too.
Here are a few cookbooks that have been released recently by some blogging friends of mine that you may wish to think about ordering.  I've got all of them on my cookbook shelves, and they make for good nighttime reading too 🙂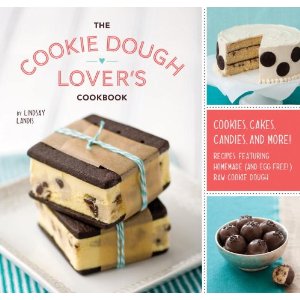 The Cookie Dough Lover's Cookbook by Lindsay Landis (blog:  Love and Olive Oil)- Lindsay has a fabulous blog filled with delicious recipes and amazing photography.  She designed my website too.  And now she has a cookbook!  Can you say "multi-talented?!"  This cookbook is full of recipes for cookie dough lover's (like me!).  All of the recipes contain homemade egg-free cookie dough.  You'll find classics like chocolate chip cookie dough truffles and ice cream, but you'll also find a whole lot of creative twists such as chocolate chip cookie dough bread pudding, cookie dough swirl marshmallows, and cookie dough mosaic cheesecake.  There is a photo for every single recipe.  If you're a cookie dough lover (and who isn't, right??), this one is a must-have on your cookbook shelf!  Head over to RecipeBoy's blog for a giveaway of this cookbook today!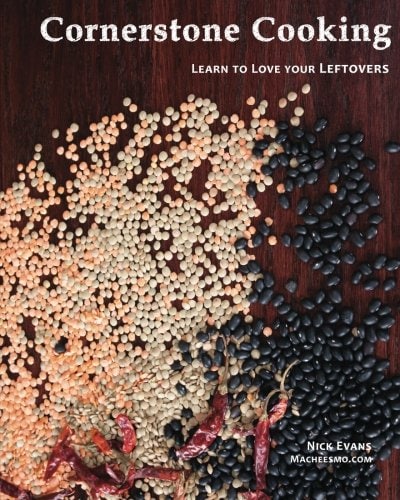 Cornerstone Cooking by Nick Evans (blog:  Macheesmo)- Nick has been around the blogging world for the last few years, sharing creative recipes on his blog.  His book is focused on helping cooks make getting dinner on the table easier and affordable and making leftovers last.  The book centers around eight cornerstone dishes that you can then repurpose throughout the week to prepare new dishes.  For example, in chapter 1, Nick shows us how to make a simple roast chicken, and then he follows with recipes that can use up that roast chicken: chicken stock, shredded chicken hash, greek chicken salad, four chicken salad variations, chicken tortilla soup, spicy chicken tostada, creamy chicken pesto pasta, chicken and dumplings and chicken nuggets.  There are photos for many of the recipes.  This is a great cookbook to have around for people who like to get the most out of their leftovers and need some ideas for doing so.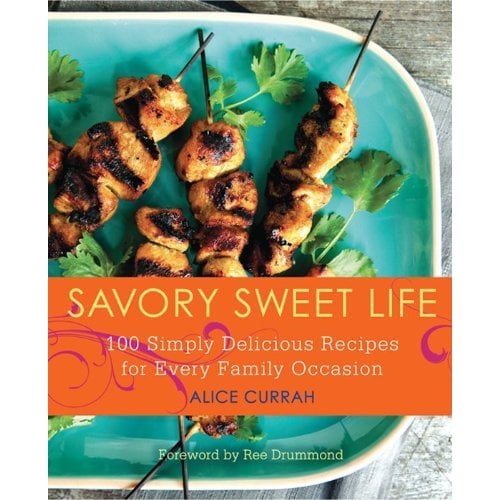 Savory Sweet Life by Alice Currah (blog: Savory Sweet Life)- Oh dear, I can't say enough about how much I love Alice.  She's an extremely lovely person, and the recipes she shares on her blog are well-tested and they're really things I would totally eat.  I visit her blog often for recipe inspiration and to drool over her photography.  This cookbook shares 100 Simply Delicious Recipes for Every Family Occasion.  Alice has divided the book into entertaining themes- such as Sunday Mornings (with recipes like Cinnamon Coffee Cake Muffins and Breakfast Pizza), Tween Birthday Bash (with recipes like Coconut Chicken Tenders and Vanilla Cake with Buttercream Frosting and Sour Cream Raspberry Filling), Block Party (with recipes like Fiesta Corn Salad and Blackberry Crisp) and Potlucks (with recipes like Spicy Bacon Spinach Artichoke Dip and Heavenly Almond Pound Cake).  If you like to entertain, that's a bonus and you'll love this book for its organization by theme.  You'll also love it if you're just looking for a book of tried and true recipes.  There is a photo for every single recipe.  It's pretty clear that Alice put her heart and soul into this cookbook.

SprinkleBakes by Heather Baird (blog: SprinkleBakes)- Heather is the amazing baker, photographer and artist behind the blog SprinkleBakes.  Her new book shares the creative side of baking- how to make jaw-dropping, artistic creations.  There's nothing to be intimidated by since Heather shows you how to do everything in her book with step-by-step photos and easy-to-follow instructions!  You'll see recipes for basic things like sugar cookies, chocolate mousse, chocolate cake and buttercream.  And Heather shares all of her secrets and tips for making those things turn out absolutely perfect.  Then there are the mouthwatering things like Salted Caramel Cupcakes and Neapolitan Cake.  But you'll also find super creative recipes for things like Postcard Cookies, Dale Chihuly-Inspired Candy Nesting Bowls, and a book cake (yes… a cake that looks just like an open book).  This book will help you to get creative in the kitchen, it makes for great bedside reading, and even the most experienced baker will learn a lot from this one!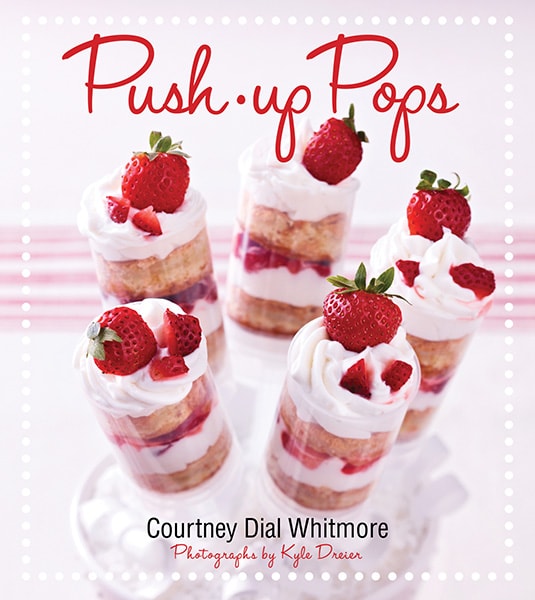 Push Up Pops by Courtney Dial Whitmore (blog: Pizzazerie)- Courtney is the author of Pizzazerie, a popular party-planning website.  Push-Up Pops are a fairly new craze hitting the dessert world.  These fun little containers can be filled with all kinds of fun treats and served as weddings, showers, birthday parties or holiday bashes!  Each "pop" holds a single serving.  Recipes included in the book are things like Dreamy Chocoholic, Gingerbread Jingle, Wedding Cake, Snicker's Caramel Pie and Frozen Lime Margarita.  They are all simple and adorable treats, and there's a photo of every recipe!  This is a fun book to have around for making special occasion treats.  The push up pop containers are available here.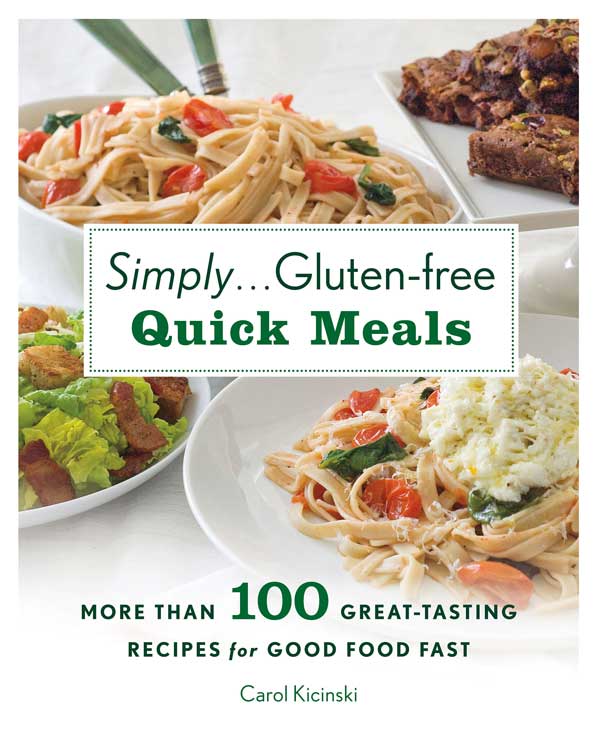 Simply Gluten Free by Carol Kicinski (blog: Simply Gluten Free)- Carol is well known in the Gluten-Free community for creating delicious recipes on her blog.  Her cookbook focuses on making gluten-free cooking fast and stress-free, covering everything from everyday suppers to holiday entertaining.  My gluten-free Mom will be very happy to have this cookbook full of easy recipes!  If you're dairy free, vegan or vegetarian, Carol shows you how to adapt some of her recipes to accommodate. Recipes include things like a Sweet Rice Flour Blend, Greek Burgers with Tzatziki Sauce, Quick Mac and Cheese, Almond-Crusted Chicken Piccata, Spanish Tortilla, Chipotle Potato Salad and Cookies and Cream no-bake Cheesecakes.  The book is divided into themed meals (if you'd like to utilize it as such)- like Weeknight Mexican Fiesta, All-American Meatloaf Dinner and Quick Thanksgiving.  There are a few photos in the book.  If you're gluten-free or if you cook for gluten-free people in your life, this book is definitely worth placing on your bookshelf.
————————————————————
The GIVEAWAY IS NOW CLOSED!  The two randomly selected winners are #210 Nancy and #849 Jeniece.  Both winner will have 72 hours to respond to my email or another winner will be chosen.  Thanks to all for entering!
I'm giving away TWO $50.00 USD Amazon.com gift cards to two lucky RecipeGirl readers!   How to enter:
You may leave one comment to enter to win one of the gift cards:
Just leave a comment telling me which of these cookbooks you might like to add to your cookbook collection.
You may leave a second comment to enter to win if you share this giveaway on Twitter or Facebook: Tweet this: "Win a $50 Amazon Gift Card on @RecipeGirl and buy your favorite new cookbooks! http://ow.ly/bgVEA"  Or, just share a link to the giveaway on your Facebook page.  Come back and leave a second comment telling me that you tweeted or shared on FB.
**RecipeBoy is giving away a copy of The Cookie Dough Lover's Cookbook on his blog this week- visit his giveaway post to enter to win that one!**
This giveaway is open to everyone- anywhere- as long as I can email an Amazon.com gift card to you (make sure you include a valid email address). I'll be choosing two winners via random.org on Wednesday evening, June 6th, and will post the randomly-selected winners here on this post (and email the winners, who will have 72 hours to get back to me before I pick another winner).  Good luck to everyone!
Disclosure:  This giveaway is provided by me!  There are Amazon affiliate links included within this post. 
1,068 Responses to "New Cookbooks 2012"
Leave a Comment