Berry Hand Pies – "Pie it Forward" Cookbook
I've admitted it before, and I'll admit it again.  I'm a hopelessly horrible pie crust maker.  I've tried many a recipe and many a method, and I can never seem to get it right.  Am I overworking the dough?  Is it not chilled enough?  Is it a bad recipe to begin with?  Am I just jinxed?  It's hard to say.  But heck, I keep trying.  Once in a while I get a good one:  like this crust I used for these Berry Hand Pies.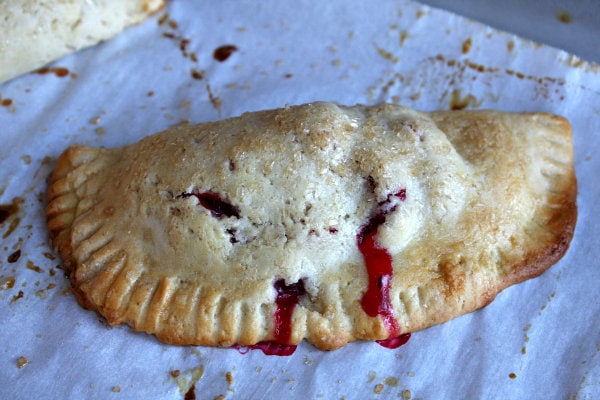 This recipe comes from the cookbook Pie it Forward by baker/confectioner/pastry master extraordinaire– Gesine Bullock-Prado.  Perhaps you've read Gesine's other books: Confections of a Closet Master Baker or Sugar Baby.  In Pie it Forward, Bullock-Prado shares both sweet and savory pies.  More on Pie it Forward at the end of this post.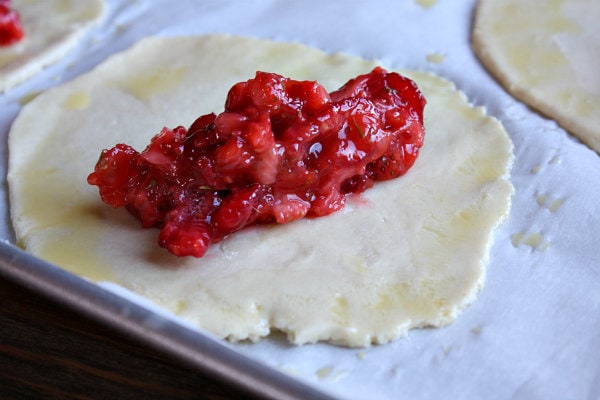 This pie dough recipe was created specifically to be a "hand pie dough."  Bullock-Prado describes it as a zippy and easy-to-handle dough, tailor made for small, handheld treats.  Something different about this one- it has a 1/4 cup of sweetened condensed milk in it.  I was a little worried about that… because what in the world would I do with the rest of the sweetened condensed milk?!  Not to worry though.  I discovered through some Twittering that you can place sweetened condensed milk into a little container and just stick it into the freezer until you need some more.  So that's what I did!
The filling is a mix of strawberries and raspberries and a tiny bit of… fresh rosemary!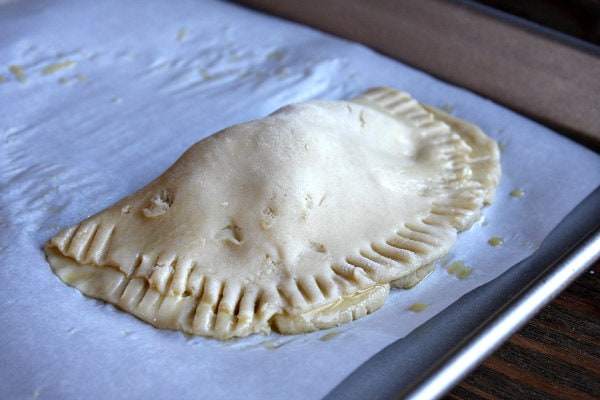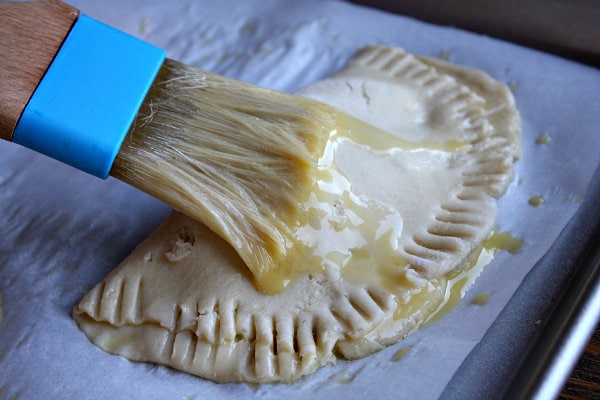 A brush of egg wash gives the pies a slightly shiny finish when baked, and a sprinkle of turbinado sugar (or any sugar) gives them sparkle.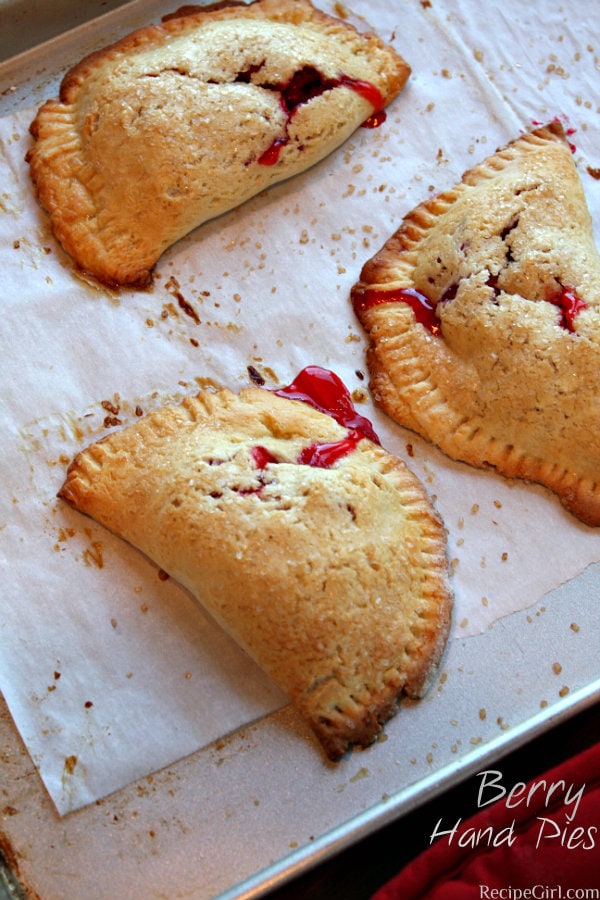 The dough was pretty easy to work with (thank goodness!), and it turned out the best sort of rustic-looking pies with thick, syrupy juices oozing out in all the right places.
These hand pies were delicious.  The recipe makes 12 individual, hand-held pies.  I included them on a platter of desserts that I made for a gathering.  They were among the first to go!
————————————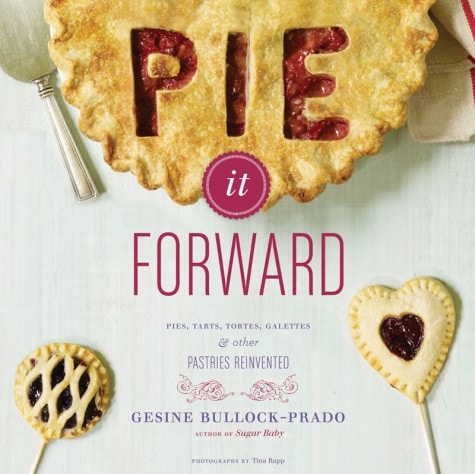 In Pie it Forward, author Gesine Bullock-Prado shares the best dough recipes to use for each creation- from sweet tart dough to strudel dough to pizza crust!  And guess what?  There is an entire chapter devoted to perfecting pie crusts- all kinds of tips and tricks! She shows us how to master fillings too.  Yep, this pie cookbook covers both sweet and savory recipes.  As a pie-challenged individual, I'm happy to have this book at hand in my kitchen.  Recipes I'm excited to try:  New England Berry Galette, Blueberry Brown Butter Tartlets, German Apple Custard Tart, Buttermilk Peach Pie, Butterscotch Meringue Pie, Meyer Lemon Pudding Pie, Apple Strudel, Bavarian Calzones, Fried Green Tomato Tart and A Very Good Pizza Pie.  Everything looks so good!
Author Gesine Bullock-Prado is offering a copy of Pie it Forward to one lucky Recipe Girl reader. To enter to win, please leave one comment below sharing your favorite pie to make or eat- please do not include links! This giveaway is now closed.  The randomly selected winner is commenter #1: Karla G!  Congrats! One winner was selected and will be contacted via email. The winner will receive one copy of Pie it Forward.
Pie it Forward is available for purchase on Amazon, and it's in bookstores too. You can visit author Gesine Bullock-Prado on her blog: Confections of a Master Baker and  Pie it Forward Cookbook (devoted specifically to the cookbook- tips shared and questions addressed) and  Twitter.
Yield: 12 hand pies
Prep Time: 45 min + chill time
Cook Time: 20 min
Berry Hand Pies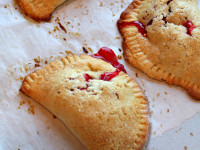 Ingredients:
Hand Pie Dough:
2 cups Gold Medal® All-Purpose Flour (cold)
1 teaspoon baking powder
1/2 teaspoon salt
3 tablespoons frozen vegetable shortening
2 tablespoons unsalted butter, cut into small pieces and chilled
1/2 cup milk
1/4 cup sweetened condensed milk
Filling:
1/2 pint fresh strawberries (170g)
1/4 cup granulated white sugar
zest and juice of 1 lemon
1 teaspoon finely chopped fresh rosemary
2 tablespoons cornstarch
pinch of sea salt
1 cup halved fresh raspberries
egg wash (1 egg whisked with 2 tablespoons water)
turbinado or sparkling sugar, for sprinkling
Directions:
Prepare the hand-pie dough:
1. In a food processor, pulse together the flour, baking powder and salt. Add the shortening and butter. Pulse until the mixture resembles cornmeal.
2. In a small bowl, whisk together the milk and condensed milk. With the processor running, slowly add the milk mixture and continue to pulse until the dough just comes together.
3. Turn the dough out onto a large piece of plastic wrap. Use the plastic wrap to turn the dough over a few times, until it no longer has dry bits of flour visible and is smooth. It's important the the dough be rather smooth- otherwise, when you roll it out for your pies, the dough will crack. Wrap the dough in the plastic wrap and let it rest in the refrigerator for at least 20 minutes before using.
Prepare the filling:
4. Hull the strawberries. Cut them into small pieces, a bit larger than corn kernels. Combine the strawberries, sugar, lemon zest and rosemary in a mixing bowl and stir until the strawberries are evenly coated with sugar. Allow to strawberries to sit for a while until the sugar melts and the juices of the strawberries are running freely. Drain the strawberry juice into a small bowl. Add the lemon juice, then stir in the cornstarch until the mixture becomes a smooth slurry without lumps. In a heavy-bottomed saucepan, combine the berries, the cornstarch slurry and the salt. Stir over medium heat until the mixture bubbles and thickens, 5 to 10 minutes. Allow the filling to cool completely in the refrigerator, about 20 minutes. Stir the raspberries into the strawberry mixture.
Preheat the oven to 350 degrees F.
Assemble the hand pies:
5. Divide the dough evenly into 12 pieces. Roll each piece into a 4-inch round and place the rounds on a parchment-lined sheet pan. With a pastry brush, brush egg wash along the outside edge of the dough rounds. Place 1 1/2 tablespoons of filling onto the middle of each round. Fold the dough over, creating a half moon, and seal the pastries by pressing gently along the edges of each with the tines of a fork. Brush the outsides of the pastries with egg wash and sprinkle with turbinado or sparkling sugar.
6. Bake for 20 minutes, or until golden brown. Allow the hand pies to cool completely.
Tips:
*Most berries will work in a hand pie. Just be sure to cut the berry pieces small enough (not much larger than a kernel of corn).
Source: RecipeGirl.com (re-printed with permission from Pie it Forward by Gesine Bullock- Prado and barely adapted)
260 Responses to "Berry Hand Pies – "Pie it Forward" Cookbook"
Leave a Comment