Baked Chicken Taquitos (Weelicious Cookbook)
This is a really exciting week in the world of food and blogs and cookbooks… my friend Catherine McCord of Weelicious.com has just published her first cookbook:  Weelicious- One Family. One Meal. 140 Fast, Fresh and Easy Recipes.  It's a fabulous, must-have book for families who have kids… picky kids… kids who like food… kids who are tough to please… any kids… and parents who need to FEED those kids!  I made Baked Chicken Taquitos from the Weelicious Cookbook!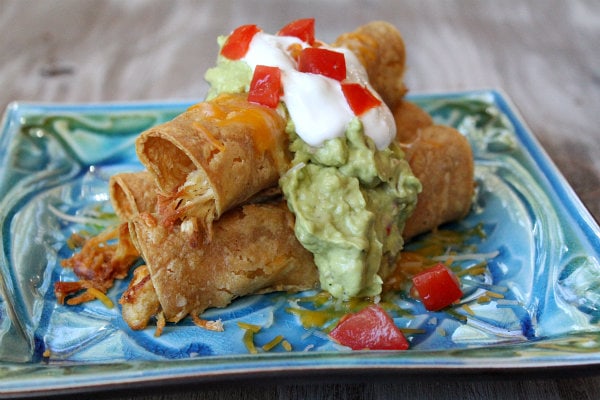 Most of the world calls these "taquitos," but in San Diego, these are affectionately called, "Three Rolled Tacos with Guacamole."  We have a zillion of these little Mexican fast food shacks around town- and the ever popular favorite thing to order is the rolled tacos with guac.  They're deep fried and probably rather evil to consume, but the Weelicious Cookbook shows us how to make a healthier, baked version.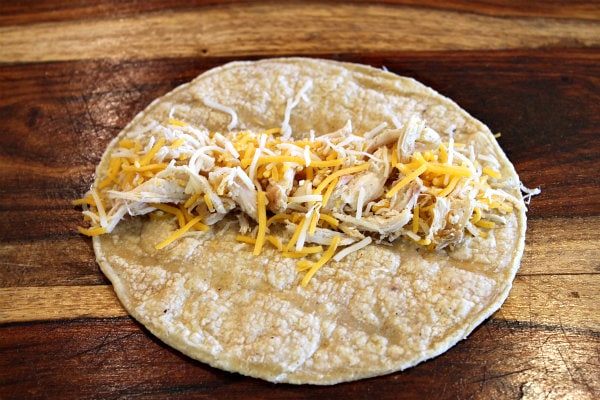 Corn tortillas are lightly stuffed with spiced-up, shredded chicken and cheese, and then they're rolled up tightly.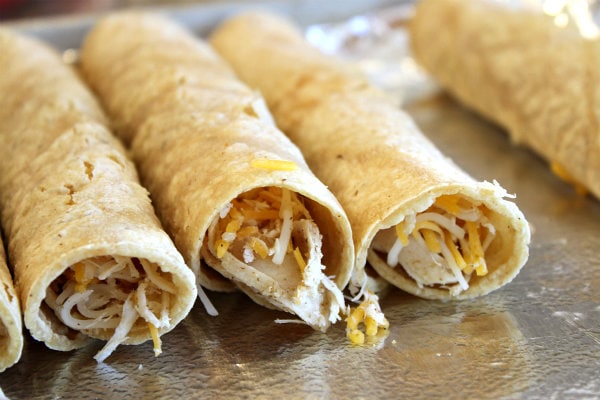 Placed on a baking sheet seam-side-down, they are lightly sprayed with cooking spray and then baked for 25 minutes.  That's it!  While they're baking, you can whip up a quick guacamole (see recipe for details).  Catherine has a recipe for Avocado- Lime Sauce in the cookbook, but since my son is obsessed with my guacamole, I had to go with that.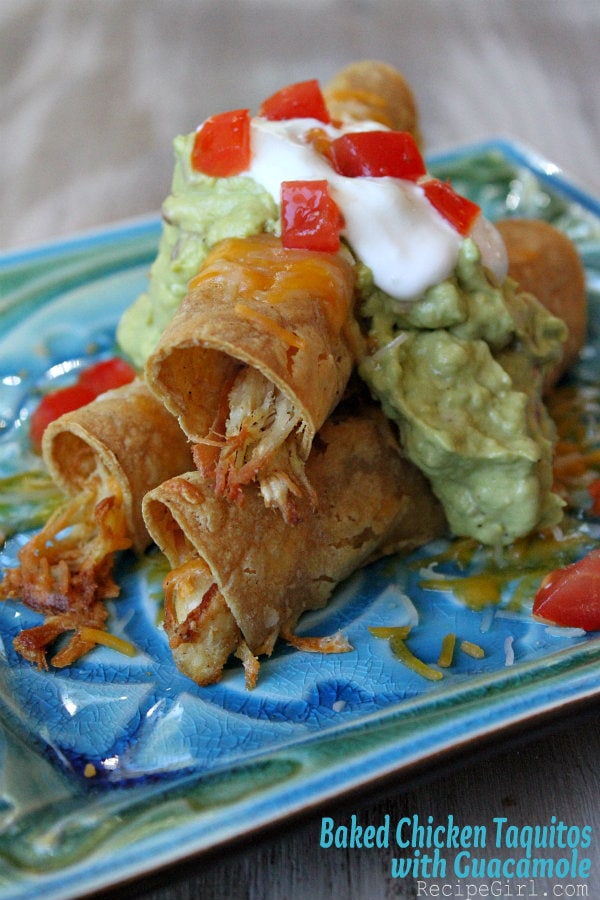 Perfectly crispy out of the oven, the San Diego way to serve them is to melt a little more shredded cheese on top and add a big dollop of guacamole and sour cream.  You can serve them however you'd like, of course.  Even if you just want a little dunker of salsa instead of the guacamole deal, that works too.  These taquitos were a MAJOR MAJOR MAJOR hit with my family.  So good.  This recipe will definitely be a repeater in the Recipe Girl house.  And I loved that they were baked– and not deep fried!!  Thanks, Catherine- for a great, family-friendly recipe!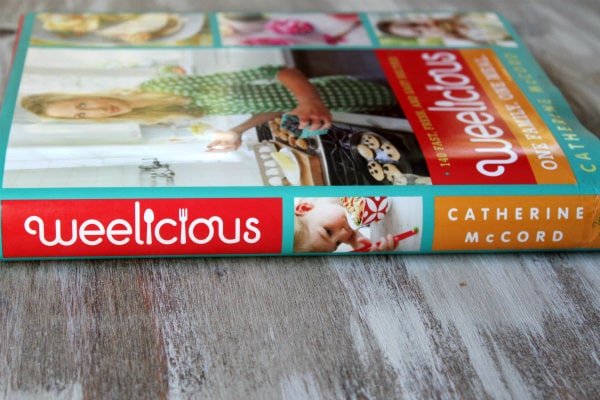 Weelicious offers recipes for fresh, healthy, appealing meals for young kids.  Author Catherine McCord teaches parents how to turn their kids into great eaters who appreciate food and are open to exciting new flavors.  I love that Catherine focuses on getting kids involved in the kitchen from Day 1- introducing them to a variety of foods and including them in the cooking process.  Recipes include first foods like baby purees and teething cookies, then moves on to include all meals of the day.  My kiddo has tagged a bunch of recipes for us to try, including: Blueberry- Lemon Whole Wheat Pancakes, Oatmeal On-the-Go Bars, Pumpkin Waffles, Apple- Cinnamon Sticks, Strawberry Fruit Leather, Un-Fried Chicken Tenders, Baked Shells, Mexican Lasagna, Raspberry Cream Cheese Tarts, Banana Bread Cake and Banana-Oat Chocolate Chip Cookies.  Everything looks so good, and this is such a perfect cookbook for families to have at hand.  I wholeheartedly recommend it!
Publisher William Morrow is offering a copy of Weelicious One Family. One Meal. to one Recipe Girl reader. This giveaway is open to anyone who has a mailing address in the USA. One winner will be chosen via random.org on the evening of Saturday, Sept. 22nd and will be contacted via email. The winner will receive one copy of the Weelicious cookbook.  This giveaway is now closed!  The randomly selected winner is commenter #274:  Jennifer Jensen.  Congratulations, and thanks to all for entering.  Stay tuned for another giveaway coming soon!
Weelicious- One Family. One Meal. is available for purchase on Amazon and it's in bookstores too. You can visit author Catherine McCord on her blog: Weelicious, on Twitter, on Facebook, and on Pinterest.
Yield: 12 taquitos
Prep Time: 25 min
Cook Time: 25 min
Baked Chicken Taquitos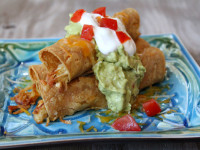 Ingredients:
3 cups shredded roasted chicken
1 teaspoon ground cumin
1/2 teaspoon kosher salt
1/4 teaspoon garlic powder
1 cup shredded Mexican cheese blend (or cheddar)
12 corn tortillas
cooking spray
guacamole (see tips) and/or sour cream or salsa
Directions:
1. Preheat the oven to 400 degrees F. Line a baking sheet with foil and spray with nonstick spray.
2. Combine the chicken in a bowl with the cumin, salt and garlic powder- mix in the cheese.
3. Place 2 corn tortillas at a time in between two damp paper towels and microwave for 20 to 30 seconds to soften them (helps to prevent cracking when rolling).
4. With 1 tortilla in front of you, place about 1/4 cup of the chicken mixture in the center of the tortilla and roll it up tightly. Place the taquito seam-side-down on the prepared baking sheet. Repeat with the rest of the tortillas and filling.
5. Spray the tops lightly with cooking spray, and bake for 22 to 25 minutes, or until crisp. Serve with guacamole/sour cream/ salsa, as desired.
Tips:
*Purchase a chicken already roasted from the market- or make your own- place 1 pound boneless skinless chicken breasts in a steamer pot over boiling water and steam for 10 to 15 minutes, until cooked through. Cool slightly and then use a fork to shred it apart.
*To make easy guacamole for dipping: Mash 1 large avocado with 2 tablespoons sour cream, 1 spoonful of salsa, 1 teaspoon freshly squeezed lime juice and salt and pepper, to taste.
*If you are preparing this recipe as gluten-free, just be sure to use a brand of corn tortillas that is known to be GF (and it's probably safest if you cook and shred your own chicken).
*Freezing instructions: After step 4, the taquitos can be frozen in freezer zip bags for up to 3 months. I freeze them on the baking sheet, then take them out of the freezer and move them to zip bags. Prepare from step 5 when ready to bake them from the freezer.
Nutritional Information per one taquito (no guac):
Serving size: 1 taquito
Calories per serving: 151
Fat per serving: 4.7g
Saturated Fat per serving: 2.1g
Sugar per serving: .2g
Sodium per serving: ,span class="sodium">205g
Fiber per serving: 1.6g
Protein per serving: 14.3g
Cholesterol per serving: 38.1mg
Carbohydrates per serving: 12g
WW POINTS per serving:
Points Plus Program: 4 Old Points Program: 3
373 Responses to "Baked Chicken Taquitos (Weelicious Cookbook)"
Leave a Comment