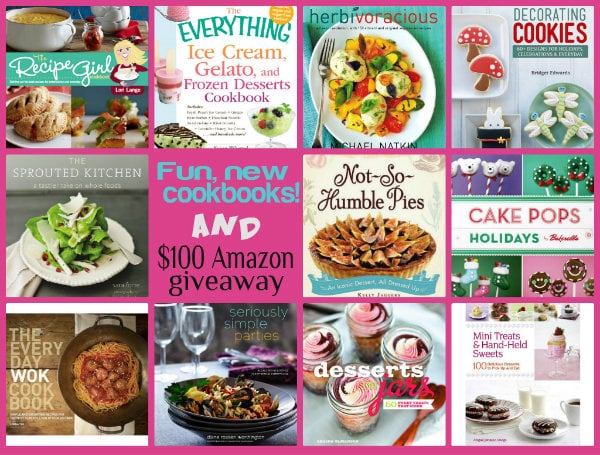 I have so many books I've wanted to share with you, so let's share them all in one post… and celebrate with a Giveaway for a $100 Amazon Gift Card (sponsored by ME).  This giveaway is now closed.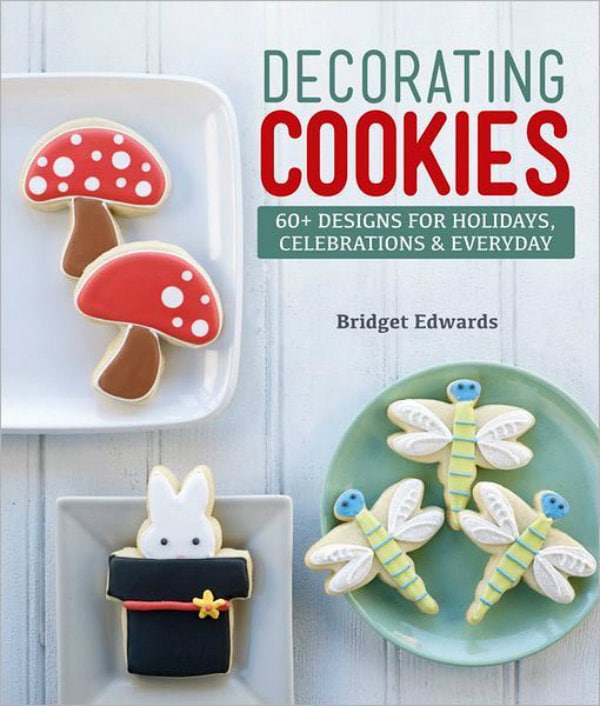 Decorating Cookies by Bridget Edwards:  This is a beautiful book from the blogger behind Bake at 350.  Edwards is well-known as a cookie decorating expert on the internet!  Her book is filled with step-by-step, easy-to-follow instructions for decorating cookies with royal icing.  There are cookies for birthdays, holidays and other celebrations.  Such a cute book and such a useful resource for cookie baking enthusiasts and those who would like to learn how to make those cookies that you see in bakery cases!  I can't wait to make some fun things for the holidays.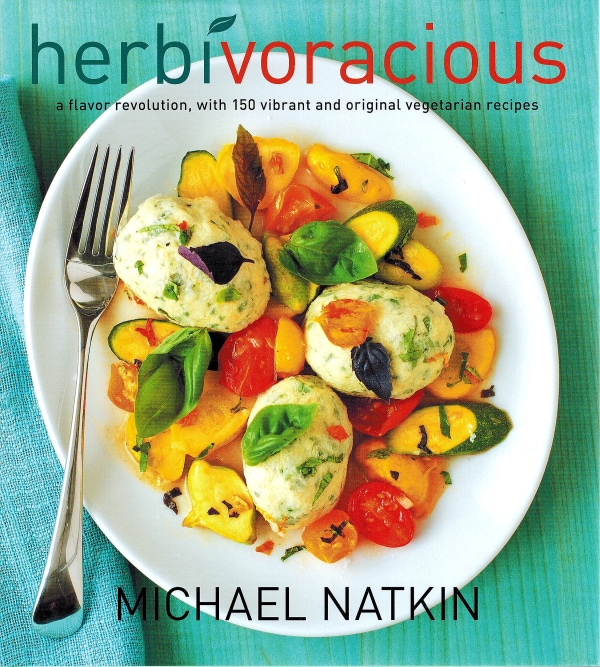 Herbivoracious by Michael Natkin:  Natkin blogs at the identically titled Herbivoracious.  His book is composed of fresh and colorful Vegetarian recipes that span the globe.  A beginning chapter shows the reader how to use sauces and spices to make meatless meals come alive.  Dozens of gluten free and vegan recipes are noted in the book too.  I love this book because I don't often think of preparing a vegetarian main dish for my family- but this book smack full of great ideas.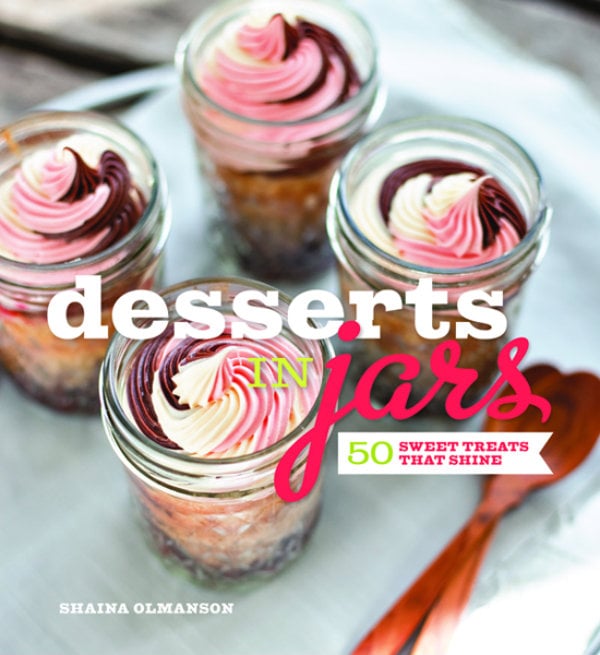 Desserts in Jars by Shaina Olmanson:  Olmanson blogs at Food for My Family.  Her dessert book focuses on making and serving all kinds of cute and creative desserts in jars.  You'll find kid's birthday party ideas, seasonal recipes and grown-up options too in this book.  Desserts in jars are fun to eat and they travel well too!  I can't wait to make the Pumpkin Cheesecakes in a Jar!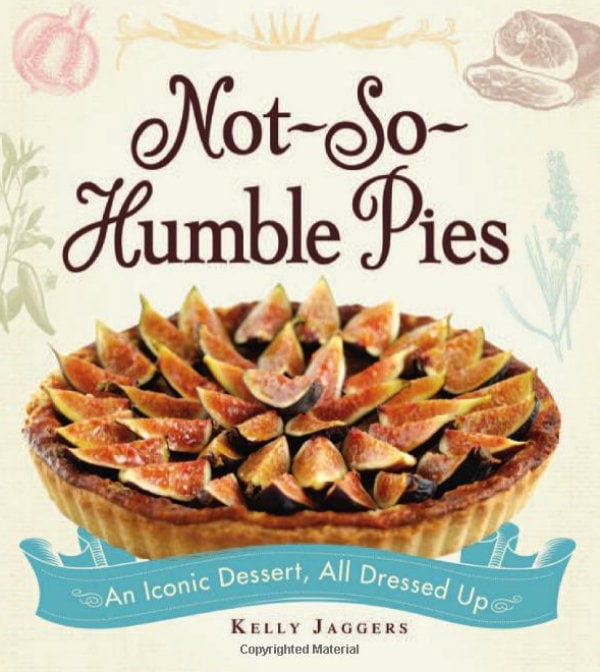 Not So Humble Pies by Kelly Jaggers:  Pie expert Jaggers blogs at Evil Shenanigans (her first book on pies was published last year). Her latest book includes 150 recipes for sweet and savory pies and tarts- this time focusing on more trendy ingredients and sophisticated choices (Orange- Honey Pecan Pie, Blueberry- Ricotta Tart, Apple- Brie and Bacon Tart).  Good book for pie baking enthusiasts.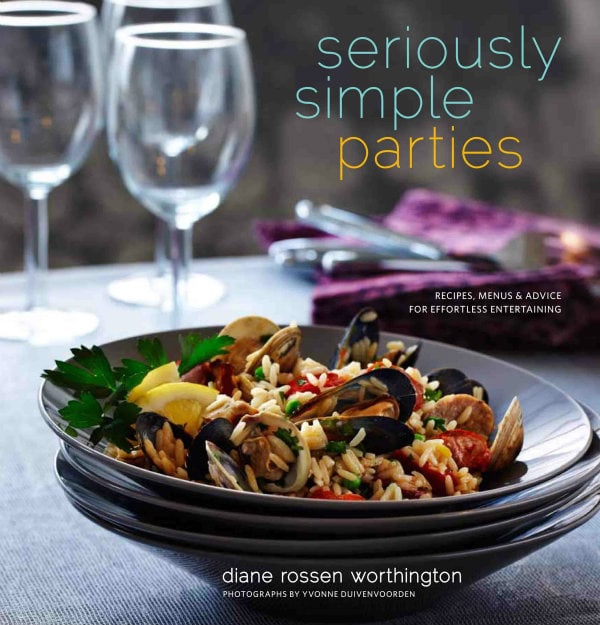 Seriously Simple Parties by Diane Rossen Worthington:  Worthington blogs at Seriously Simple Cooking.  She's the author of 18 cookbooks (I have quite a few of them on my cookbook shelves!)  This book is perfect for people who like to entertain and are always looking for simple and new ideas.  There are 31 planned menus organized by season and/or occasion.  The recipes all look terrific.  It makes me want to party!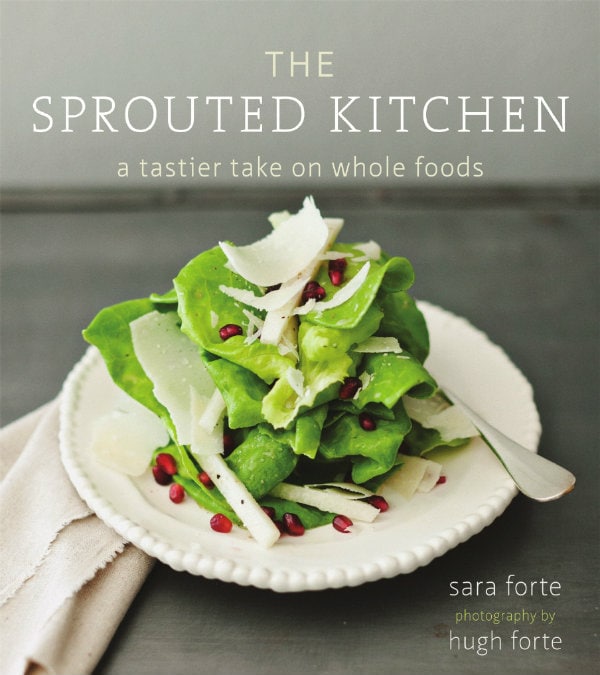 The Sprouted Kitchen by Sara Forte:  Forte blogs at the beautifully written and photographed (by her husband) blog Sprouted Kitchen.  The book shares mostly vegetarian recipes (some lean protein), and focuses on using fresh produce, whole grains and natural sweeteners.  The photos in the book are stunning.  Forte shows you how to cook healthfully using real, seasonal ingredients.  Gluten-free options are included.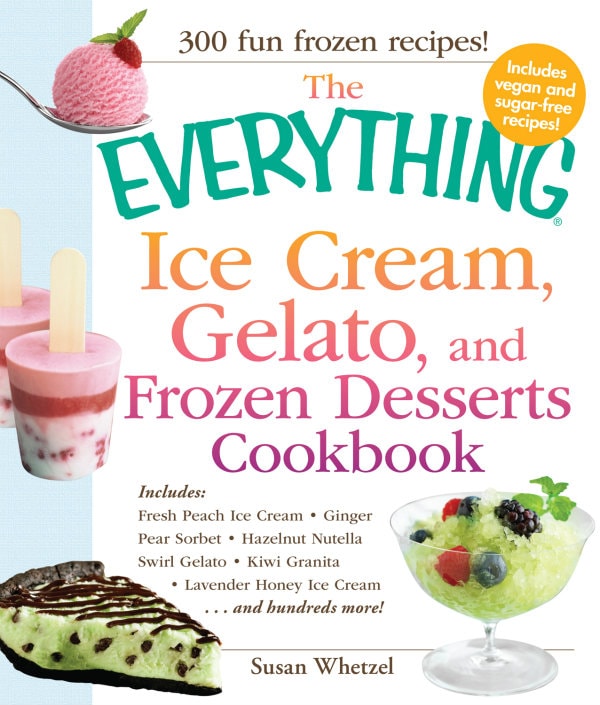 The Everything Ice Cream, Gelato and Frozen Desserts Cookbook by Susan Whetzel:  Whetzel blogs at Doughmesstic.  I love reading her blog to see what kinds of creative recipes she will come up with next.  Whetzel's book covers everything ice cream, gelato, granita or other frozen concoction that you can think of making.  You'll want an ice cream maker to go along with this book (great Christmas gift combo idea!)  Vegan and sugar-free recipes are included, and many are easily gluten-free adaptable.  I want to try the Red Velvet Cake Ice Cream, Pumpkin Gelato and Nutella Ice Cream.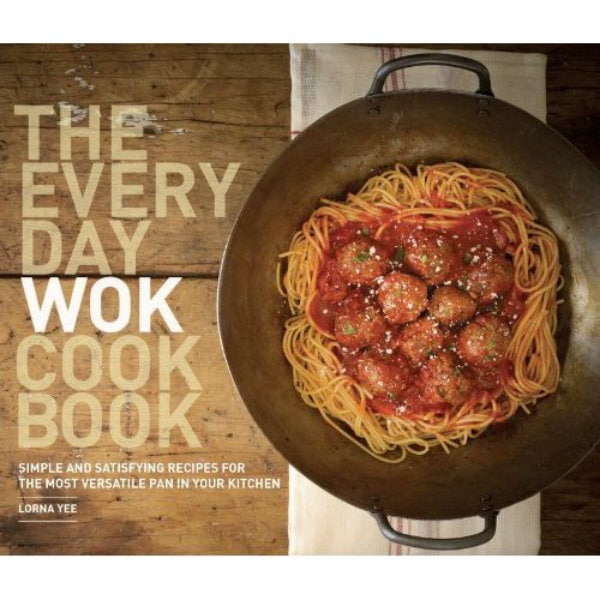 The Everyday Wok Cookbook by Lorna Yee:  This is the 2nd book from Yee (the 1st- The Newlywed Kitchen).  In The Everyday Wok Cookbook, you'll learn that you can do much more with your wok than make Chinese food.  You can braise, steam, deep fry and stew foods in it, and you can even make a cake!  I'm drooling over the Bananas Foster French Toast, Braised Pork Belly Over Jasmine Rice, Old Fashioned Southern Buttermilk Fried Chicken, and Sticky Toffee Pudding (don't worry… there are some Asian choices included too).  Another great gift idea:  cookbook + wok!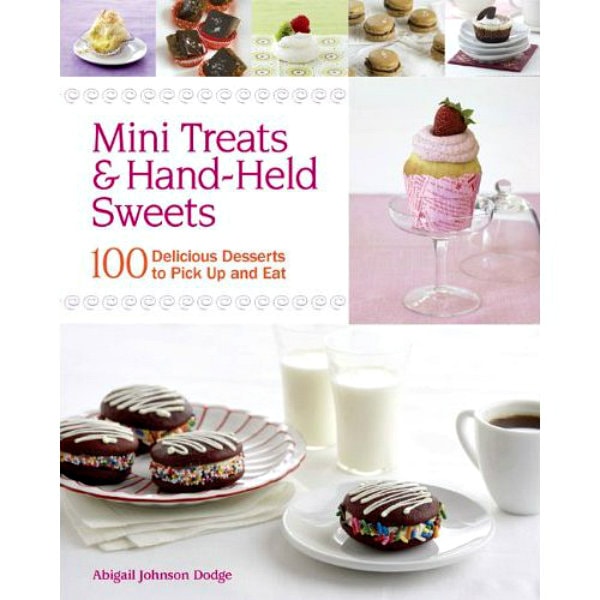 Mini Treats and Handheld Sweets by Abigail Johnson Dodge:  I've always been a fan of Dodge's cookbooks.  She can be found on her blog, where she generously shares her baking expertise.  Her newest book focuses on mini desserts and hand-held treats (the cute stuff).  I love that it's full of easy-to-bake, easy-to-serve recipes directed at bakers of every level.  I'm excited to try… everything!  I can't even choose.  There are gluten-free, non-dairy, vegan, egg-less and low-fat options.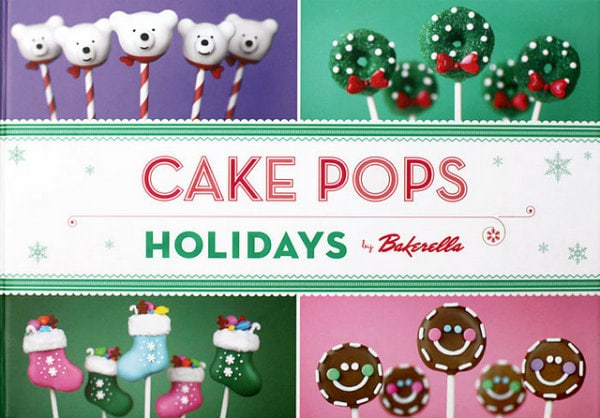 Cake Pops Holidays by Bakerella:  She did it again!  Bakerella (who blogs at the aptly named, "Bakerella") wrote another cake pop book. Only this time, the pops are all devoted to adorable winter-themed creations.  Such a cute book with step-by-step instructions for each design, plus plenty of tips on displaying, gifting, boxing and shipping your pops.  Bakerella comes up with the cutest stuff.  I adore the little Christmas stockings.  The world is cake-pop-crazy right now, so this is a good book to have for the holidays!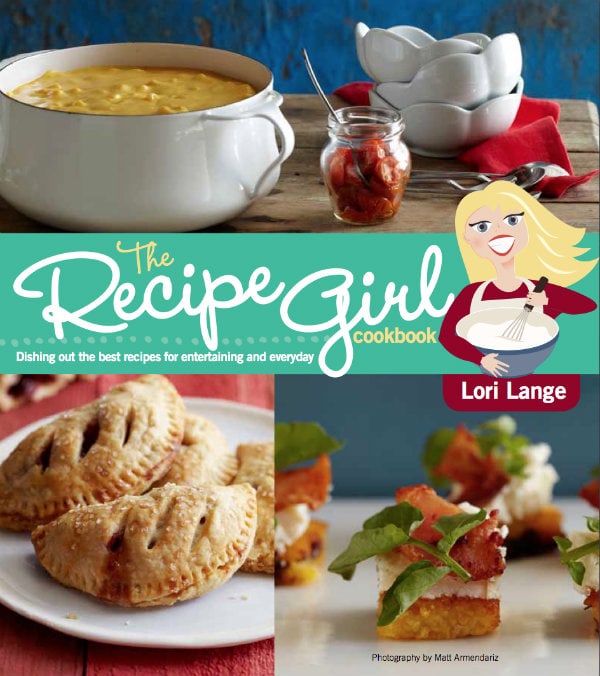 Oh Look!  It's The Recipe Girl Cookbook!  It appeared on Amazon a week or so ago and is available to order for pre-sale.  So fun to see it there, and I can't wait to share it with you.  A sneak description:  There are 195 recipes from breakfast to lunch, to happy hour, dinner/sides and desserts.  There is also a bonus chapter on entertaining with 20 themed menus + tips for easy and effortless entertaining.  A strong majority of the recipes in the book are brand-new, with a few website favorites tucked in here and there.  The recipes pictured on the front are Macaroni and Cheese Soup with Roasted Tomatoes, Apple- Cranberry Hand Pies and BLT Polenta Squares.  And the forever awesome Matt Armendariz did the photography for the book!  It will not be "officially" released until March or April.
I'm giving away ONE $100 USD Amazon.com gift card to one lucky RecipeGirl reader, so you can buy a bunch of cookbooks (or whatever)!   How to enter:
You may leave one comment to enter to win one of the gift cards (and 3 more bonus entries explained below, if you'd like):
Just leave a comment telling me which of these cookbooks you might like to add to your cookbook collection (it does not have to be mine!) 
Bonus entry #1 (Twitter):  Follow @RecipeGirl on Twitter
Bonus entry #2 (Facebook):  "Like" Recipegirl on Facebook,
Bonus entry #3 (Pinterest):  Follow RecipeGirl on Pinterest.
This giveaway is open to everyone- anywhere- as long as I can email an Amazon.com gift card to you (make sure you include a valid email address). I'll be choosing one winner via random.org on Sunday, October 14th, and will post the randomly-selected winner here on this post (and email the winner, who will have 72 hours to get back to me before I pick another winner).  Good luck to everyone!
 THIS GIVEAWAY IS NOW CLOSED!  The randomly selected winner is Commenter #288 Danielle- congrats to Danielle, and thanks to all for entering!
Disclosure:  This giveaway is provided by me!  There are Amazon affiliate links included within this post. 
1,435 Responses to "Must- Have New Cookbooks"
Leave a Comment