TV Gossip: The Walking Dead
If you're not a fan of The Walking Dead on AMC, you'll be a bit lost in reading this post.  But if you ARE, then you must stick around because I have a lot of thoughts about this season and some BURNING QUESTIONS too!  All photos in this post are from AMC.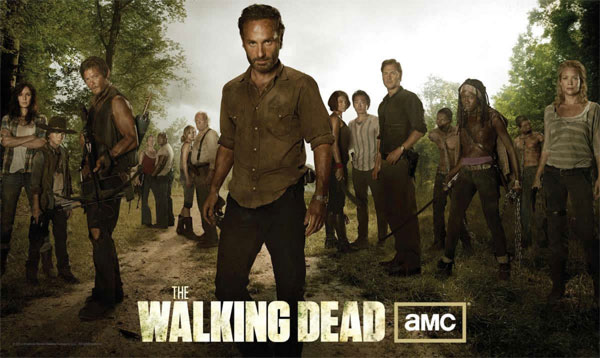 I love the show.  I sort of got sucked into it when my mother was visiting last year and was keeping up on the episodes.  I became so intrigued with it that I went back and watched from season 1 to catch-up.  I made my husband watch it with me, and now we look forward to seeing what's going to happen next each week!
If you aren't a fan of the show… and you're thinking, "What?  A show about zombies that are chasing after people trying to eat them?  That's crazy!"  Yes, you're right… it's crazy.  And it's really gross sometimes.  But if you watch it from the beginning, you get absorbed in the story.  You get kind of used to the gory stuff after a while.
First of all, the zombies.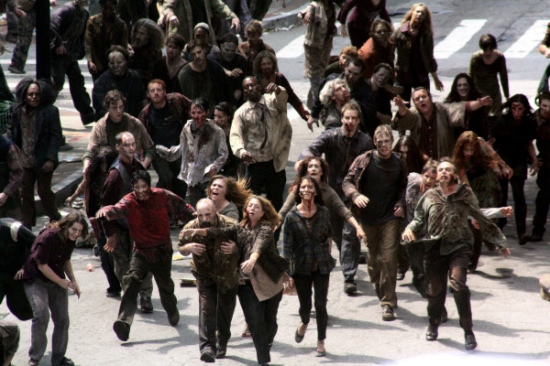 Do they ever die??  If a zombie can't get anything to eat… and there are so many of them that it seems like that's a likely possibility, then do they die off?  And how exactly do they digest the food?  Do they get full?  Do they poop?  And how is it that zombies can seemingly run just as fast as the humans?  Are their brains still working well enough that they can open doors, etc?  Seems to me that if there is a simple wood fence surrounding an area that a zombie would not be able to "climb" the fence… that they'd just sort of crash into it and not know what to do. But on the show, wire fences seem like the only safe option.  Hmmmm.  And how is it that they scratch people and bite so ferociously?  Do their fingernails somehow become lethal weapons and their teeth become vampire-like as a zombie.   I mean, c'mon… these are real questions here!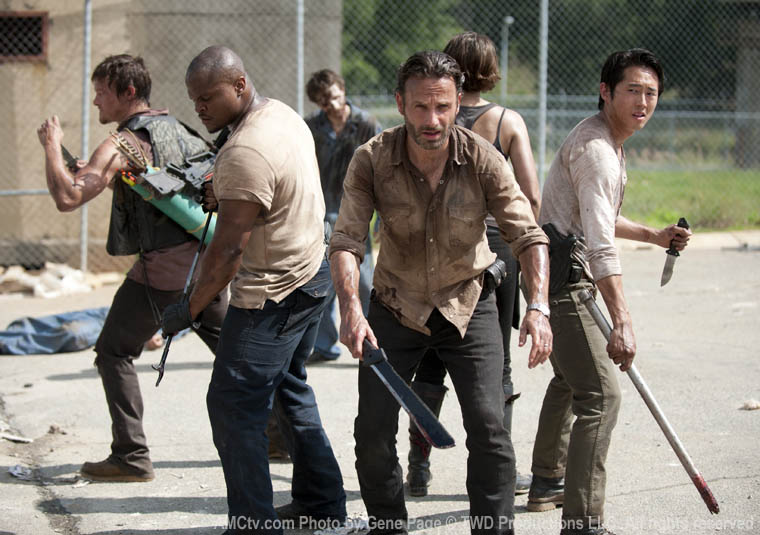 These poor people just can't find a safe haven from the zombies.  I find myself thinking… Why can't they just find a nice, gated community… one with a simple chain-link fence surrounding it and a gym with tennis courts, etc. and happily live there?  Or why aren't they thinking about traveling toward the ocean to hop a boat to the Bahamas or something?  Surely zombies haven't taken over the entire world, right?  And where is Home Depot in all of this?  They should be clearing out Home Depot with all kinds of building supplies and fencing to create a safe place to live!  How are they cleaning themselves up after getting covered in zombie guts and blood.  Are there functioning showers we don't know about at the prison?  And why isn't anyone going shopping?  Seems like Nordstrom would be a fun place to hang out in this Zombie Apocalypse and free clothes too!!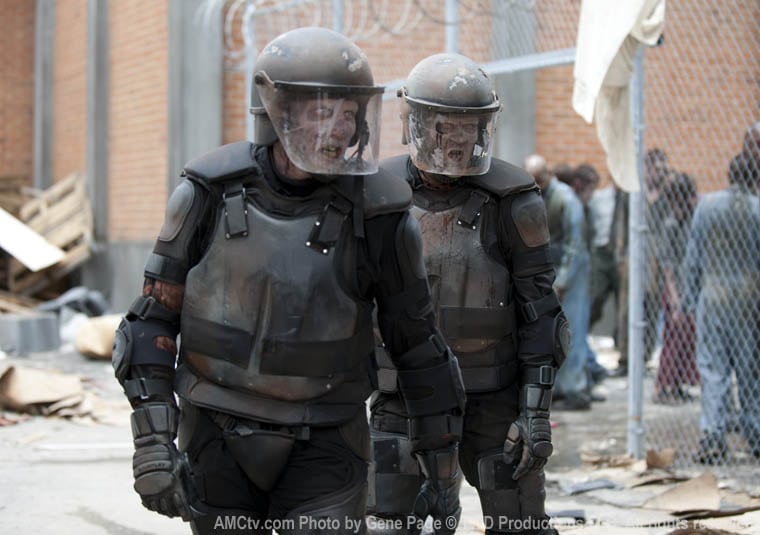 Here's the other thing:  they're at a PRISON where they found zombies wearing gear like this.  Um, duh.  Shouldn't they ALL be wearing gear like this to protect themselves from random zombie attacks? And how did these guys get bitten if they're all covered up like this?  Who's running this place anyway?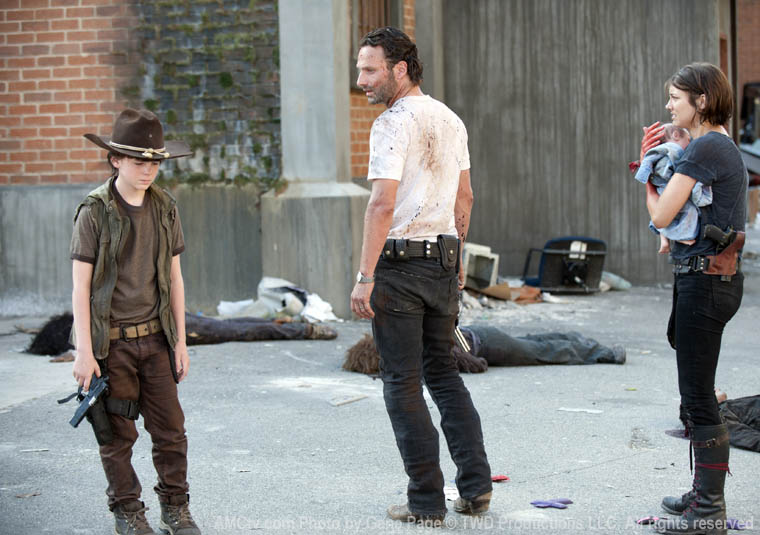 Oh yeah, Rick is running this place. Poor guy- he's been through a lot.  He seems like a good dude, though he's probably gonna be pretty bummed about being so cold to Laurie since she didn't survive childbirth in Zombieland. Speaking of the BABY… I was totally tense during that birth scene because I felt CERTAIN that the baby was going to be some kind of freaky little zombie thing.  It was a shocker to lose Laurie, and it was an even bigger shocker that the kid had to shoot her.  Poor Carl… he's a Man now.  And that baby… for sure will be raised by Glenn and Maggie, don't you think?  They better quit all of that fooling around or Maggie is going to find herself knocked up too!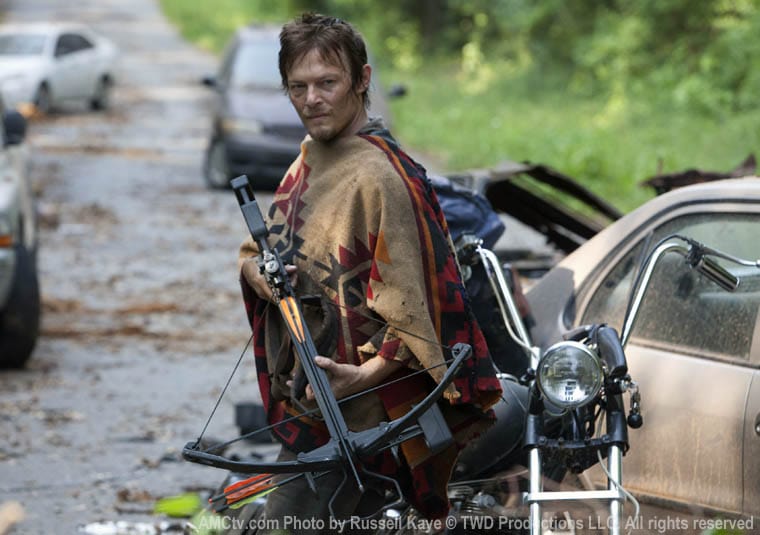 I like Daryl a lot… though he worries me by riding on that out-in-the-open motorcycle.  I fear that he and Carol are both cast members that might be in danger of being eaten by a zombie this season.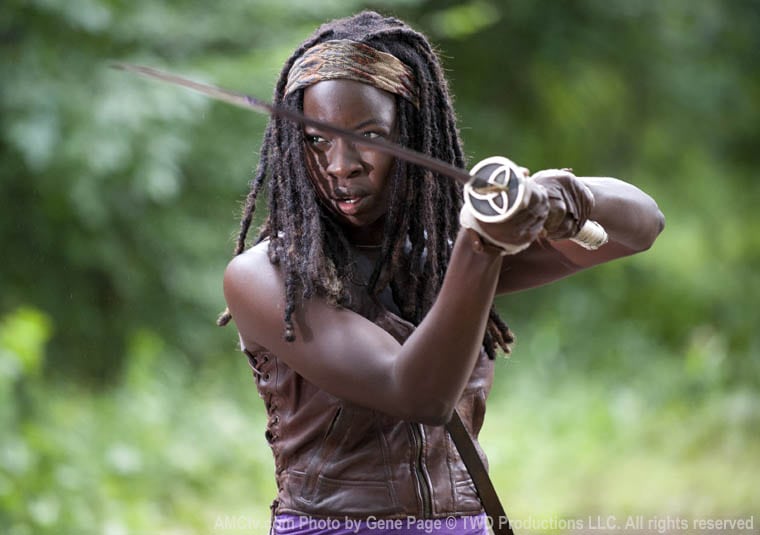 Michonne is bad ass.  I loved her zombie pets (brilliant idea, by the way).  I don't think she'll be getting eaten by a zombie any time soon.  I do wonder what's going to happen with regard to her being in that new community.  She's clearly not happy with that setup and doesn't trust "The Governor" (for good reason!)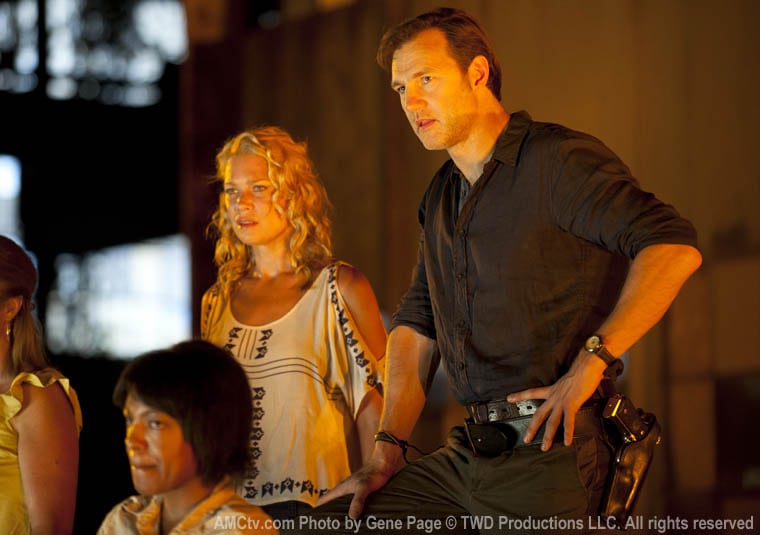 And then there are these two.  Andrea seems to be sizing up her next love-partner.  I'm guessing it will either be The Governor or Merle.  My money is on The Governor.  She's getting sucked into the idea of living in that "happy community."  I do predict that she'll leave with Merle and Michonne to try and find the other group.  I'm not certain how The Governor factors into all of that, but surely there will be drama!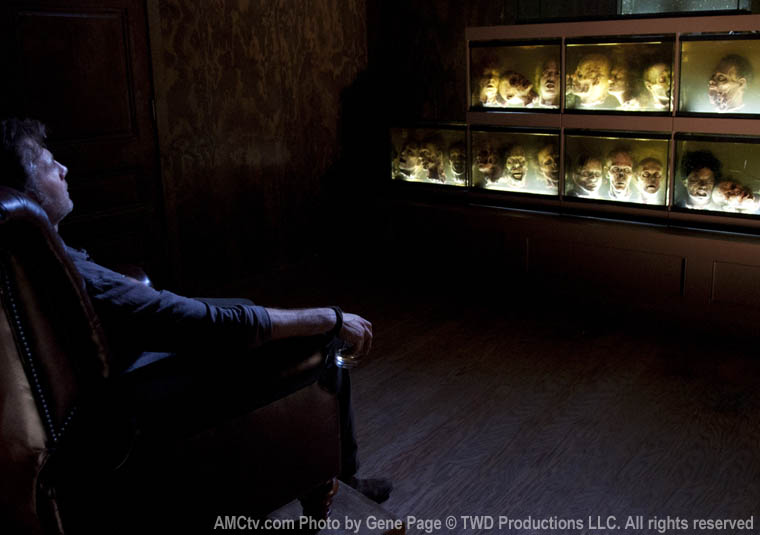 So what's the deal with THIS GUY???   Seriously… what could possibly be his reason for keeping heads in fish tanks?  He's clearly whacked.  I want to learn more about him.
Until next time… Will they make a run to a zombie-infested KMart to pick up formula to feed that baby?  Will Carol resurface after disappearing in the last episode? Will Michonne, Andrea and Merle make a run for it to search for the others? And who is Rick going to hook up with now that Laurie is gone?  Will the two communities merge and become one big happy family?  NO WAY!
I can't stand it. The suspense is killing me!
27 Responses to "TV Gossip: The Walking Dead"
Leave a Comment