Cheddar- Stuffed Chicken Breasts with Apple- Bacon Pan Sauce
When I think about the time I first really caught that *spark* for cooking, it has to be back in college.  Sure, I helped my Mom get dinner on the table when I was a teenager, and I baked cookies here and there too.  But I became fascinated with "recipes" in college, collecting and organizing them obsessively.  I don't know why I remember this so clearly, but the first elegant meal I made was for a college boyfriend.  The recipe I selected was from a little chicken cookbook I had picked up.  It was a completely decadent dish of chicken and shrimp and vegetables in a creamy sauce served over rice.  I got to work with my mismatched, hand-me-down old pans and spent hours in the kitchen creating this dish.  With the prep time involved and the mountain of dishes that ensued, you'd think I'd have sworn off cooking forever.  But it began to fuel a passion that was in there somewhere, and I've been following recipes and creating my own ever since.  My latest creation:  Cheddar Cheese Stuffed Chicken Breasts with Apple- Bacon Pan Sauce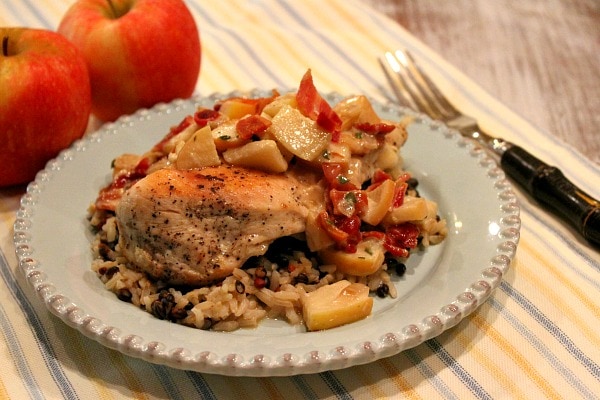 These days I have to keep in mind things my family would like to eat.  Chicken?  yep, they request chicken more often than not.  Cheddar Cheese? yep, they're into cheese of any kind.  Apples? I don't believe there's a person on this planet who doesn't like a good apple.  Bacon? um, duh!  Bacon makes everything more appealing, doesn't it?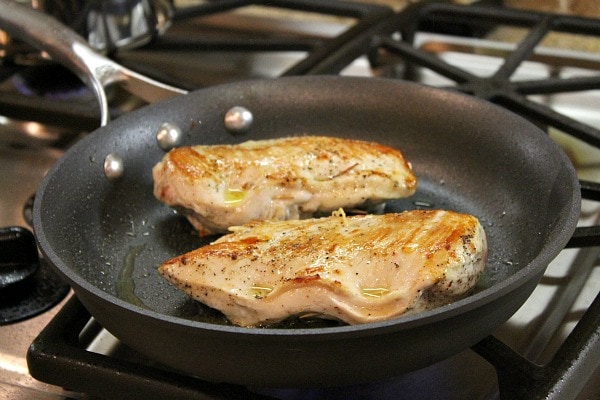 The chicken breasts just get opened up a little bit with a knife, a few slices of cheese stuffed inside and then use toothpicks to secure the breast back together.  It takes 5 minutes.  Or if you're not into cheese (I don't know if we can still be friends…), you can certainly leave out the cheese and just saute the breasts and serve them with the sauce.  You'll still love it.
I happen to still have a variety of mismatched pans in my house, but they're more shiny and new than those I had in my college days.  I find that each pan has its own functionality.  For this recipe, I tested out pans from the new Calphalon Your Set series.  I didn't want the cheese to melt and burn on a stainless steel pan, so I opted to pan-fry my chicken breasts on their nonstick skillet.  It worked perfectly and I only had to use a small amount of oil.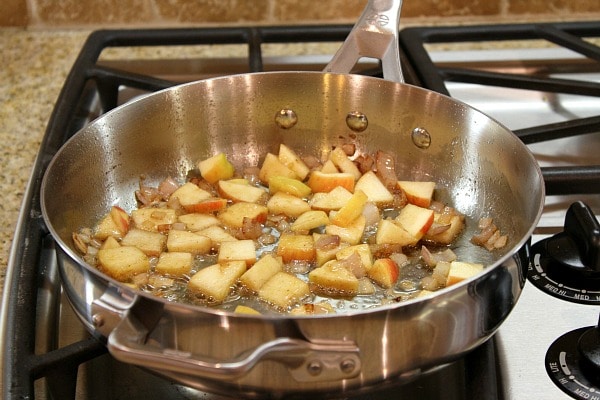 For the sauce, I was more interested in getting my shallots nice and browned, and I wanted to be able to scrape up bits from the bottom of the pan.  That's where a stainless steel skillet comes in handy.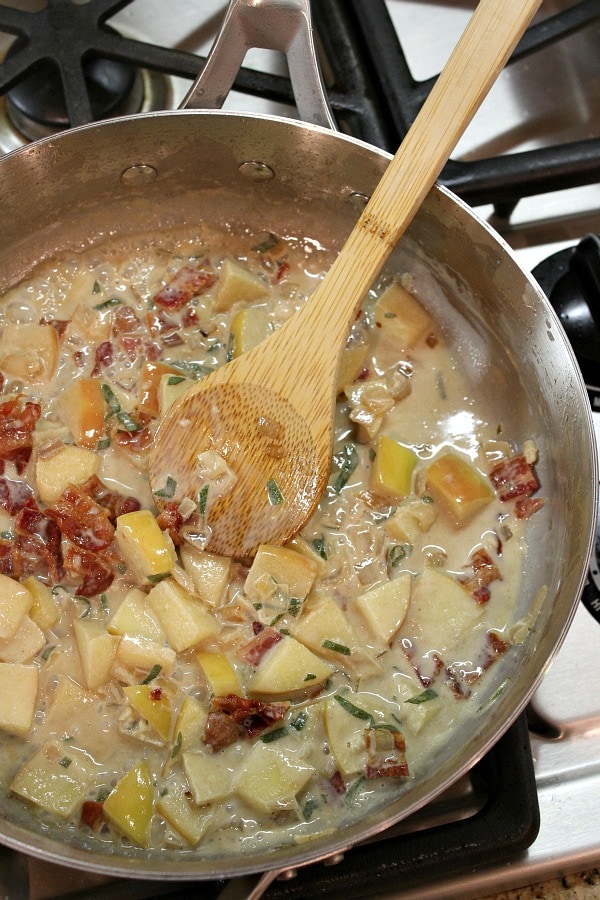 Ohhhh, that creamy apple and bacon sauce.  I just want to smush my face in it again, it was that good.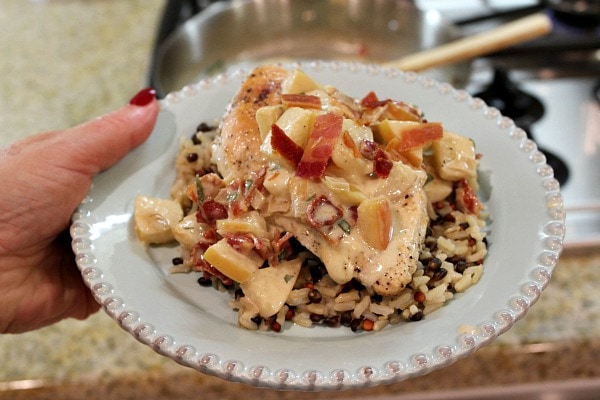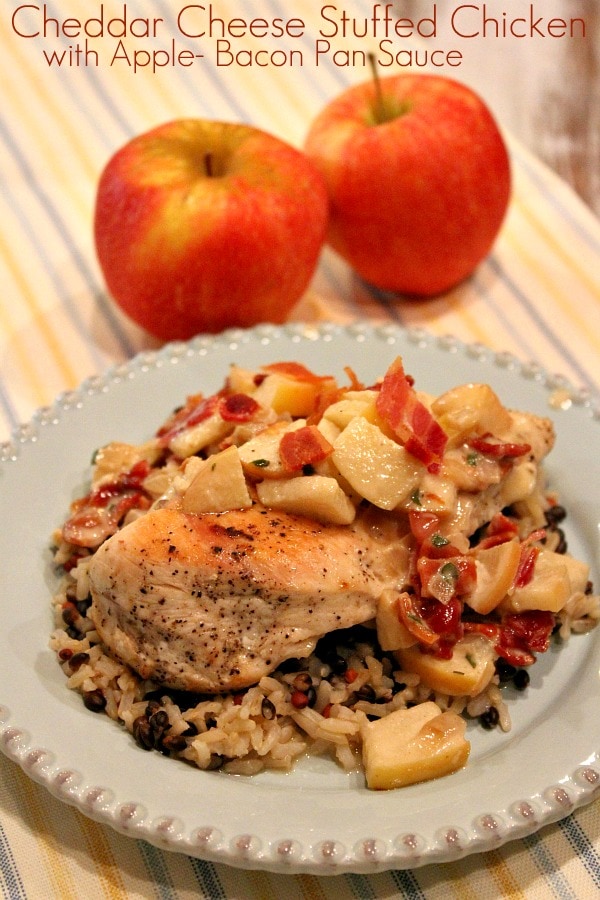 This one was a hit-out-of-the-park.  "Restaurant Quality," my husband dubbed it (which is the highest honor he bestows upon a recipe).  One slice into that chicken and the cheddar that was tucked inside there before cooking comes seeping out in a melted waterfall.  Cheddar cheese and apples are such a good combination, so the chicken scooped up with some cheese and apple-bacon sauce is just perfect.  Your family will love it.
Yield: 2 servings
Prep Time: 25 min
Cook Time: 15 min
Cheddar- Stuffed Chicken Breasts with Apple- Bacon Pan Sauce
Ingredients:
CHICKEN:
2 boneless, skinless chicken breasts (about 3/4 pound)
sliced cheddar (I prefer extra-sharp)
salt and pepper
olive oil
SAUCE:
2 tablespoons salted butter
1 large shallot, chopped (about 1/3 cup)
1 medium red apple, cored and chopped
1 tablespoon chopped fresh sage
1/2 teaspoon minced garlic (1 small clove)
1/3 cup chicken broth
1/3 cup heavy whipping cream (or just cream)
3 slices bacon, cooked and crumbled
Directions:
1. To prepare the chicken breasts: Use a knife to make a pocket inside each chicken breast, making sure that you just open one long edge of the breast and don't cut through to the other side. Tuck a few pieces of cheese into each pocket. Secure closed again with toothpicks. Sprinkle each chicken breast generously with salt and pepper. Heat a medium nonstick skillet to medium-high heat. Add 1 to 2 tablespoons olive oil. Add the chicken breasts to the pan. Reduce the heat to medium. Cook the breasts 4 to 5 minutes on each side, or until cooked through. I like to cook the first side, then flip over and add a lid for the remainder of the cooking time. Make the sauce while the chicken is cooking.
2. To prepare the sauce: Heat the butter in a medium stainless steel skillet over medium-high heat. Add the shallots and saute in the butter until they begin to turn golden brown, 4 to 5 minutes (turning down heat, if necessary). Add the apples, sage and garlic and continue to cook 2 to 3 minutes. Pour in the chicken broth and let it bubble for a few minutes, naturally reducing. Stir in the cream and bacon and heat until creamy and heated through.
3. Place each chicken breast on a serving plate, pull out the toothpicks, and top each with a generous scoop of the apple- bacon pan sauce. It's especially good over rice.
Tips:
*If you are preparing this recipe as gluten-free, just be sure to use a brand of broth that is know to be GF.
*For easy clean-up, cook your bacon in the oven. Preheat the oven to 400[dg]F. Line a large, rimmed baking sheet with foil and place a rack on top. Spray the rack with nonstick spray. Lay the bacon slices on the rack. Bake it for 15 to 20 minutes, or until the bacon is crisp. Timing will vary depending on the thickness of your bacon. Alternately, you can fry it in a skillet over medium heat until crisp.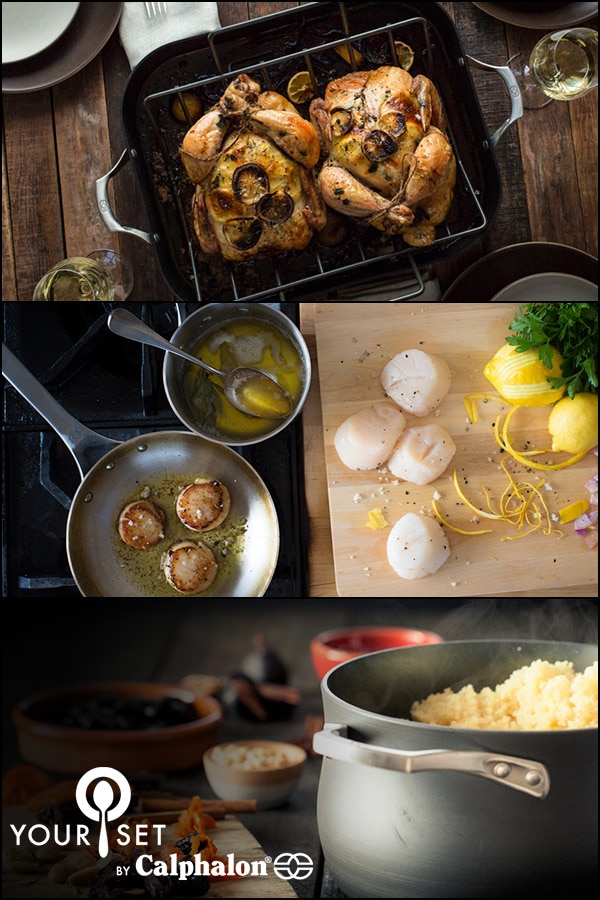 I've teamed up with Calphalon today to share their fun news:  They've just launched www.calphalon.com/yourset announcing Your Set by Calphalon.  With Your Set, you can now customize a cookware set for the way you love to cook!  Do you prefer to have a few nonstick pans and a few stainless steel?  Or one large pot paired with several small pans?  With Calphalon's new approach, you can put your set together-piece by piece-from two of their most premium lines of cookware (Unison Nonstick and AccuCore Stainless Steel) to meet your needs in the kitchen.  Mix it up.  Make it Yours 🙂
———————————————————————————————————————————————————————-
Calphalon is giving away a $500 Your Set by Calphalon gift card to one lucky RecipeGirl reader!  That's a pretty nice holiday gift right there, right?
For a chance to enter to win the $500 gift card, please leave a comment below answering this question:
What's the first recipe you ever remember making?
For 3 additional chances to win, leave a separate comment for each of the following extra entries letting me know you follow and have shared/pinned.

One winner will be chosen via random.org at the end of the day on Monday, December 3rd and will be announced here on this post.  The winner will be contacted via email and will have 48 hours to respond before another winner is chosen.  Please include a valid email address when commenting.  This giveaway is open to anyone with a USA mailing address.  You must be 18 years of age or older to enter.
This giveaway is now closed!  The winner will be announced just as soon as I receive email confirmation.  Thanks to all for entering!
Disclosure: This blog post is part of a paid SocialMoms and Calphalon blogging program. The opinions and ideas expressed here are my own.
701 Responses to "Cheddar- Stuffed Chicken Breasts with Apple- Bacon Pan Sauce"
Leave a Comment