Baked Lemon Chicken Spaghetti Primavera
Hey!  Today is National Spaghetti Day!!!  It's our nation's excuse to eat pasta, the most beloved food in the world.  Why not celebrate with a healthy pasta recipe like Baked Lemon Chicken Spaghetti Primavera?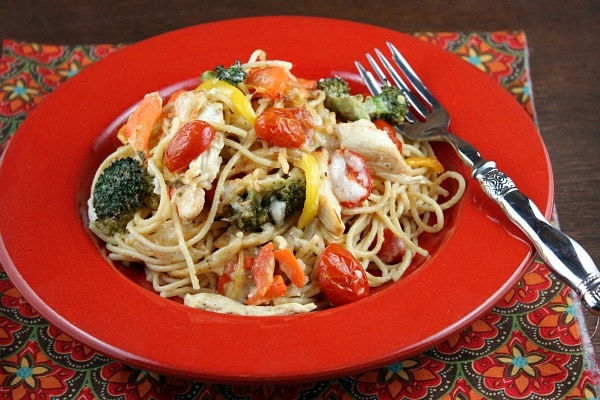 This pasta is baked with loads of lightly sauteed vegetables, lemon, a light sauce and a sprinkling of cheese too.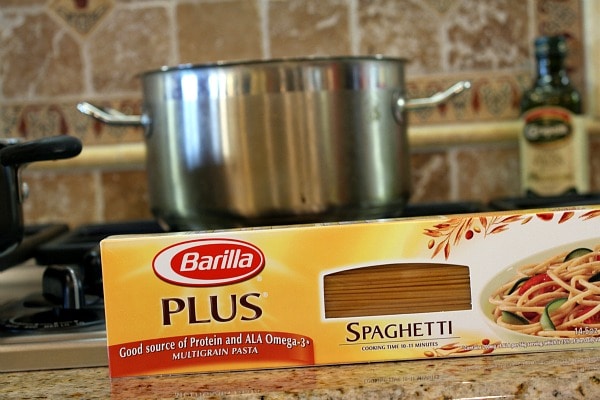 Today I've teamed up with Barilla to showcase their healthy pasta options (they have Barilla Plus– a multigrain pasta and Barilla Whole Grain pasta too).  Barilla Plus is the very brand of pasta that I use for my family all the time.  Believe me- they love it, and they don't notice any difference over using regular 'ol pasta.  I can feel good that I'm serving them a multi-grain pasta that is rich in protein, omega-3's and fiber (almost twice as much fiber as regular pasta).  The "multi-grain" consists of a blend of semolina, oats, spelt, barley, legumes, flaxseed and oat fiber.  Combined with some veggies and other delicious and healthy goodies, it's easy to create a healthy pasta meal for my family.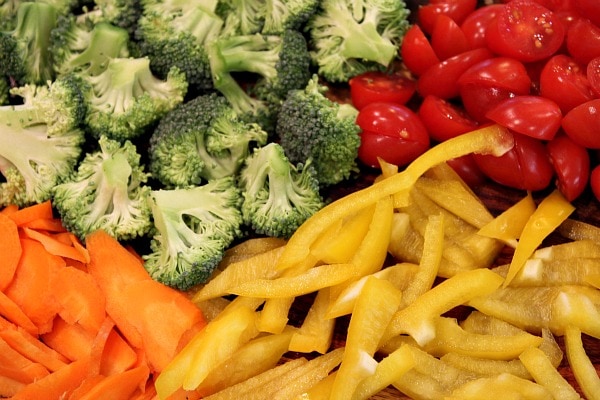 This recipe is packed with broccoli, carrots, bell pepper and tomato.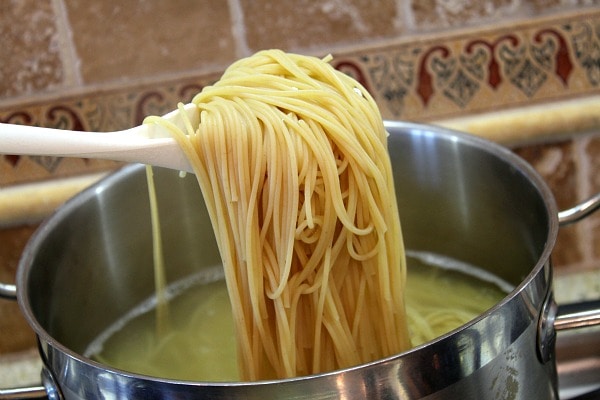 The pasta is boiled and cooked to al dente (just shy of being soft).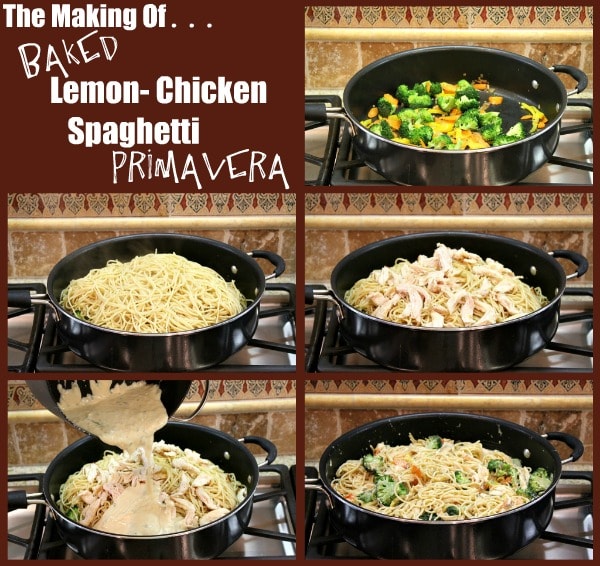 The vegetables are sautéed in a little bit of garlic, and are then added to the spaghetti and chicken.  A light and lemony cheese sauce is mixed in too.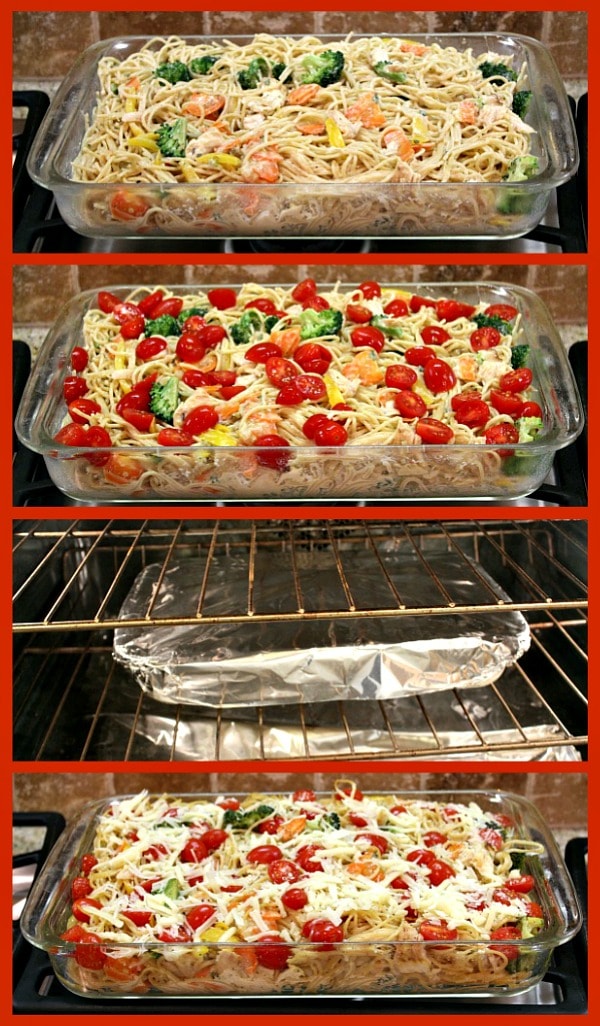 The mixture is spread into a baking dish, topped with tomatoes, wrapped with foil and baked.  The cheese is sprinkled on in the end, along with a good drizzle of fresh lemon juice- then baked again until everything is melted and lovely.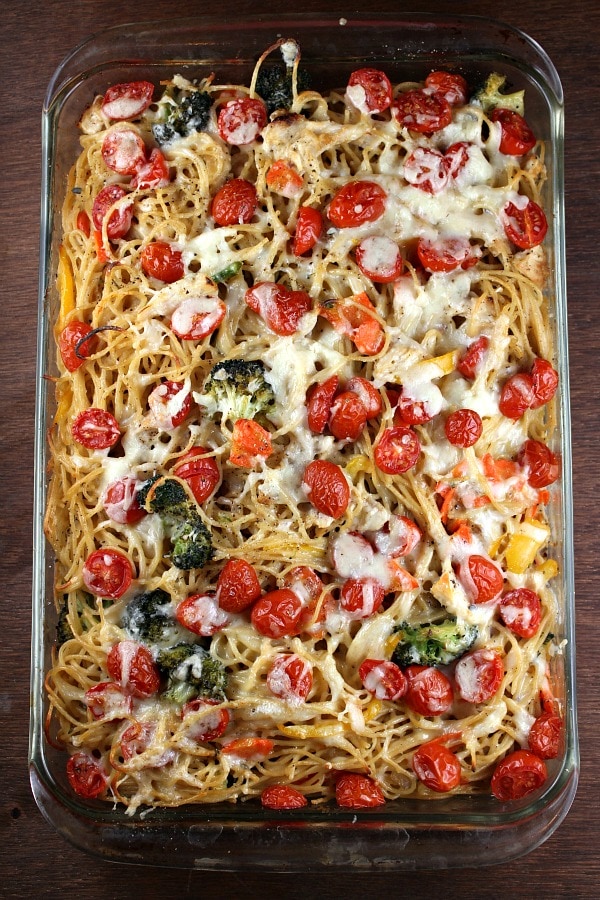 There it is- melted and lovely and ready for dinner.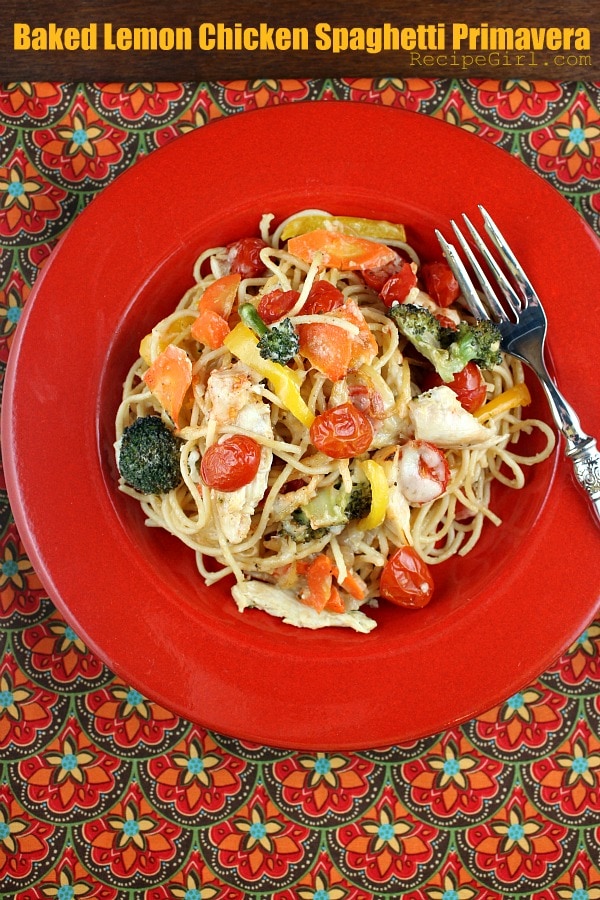 This one got a big thumbs up from my boys.  They love pasta of every kind, and this dish was no exception.  The nice thing about this recipe is that you can change up the vegetables to suit what your family likes to eat.  I'd suggest trying zucchini or peas or mushrooms or asparagus too.  There are only three of us in my family, so we enjoyed leftovers the next day.  The leftovers were just as good!
And now for the giveaway from Barilla pasta This giveaway has closed.  The randomly selected winner is commenter #225 Danielle, who has 48 hours to respond to my email.  Thanks to all for entering!
Giveaway Prize- 
One winner will receive
15 boxes of Barilla Pasta
5+ coupons for free Barilla pasta sauce
one cooking apron
one set of bamboo cooking utensils
one cooking timer
Giveaway Fine Print:  This giveaway ends on Monday, January 7th at NOON PST.  The winner will be selected via random.org and will be announced and contacted sometime after noon on Jan. 7th.  The winner will have 48 hours to respond via email or another winner will be chosen.  Winner must be at least 18 year of age and have a USA mailing address.
Yield: 8 servings
Prep Time: 30 min
Cook Time: 1 hour
Baked Lemon Chicken Spaghetti Primavera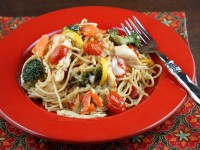 Ingredients:
SAUCE:
1 teaspoon olive oil
1 teaspoon butter
1 tablespoon all-purpose flour
One (12-ounce) can evaporated 2% milk
1/2 cup shredded Monterey Jack cheese
1/4 cup shredded Parmesan cheese
1 tablespoon chopped fresh thyme
zest and juice of 1 lemon
salt and pepper, to taste
MAIN DISH:
One box (14.5-ounces) Barilla Plus Spaghetti, cooked until al dente
1 teaspoon olive oil
2 medium cloves garlic, minced
2 cups fresh broccoli florets
1 large carrot, peeled and chopped or julienned
1 large yellow bell pepper, chopped or sliced thinly
2 cups cooked and chopped or shredded chicken breast
1 1/2 cups halved cherry tomatoes
salt and pepper, to taste
TOPPING:
1/2 cup shredded Monterey Jack cheese
1/4 cup shredded Parmesan Cheese
1/2 lemon juiced
Directions:
1. Preheat the oven to 400 degrees F. Spray a 9x13-inch baking pan with nonstick spray.
2. Prepare the sauce: Heat olive oil and butter in a medium skillet over medium heat. Whisk in the flour and stir until lightly browned. Slowly whisk in the milk. Keep whisking until the milk is warmed and has thickened slightly. Whisk in the cheeses, thyme, lemon zest/juice and salt and pepper. Set aside for later.
3. While the spaghetti is cooking, prepare the vegetables: In a very large, nonstick skillet heat the olive oil over medium heat. Add the garlic and stir for 1 minute. Add broccoli, carrot, and bell pepper. Stir and cook until slightly softened, 4 to 5 minutes. Turn off the heat. Add spaghetti to the skillet and gently toss the vegetables with the spaghetti. Add the chicken, and then add the sauce. Toss to combine. Transfer the pasta-vegetable mixture to the prepared baking pan, spread the cut tomatoes on top, and sprinkle with salt and pepper. Cover the pan with foil. Bake for 30 minutes. Remove the foil and sprinkle cheeses on top. Squeeze the juice from 1/2 lemon on top of the cheeses. Return to the oven and bake until the cheeses are melted and the tomatoes are wilted- about 10 minutes.
4. Scoop into dishes and serve immediately.
Tips:
*This recipe does not turn out a spaghetti that is coated in a thick sauce. If you'd like the sauce to be more substantial, use a little less pasta and perhaps a few more vegetables.
Check out these healthy spaghetti recipes too!
Spaghetti with Sun Dried Tomatoes and Spinach by Two Peas and Their Pod
Vegetable Party Spaghetti with Warm Garlic- Thyme Olive Oil by Picky Palate
Disclosure:  This post is sponsored by Barilla.  This is a brand that I know and love and use often in my cooking.  All opinions shared about this product are my own. 
385 Responses to "Baked Lemon Chicken Spaghetti Primavera"
Leave a Comment