Onward with another recipe for St. Patrick's Day! I've decided to continue celebrating Rachel Allen's cookbook: Rachel's Irish Family Food. Next I'm featuring her Cheesy Soda Scones, a savory herb and cheese scone perfect for dunking in soup or Irish Stew!  We baked, we dunked in our Irish Stew, and we ate.  There were none left (8 scones for 3 people… demolished).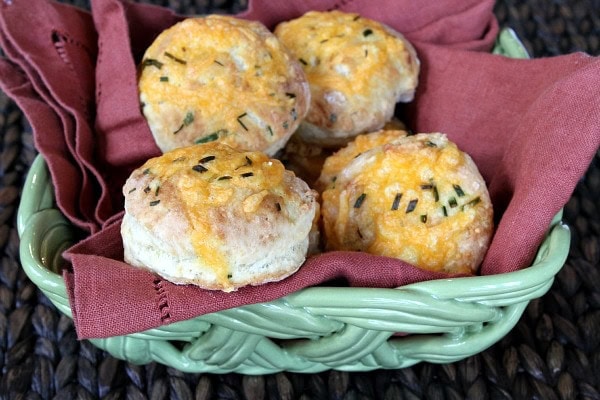 If you're familiar with breakfast scones, then you know that a typical sweet scone is made with a lot of butter and it breaks apart easily into chunks. Many times it's dry and not all that appetizing either. This particular type of scone is different. It's savory instead of sweet, and it's more like an Irish Soda Bread biscuit with chives and cheese added in.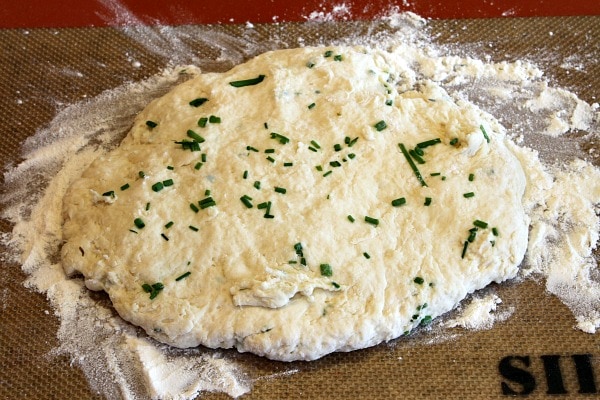 So super easy to make, there are just 6 ingredients. There's no butter in the recipe, but it does utilize buttermilk. The fun part is, the instructions have you using your hands to mix. If that weirds you out, you can always enlist the kiddos to do the hand-mixing part.  The dough is just patted onto a floured surface.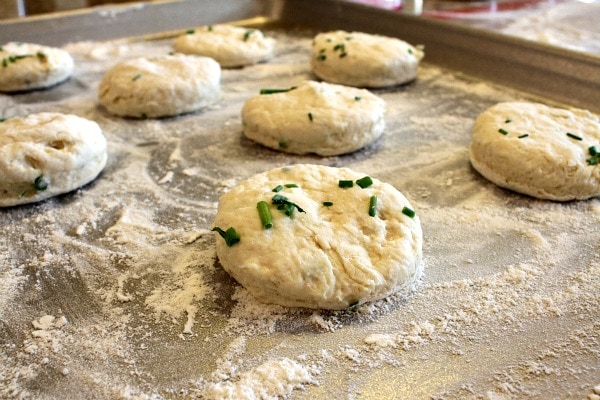 I used a biscuit cutter for the rounds, but you can take a drinking glass with a semi-small diameter and use that instead if you don't have fancy cutters.  Or just use whatever you can dig up that works as a quasi-cutter.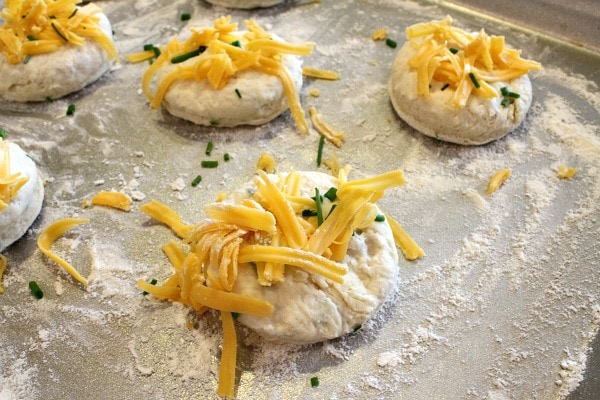 Each dough round is topped with (sharp) cheddar cheese and more chopped chives.  You could get all fancy here and use a different kind of cheese and whatever herb you want (rosemary, thyme, etc.).  I love to use SHARP cheddar because I enjoy the flavor.  In fact, I usually purchase the sharpest cheddar I can.  I love the stuff… which is why I have to banish myself from eating cheese every so often or I'll go through a whole slab of the stuff in a couple of days time.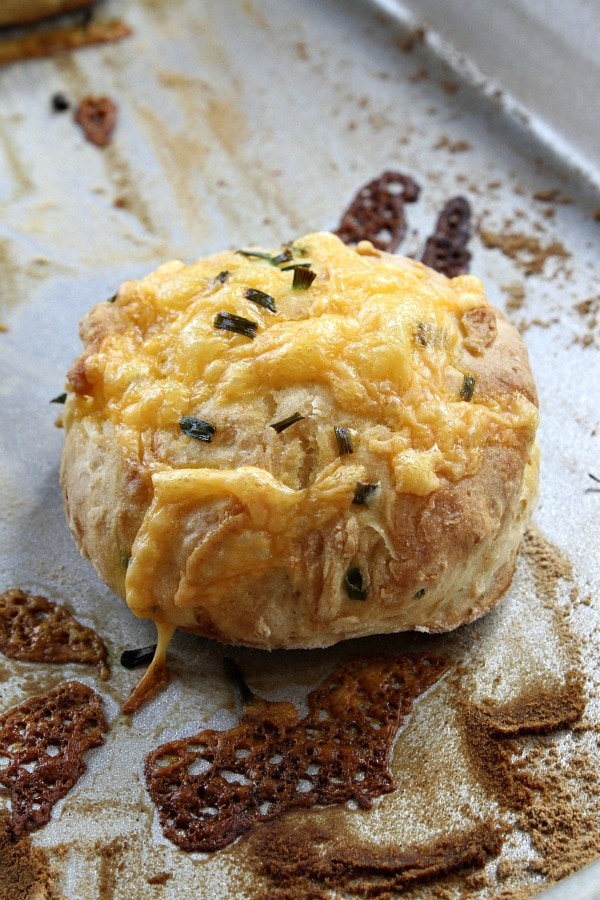 They bake in just 15 minutes and come out looking like this: all crazy cheesy and golden brown.  They are best when hotsy totsy right out of the oven (or at least eaten the same day).  We had some just out of the oven, and then heated a few for leftovers later in the evening when my husband returned from a trip and was excited to sample the Irish Stew and Cheesy Soda Scones that I had made earlier in the day.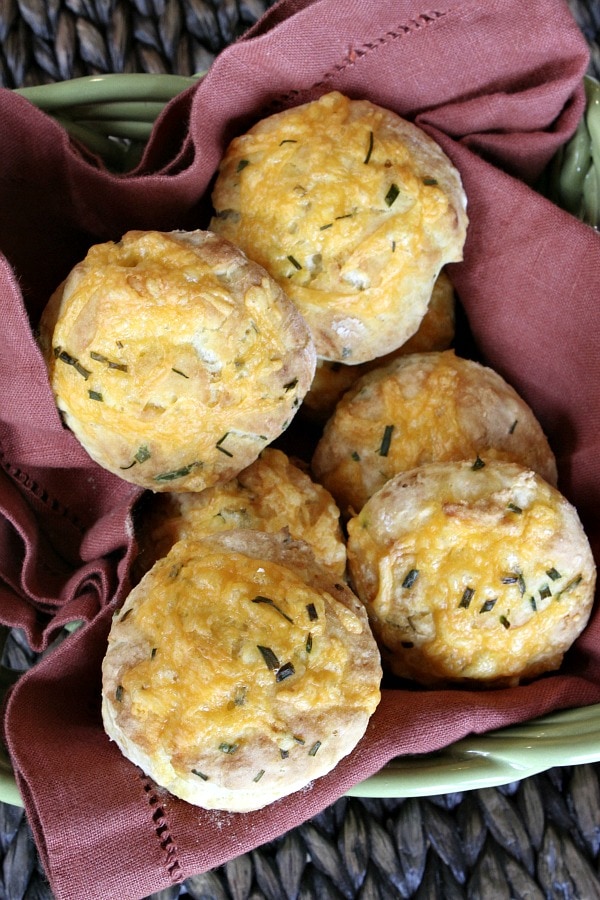 Triple thumbs up from my family on both recipes we tried from Rachel Allen's Irish Family Food cookbook.  The Irish Stew turned out lamb that was so pull-apart tender and wonderful (though the pre-teen in the house complained about the lamb getting stuck in his braces- uh oh).  And we enjoyed the scones too.  You have to be thinking of these scones as a version of Irish Soda Bread (which is not super duper rich and flavorful by any stretch of the imagination), and just think of them as an easy "biscuit" to serve with your meal.  We gobbled them up, but it's important to add your favorite flavors to the scone to fully appreciate them.
Be sure to enter my giveaway for Rachel Allen's Irish Family Food cookbook.  It ends on Sunday night!
Yield: 8 scones
Prep Time: 10 min
Cook Time: 15 min
Cheesy Soda Scones
Wonderful little biscuit to serve with soup or stew. Change up the cheese and/or herbs as you see fit (think: Swiss, Gouda, rosemary, thyme!)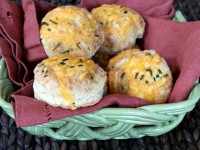 Ingredients:
1 3/4 cups All Purpose Gold Medal® Flour
1/2 teaspoon salt
1/2 teaspoon baking soda
1/2 tablespoon finely chopped chives (plus a few extra)
1/2 + 1/3 cups buttermilk (measure 1/2, then measure 1/3)
1/3 cup grated sharp cheddar cheese
Directions:
1. Preheat the oven to 475 degrees. Flour a baking sheet.
2. Sift the flour, salt and baking soda into a bowl. Mix in 1/2 tablespoon chives. Make a well in the center and pour the buttermilk into the well. Using one hand, with your fingers outstretched like a claw, stir in a full circular movement from the center to the outside of the bowl to form a dough. The dough should be soft, though not too wet and sticky.
3. When the dough comes together, turn it out onto a well-floured surface. Pat the dough until it is about 3/4-inch thick. Cut into 8 rounds and place on the prepared baking sheet. Sprinkle each round of dough with cheese and additional chives.
4. Bake for 15 minutes, or until golden and sounding hollow when tapped on the bottom. Turn the oven down to 400 after 10 minutes if they are already golden. Remove from the baking sheet and place on a wire rack to cool slightly before serving.
For more savory scones, check out these recipes from your favorite food blogs:
Feta and Chive Sour Cream Scones by Joy the Baker 
Bacon and Cheddar Scones by My Baking Addiction 
Savory Gluten-Free Scones with Olives and Rosemary by Gluten Free Goddess 
Parmesan and Black Pepper Scones by Chez Us 
Cheese- Dill Scones by Gourmeted 
20 Responses to "Cheesy Soda Scones"
Leave a Comment