Chocolate Chip- Toffee Strip Cookies {Cookbook Giveaway}
I've never been one to pass up a cookbook full of cookie recipes.  I love cookies of every kind, and they're definitely my favorite thing to bake.  But I suppose the real reason is that I'm terrified that I'll miss something if I don't pick up a newly released cookie cookbook.  What if they've done something with Snickerdoodles that I've never heard of before, what if they're sharing a chocolate cookie recipe that people will oohh and ahhh over, or what if there's a chocolate chip cookie recipe that is unique and fabulous and must be tried?  I can't stand the thought of missing out on something.  Plus, I eagerly read cookie cookbooks like they're a delicious new novel.  Here's a can't-be-missed recipe that I found in the just-released All the Good Cookies Cookbook:  Chocolate Chip- Toffee Strip Cookies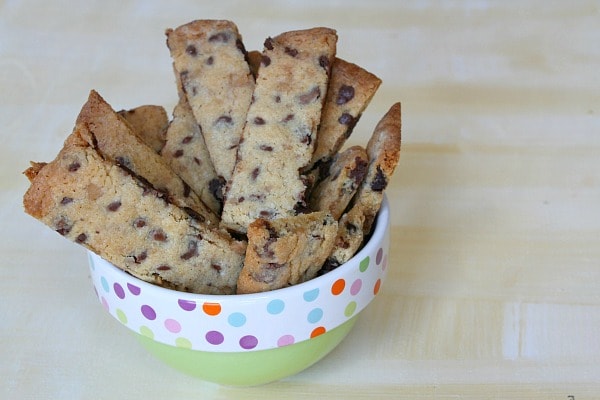 The dough is addicting on this one.  It's chocolate chip and toffee all wrapped into one cookie.  The dough is divided out into four sections- each rolled between waxed paper, then they're baked as giant cookies.  Just out the oven, they're cut into cookie strips.
The recipe comes from the 2nd Cookies for Kids Cancer book:  All the Good Cookies by Gretchen Holt- Witt.  From the back cover:
Cookies for Kids' Cancer was founded on the simple belief that no one can resist the allure of a cookie or the desire to help a worthy cause. This people-powered charity has used community bake sales to raise millions of dollars to help fund new therapies for pediatric cancer. The first Cookies for Kids' Cancer cookbook introduced the cause to tens of thousands of new supporters with a collection of delicious recipes perfect for a bake sale or anytime. Now, in All the Good Cookies, this all-new cookie compendium, you'll find a wealth of mouthwatering recipes that will satisfy any cookie craving, from Raspberry Thumbprints to Boston Cream Whoopie Pies. And since all of the author's royalties go to Cookies for Kids' Cancer, every copy of All the Good Cookies you buy will help kids fighting cancer.
I must say that I really love the way these cookies are created.  It's different than your typical chocolate chip cookie, and that makes it appealing.  They're a delicious chocolate chip cookie with hints of toffee here and there.
I had a hard time deciding which recipe in the book I wanted to try.  Other recipes that sound awesome to me are: Mary Hickey's Toffee Bars (I guess I have a thing for toffee!), Chocolate Pillows, Benne Burgers, Apricot and Raspberry Thumbprints, Emma'a S'Mores Balls, and Peanut Butter Nanaimo Bars.  It's a great book to have on your cookbook shelf, and purchasing it all goes to a good cause too.
Now, for a chance to win a copy of the book… use the widget below to enter to win (you will have multiple chances).  Give the widget a few seconds to load- sometimes it's kind of feisty if you have a slow internet connection. Visit my son RecipeBoy's blog to see which cookie he's featuring from this book- he's hosting a giveaway for the book too!
Cookies for Kid's Cancer: All the Good Cookies Cookbook Giveaway!
Yield: About 5 dozen cookies
Prep Time: 25 min
Cook Time: 15 min
Chocolate Chip- Toffee Strip Cookies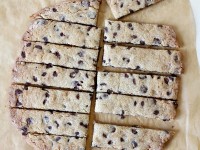 Ingredients:
2 sticks (1/2 pound) unsalted butter, at room temperature
2/3 cup light brown sugar
1/2 cup granulated white sugar
1 large egg
1 large egg yolk
2 teaspoons vanilla extract
2 cups All Purpose Gold Medal® Flour
1/2 teaspoon baking powder
1/2 teaspoon salt
1 1/3 cups (8 ounces) semi-sweet chocolate chips
1/2 cup Heath toffee bits (add 2/3 cup if you're a toffee lover!)
Directions:
1. Preheat the oven to 350 degrees F. Line 2 baking sheets with parchment paper.
2. Place the butter and sugars in a large mixer bowl and beat until smooth and creamy, about 3 minutes. Add the egg, egg yolk and vanilla and beat until incorporated. Scrape down the sides of the bowl. With the mixer on low, add the flour, baking powder and salt; beat well and scrape again. Stir in the chocolate chips and the toffee.
3. Divide the dough into quarters. Roll each quarter of the dough between two floured sheets of waxed paper into an 8-inch or so square. Transfer the cookie squares to the prepared baking sheets. Bake until lightly browned, 15 to 17 minutes.
4. While hot, cut each cookie square in half, then cut each half into eight 1-inch slices. Cool the slices on the cookie sheets completely.
Tips:
*Store in an airtight container for up to 3 days, or freeze for up to 3 months.
Disclosure: I was given a copy of this book for review but all opinions shared are my own. There are Amazon affiliate links included within this post.
41 Responses to "Chocolate Chip- Toffee Strip Cookies {Cookbook Giveaway}"
Leave a Comment