Fruity Curry Chicken Salad
A Fruity Curry Chicken Salad recipe is just the thing to serve up on a warm end-of-summer day.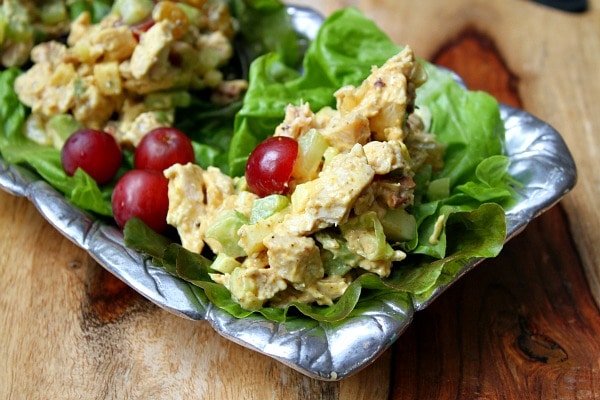 So I shared on my summer ice cream post a few weeks ago a funny story about how my family decided to move to the Reno/Tahoe area after friends of ours bought a house and gushed about how wonderful it was up here.  We fell in love with the place too.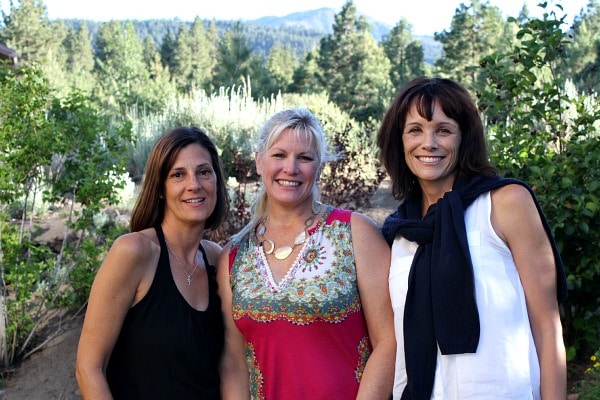 Our San Diego friends and I shared the same realtor, who found both of us fabulous houses that we are absolutely loving.  That's my San Diego friend Sandy on the left who discovered our new neighborhood.  Our realtor's name is Kristen Smith– on the right (and she's wonderful, just in case you're ever in the market to move to this area).  She and her family have become good friends of ours.  And I'm mentioning my realtor today because she passed along a recipe to me that she tried out on her family:  Fruity Curry Chicken Salad.  Kristen's family gobbled it up (her 2 young kids loved it too).  So I decided to try it myself!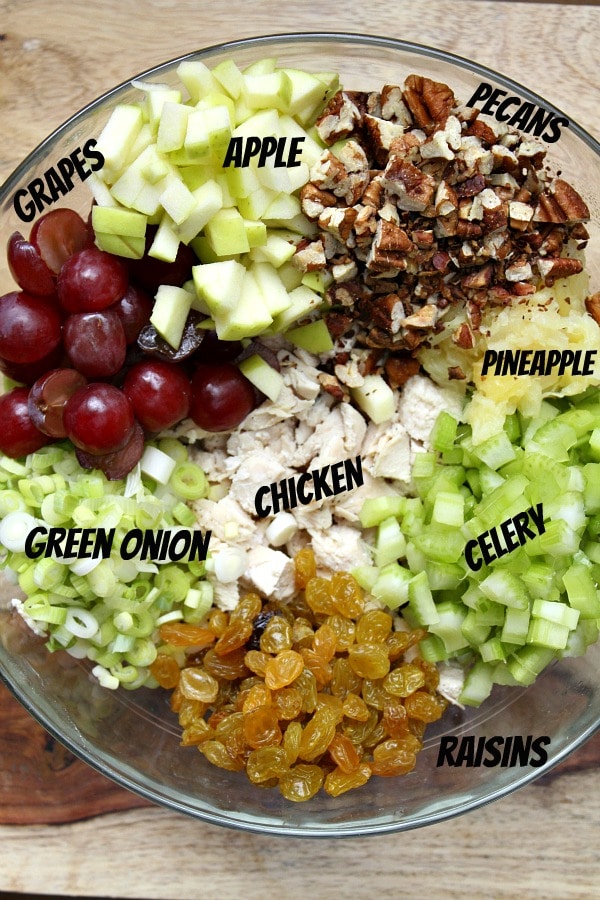 This is all of the good stuff it has in it.  I'm sure you can pick and choose and substitute a little bit here and there if all of the ingredients don't suite your taste.  But I made it as Kristen directed, and it was a major hit in my house too!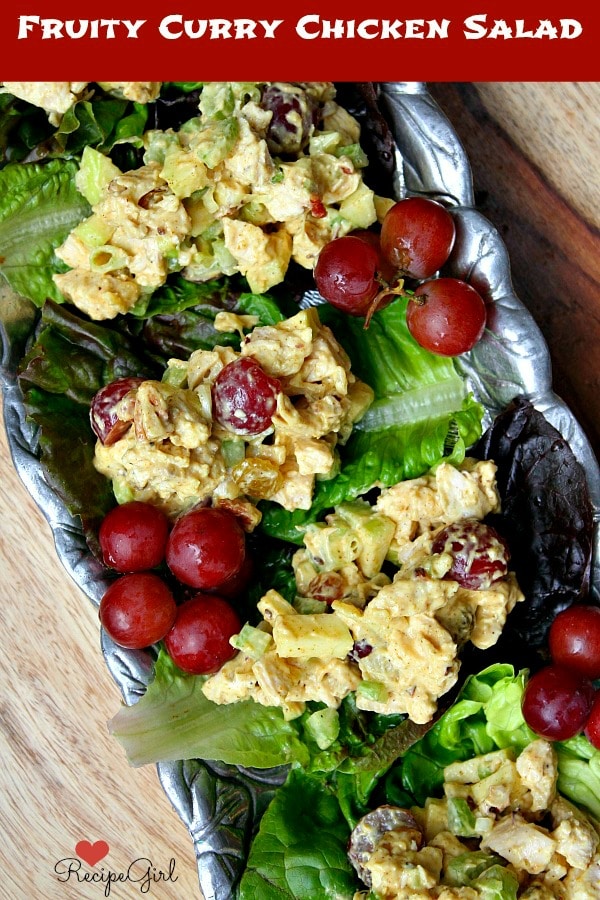 I served this chicken salad a couple of ways at my house.  The girls in the house ate it over lettuce leaves and ate it as you would lettuce wraps.  The boys preferred to tuck it in between two bread slices and call it a sandwich.  Either way… YUM.  It's crunchy and fruity, and it has some really nice flavors going on.  Leftovers were great for a couple of days too.
Thank you to Kristen, my amazing realtor, for sharing such a delicious recipe!  It was perfect for a hot summer day, and it will be something I'll make again and again.
Yield: 6 to 8 servings
Prep Time: 20 min
Fruity Curry Chicken Salad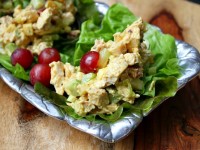 Ingredients:
SALAD:
About 2 cups cooked and diced chicken breast
3/4 cup halved red grapes
1/2 cup diced celery
1 medium Golden Delicious apple, diced
1/2 cup chopped, toasted pecans
1/3 cup golden raisins
4 green onions, chopped
3 tablespoons crushed pineapple
DRESSING:
3/4 cup mayonnaise (light is okay)
1 tablespoon soy sauce
1 1/2 teaspoons curry powder
1/8 teaspoon ground pepper
FOR SERVING:
lettuce leaves (butter lettuce works well) or bread
Directions:
1. Place salad ingredients in a medium bowl.
2. In a separate bowl, whisk together the dressing ingredients. Add the dressing to the salad and mix well. Chill until ready to serve (or serve immediately). Scoop onto lettuce leaves for serving. The chicken salad may also be spread between two slices of bread or onto a croissant and served as a sandwich.
Tips:
*If you are preparing this recipe as gluten-free, just make sure you use brands of canned pineapple, mayonnaise and soy sauce that are known to be gluten free. Serve on lettuce leaves or gluten-free bread.
Here are some other Chicken Salad recipes on the blogs that you may enjoy:
Lowfat Chicken Salad with Curry and Apricots by Cookin' Canuck
Bacon- Gorgonzola Chicken Salad by Picky Palate
Old Fashioned (Tofu) Chicken Salad by FatFree Vegan Kitchen
Poppy Seed Chicken Salad by Salad in a Jar
Honey-Roasted Chicken Salad (Mayo Free) by Iowa Girl Eats
16 Responses to "Fruity Curry Chicken Salad"
Leave a Comment