Here's a super simple chicken recipe that the whole family will love > Parmesan Crusted Chicken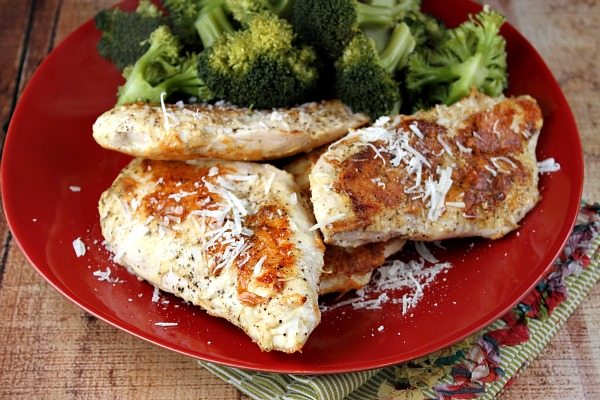 Chicken is the one thing I can count on my family being happy with for dinner.  Trying to figure out some new and interesting ways to serve it that aren't laden with fatty sauces or weird ingredients that my child won't eat can be a challenge sometimes.  I love this three ingredient recipe (3 ingredients plus pepper), and it couldn't be simpler to make.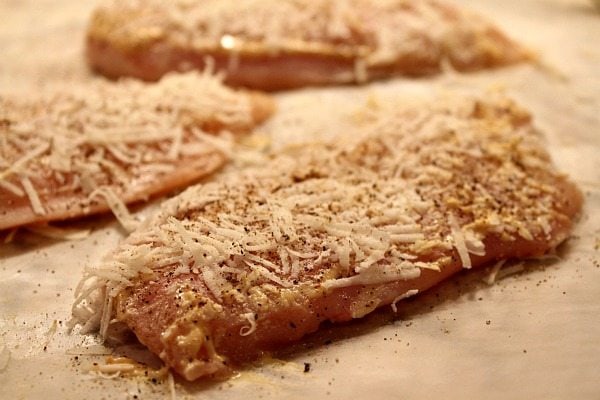 I like to start with chicken pieces that have about the same thickness all around.  If your chicken does not, give it a few pounds on the thicker parts with a mallet to thin it out a bit.
The chicken breasts are coated with Dijon mustard, Parmesan cheese and pepper.  No salt is needed since cheese itself tends to have a good amount of sodium.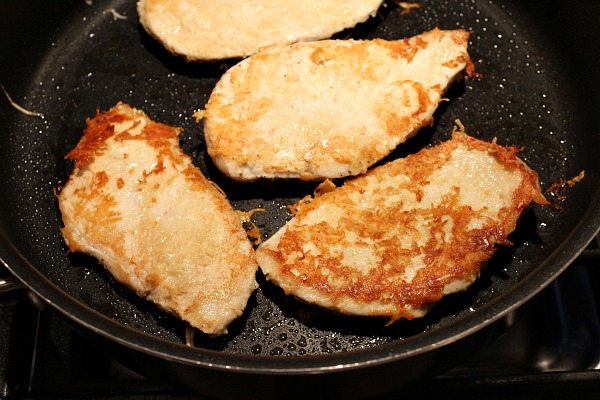 The coated chicken is then fried in a nonstick pan that has been sprayed with cooking spray. No oil needed either.  Yeah, this is a lower fat recipe too- bonus!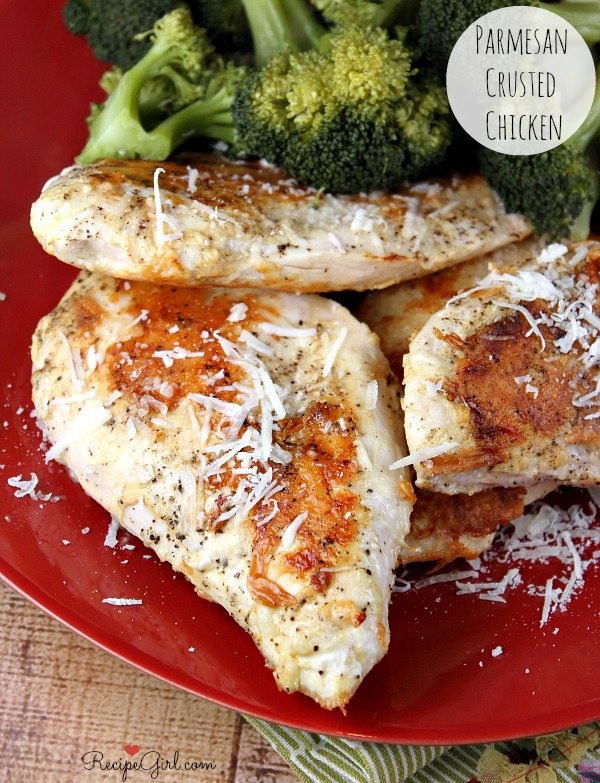 And that is all, my friends!  Chicken dinner done.  It totally has enough flavor with the mustard and the Parm, and a quick sear on both sides ensures that the chicken maintains its juices and doesn't get dried out.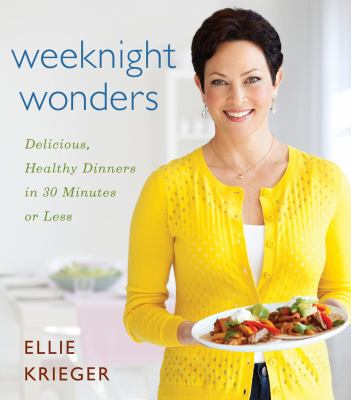 I've waxed poetically about Ellie Krieger before, and here I am doing it again.  I love her cookbooks.  I have all of them, and I use them often!  This recipe comes from her newest book, Weeknight Wonders:  Delicious, Healthy Dinners in 30 Minutes or Less.  In the book you'll find 150 recipes that span the categories of soups, sandwiches, meats, poultry, seafood, vegetarian, and desserts.  Each recipe is designed not to take any longer than 30 minutes – from preparation to getting it on the table.  The recipes were created with health in mind, and there is nutritional information included for every recipe.  These are the kinds of books I treasure most!  I'm excited to try Shrimp Pad Thai Salad, Chicken and Broken Noodle Soup, Mushroom Sloppy Joes, Korean Beef and Broccoli Stir Fry, Corn and Quinoa with Sausage, Orzo with Shrimp, Peas and Feta, Ravioli with Savory Pumpkin Sauce, and Double Chocolate Waffles.  This is a cookbook worth buying and using often!
Yield: 4 servings
Prep Time: 15 minutes
Cook Time: 7 minutes
Parmesan Crusted Chicken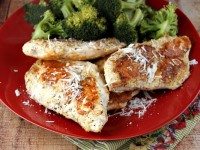 Ingredients:
2 ounces grated Parmesan cheese (or 2/3 cup)
4 boneless skinless chicken breasts (about 6 ounces each)
1 tablespoon Dijon mustard
1/2 teaspoon freshly ground black pepper
Directions:
Place the chicken breasts between two sheets of plastic wrap and pound to an even thickness of about 1/2-inch. Rub the top side of the chicken pieces with half of the mustard, then sprinkle with half of the cheese (pressing to adhere), and season with half of the pepper. Flip the chicken pieces over and repeat.
Spray a nonstick skillet with cooking spray, and heat over medium-high heat. Add the chicken to the pan, and cook, without moving it, until the cheese on the bottom forms a deep brown crust that releases fairly easy from the bottom of the pan (3 to 4 minutes). Flip and repeat on the other side, cooking until the chicken is cooked through- about three more minutes.
Tips:
If you are preparing this recipe as GLUTEN-FREE, just make sure that the brand of Dijon you are using is known to be GF.
Nutritional Information per serving (Serving size:

One 6-ounce chicken breast) 

Calories:

250, 

Fat:

8g, 

Saturated Fat:

3.5g, 

Sodium:

510mg, 

Fiber:

0g, 

Protein:

41g, 

Cholesterol:

120mg, 

Carbohydrates:

1g

Weight Watchers POINTS:  Freestyle SmartPoints: 2, SmartPoints: 5, Points Plus Program: 6, Old Points Program: 6
SOURCE:
 Excerpted from  
Weeknight Wonders
by Ellie Krieger.  Copyright © 2013.  Reproduced by permission of Houghton Mifflin Harcourt. All rights reserved.
Here are a few more chicken recipes you might enjoy:
Disclosure:  There are Amazon affiliate links within this post.
30 Responses to "Parmesan Crusted Chicken"
Leave a Comment