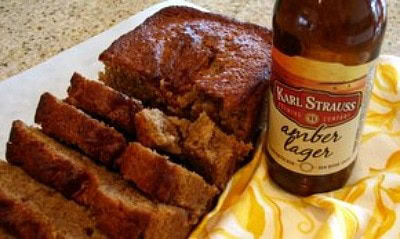 Amber Lager Cinnamon Bread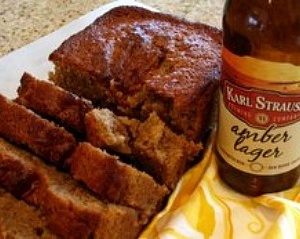 This sweet version of beer bread is definitely worth trying. It's more like dessert, than classic beer bread.
Yield:
One loaf (8 to 10 servings)
Prep Time: 15 min
Cook Time: 40 min
Ingredients:
1 1/4 cups any fine amber German style lager
1 large egg, beaten
4 Tablespoons canola oil
1 teaspoon vanilla extract
2 cups + 2 Tablespoons all-purpose flour
1/3 cup powdered milk
1/2 cup brown sugar, packed
1 cup granulated white sugar
1 Tablespoon ground cinnamon
1 teaspoon baking powder
1/4 teaspoon baking soda
Directions:
1. Preheat oven to 375 degrees F. Grease and flour an 8x5-inch loaf pan.
2. In a medium bowl, mix beer, egg, oil and vanilla together. Set aside.
3. In a separate medium-sized mixing bowl, whisk together flour, powdered milk, brown and white sugar, cinnamon, baking powder and baking soda. Add liquid slowly, stirring just until incorporated (don't over-mix). Pour into prepared pan.
4. Bake 40 minutes, or until a toothpick inserted in the middle comes out clean. Let the bread cool for 10 minutes in the pan. Remove, and slice. This bread is delicious when served warm, as well as sliced for snacking later on.
Tips:
*We prefer Karl Strauss, but it's currently only available in the southwest USA.
*You may also use a pale ale, but if you do...increase the brown sugar to 1 cup.
*Try adding 3/4 cup raspberries to this bread, using a berry ale.