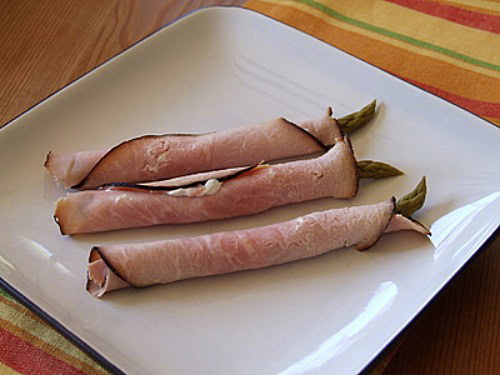 Asparagus- Ham Roll Ups
Yield: 20 appetizers Prep Time: 20 minutes, plus time for chilling
This is a very simple recipe to whip up if you're short on time and you don't wish to make anything too difficult. You can even use pickled asparagus (drained well) in place of the steamed asparagus.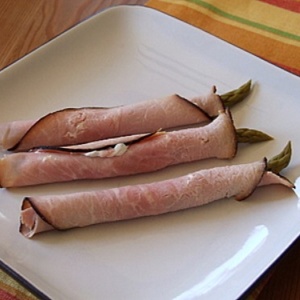 Ingredients:

20 stalks fresh asparagus, not too thick
1 (8 ounce) package cream cheese, softened
1 teaspoon fresh dill weed
1 teaspoon finely chopped chives
1/4 teaspooon garlic powder
1/2 teaspoon lemon pepper
10 slices Black Forest Ham or Prosciutto

Instructions:

1. Cook asparagus stalks about 3 minutes in boiling water (or steam), just until tender. Drain well and pat dry carefully with paper towels. Set aside to cool.

2. Combine cream cheese, dill, chives, garlic and pepper. Cut ham slices in half crosswise. Spread with cream cheese mixture. Roll around each asparagus spear. Chill for several hours before serving.