Balsamic Sauteed Mushrooms
I could munch on these as a side-dish to any meal- they're deliciously addicting! >   Balsamic Mushrooms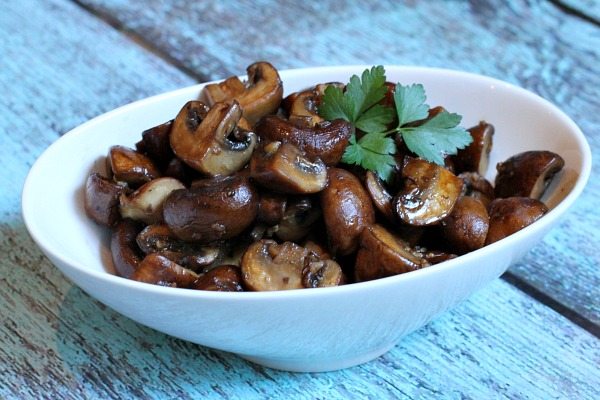 Do you like mushrooms?  No… I mean, do you REALLY LIKE MUSHROOMS?  Because if you really like mushrooms, then you'll most likely love this easy side-dish recipe.
Baby bella mushrooms are simply sauteed with garlic and butter and olive oil.  A sweet mix of balsamic vinegar and brown sugar is mixed in at the end to glaze the mushrooms and give them their fabulous flavor.
I'd personally eat sauteed balsamic mushrooms in and around anything- every single day.  On burgers they are sublime.  In pasta they are fantastic.  With steak they are perfect.  And when sauteed mushrooms are served as a simple side dish, you'll wish you made a double batch!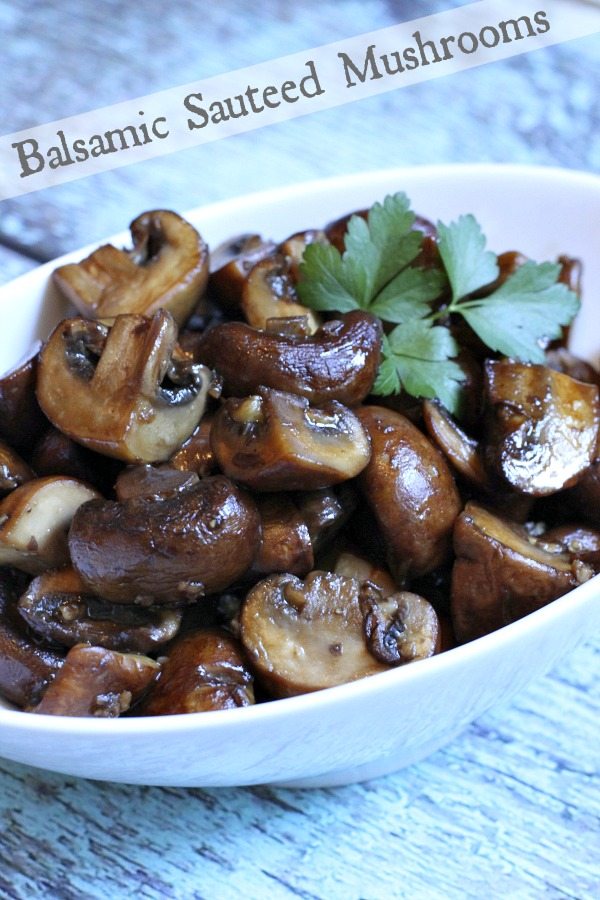 So what do you think, fellow Mushroom Lovers?  Will this recipe do it for you?  Are you as crazy about this little vegetable as I am?  I hope so, because I fear that people who aren't drawn to mushrooms are really missing out big-time.
Balsamic mushrooms are such a droolworthy side dish recipe for mushroom lovers.  My husband and I ooed and ahhed over the delicious taste of the sweet and tangy glaze.  It's a good thing my 13-year old won't touch a mushroom, because we gobbled up every bite!
I'd recommend serving balsamic mushrooms as a side to steak, chicken, pork a beef roast or even fish.  In other words, they'd be perfect with anything and everything.  The best part is- they can be whipped up in a matter of minutes!
Balsamic Sauteed Mushrooms
Yield:
4 servings
Prep Time: 15 minutes
Cook Time: 12 minutes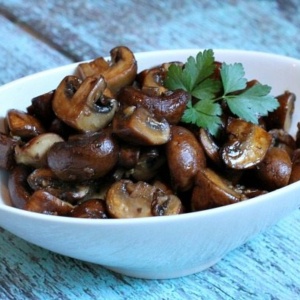 Ingredients:

1 tablespoon balsamic vinegar
2 teaspoons brown sugar
1 tablespoon water
2 tablespoons unsalted butter, divided
2 tablespoons extra-virgin olive oil
1 pound cremini (baby bella) mushrooms, cleaned and quartered
1/4 teaspoon Kosher salt
1 teaspoon minced garlic
freshly ground black pepper

Instructions:

In a small dish, whisk together the balsamic vinegar, brown sugar and 1 tablespoon water.
In a large skillet, heat 1 tablespoon of the butter with the olive oil over medium-high heat. When the butter is melted, add the mushrooms and salt and stir right away with a wooden spoon until the mushrooms have absorbed all the fat.
Let the mushrooms cook undisturbed for 2 minutes and then stir once. The pan will look dry, but keep the heat at medium-high and continue to cook, stirring infrequently, until the mushrooms are shrunken, glistening, and some sides have developed a deep orange-brown color, 6 to 7 minutes more (the bottom of the pan will be brown).
Turn the heat to low, add the garlic and the remaining 1 tablespoon butter and cook, stirring, until the butter is melted and the garlic is fragrant, 15 to 20 seconds. Carefully add the balsamic mixture. Cook, stirring, until the liquid reduces to a glazey consistency that coats the mushrooms, 15 to 20 seconds. Season with few grinds of pepper.
Transfer the mushrooms to a serving dish, scraping the pan with a rubber spatula to get all of the garlicky sauce. Let sit for a few minutes and then serve warm.

Nutrition:

Nutritional Information per serving (Serving size:

1/4th of the recipe) 

Calories:

150, 

Fat:

13g, 

Saturated Fat:

4.5g, 

Sodium:

220mg, 

Fiber:

2g, 

Protein:

3g, 

Cholesterol:

15mg, 

Carbohydrates:

9g

Weight Watchers POINTS: Freestyle SmartPoints: 5, SmartPoints: 5, Points Plus: 4, Old Points Program: 4
Here are a few more recipes for sauteed mushrooms you may enjoy: