I come from a family of readers.  My mother read me books and poetry before I even knew what print on a page was all about. As a result, I love to read. I wish I could say that I plow through books, but it's a time factor for me. The computer is my nemesis, and it gets most of my attention. My Kindle has made reading infinitely more easy. I pop it into my purse and read during odd moments of the day where I find myself waiting for Doctors or lingering at school pick-up. Here are some favorite book recommendations of the summer- from me and my family, including my book-devouring sister Susie, my book-loving mother, and my Aunt Joan- who reads more than just about anyone I know.
I tend to like books that are easy to get through- ones I don't have to concentrate on too much but are entertaining enough to keep me reading. I'm not big on romances or anything like that, but I've been known to read a "beach" book now and then. Here are my favorites from the summer: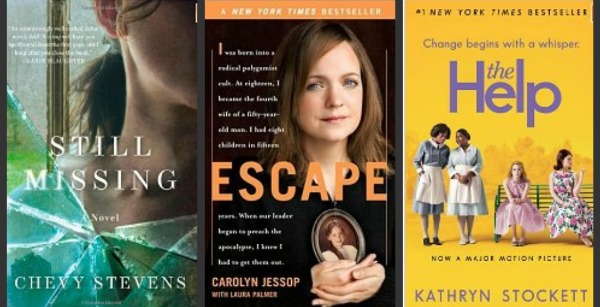 Still Missing by Chevy Stevens. It's the story of a woman who is kidnapped by a man… and what happens to her in captivity. It's not a true story, but I had a tough time putting it down.
Escape by Caroline Jessop. This one is the true story of a woman who eventually manages to escape from a polygamist sect. It's horrifying and compelling at the same time.
The Help by Kathryn Stockett.  I think I was probably the last one to read this book, but I loved it just as much as everyone else did.  I saw the movie too, but the book was better.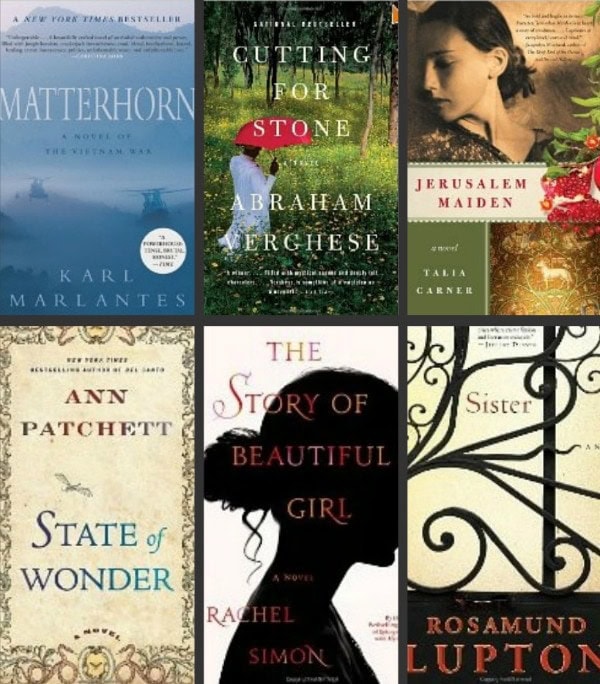 My sister Susie is simply crazy about reading.  She read 19 books this summer on her break from being a middle school teacher.  That's just crazy!  Lucky for me, she gives me some great book recommendations.  Here are her favorites from the summer- none of them are "beach" read type books…they are all more literary fiction.
Matterhorn: A Novel of the Vietnam War by Karl Marlantes was my favorite book this summer. It's a war story, so it's amazing to me that I liked it so much but I did. The story took place over a couple of months during the war and followed Bravo Company through battles, long marches, friendships, and too many deaths. The novel didn't take a political tone about Vietnam, but remained focused on the characters. I found that for a week after I finished it, I kept wanting to know what happened to them in the next battle or when they got home. Loved it!
Cutting for Stone by Abraham Verghese was one of those books that I've picked up dozens of times, but it never quite grabbed me. Then a good friend of mine read it and told me it was one of the best books she'd ever read, so I decided to give it a try. I was hooked immediately! It was a complicated story told by one of two twin brothers growing up at a medical compound in Ethiopia. Their mother, an Indian nun, had died during child birth and their father, an English surgeon, had fled in devestation. The boys, Marion & Shiva, were raised by two physicians at this compound. The twins are extremely close until Shiva betrays Marion and their relationship becomes extremely strained. Eventually Marion (now a young physician) moves to America and finds their father, and then his life takes turns that both reunite and separate him from Shiva again. Fantastic!!!
Jerusalem Maiden by Talia Carner was the story of a young woman living in Jerusalem in the early 1900's. Her family is of the most conservative Jewish sect and she is proud to be a part of that life. But, she is also a gifted artist and her religion forbids trying to copy/better what God has created. Throughout the story and her life she struggles with letting her talent flourish vs. honoring her God. It was a beautiful story spanning 60 years and eventually moving from Israel to Paris.
State of Wonder by Ann Patchett was the story of a female ob/gyn turned research pharmacologist sent to the Amazon to find out the full story of why her friend and colleague had died while working there. While there she meets a host of interesting characters including one who was her mentor during residency, and slowly the mystery unravels.
The Story of Beautiful Girl by Rachel Simon is a very unusual story with a unique cast of characters. There is Beautiful Girl a mentally retarded young woman who had been institutionalized as a child in the 60″s and stopped speaking shortly after being left there. There is Homan an African American deaf man who was also institutionalized there. And finally Martha, a retired woman who ends up raising Beautiful Girl's newborn daughter after Beautiful Girl and Homan escape from the institution and she gives birth. Beautiful Girl is caught and forced back into the institution, but Homan escapes, and the book follows what happens to these three characters over the next 40 years.
Sister by Rosamund Lupton was the story of an older sister trying to prove that her younger sister had not committed suicide as her death had been ruled. The story was told as a long letter from the living sister to her dead sister and you didn't fully see why until the last few pages. Very well done!
Here are my Aunt Joan's favorites- she reads a wide variety of things…
INVISIBLE BRIDGE: Historical fiction by Julie Orringer. Fascinating fictional characters living in Paris and Hungary prior and during World War II. Just when I thought I knew everything about that time period, I leaned about the life and struggle of Jews in Nazi Hungary and the unique and shameful part that Hungary played in that war.  This was my sister's favorite book of the entire year!
THE BITCH-PROOF SUIT: Romantic comedy by DeAnn Black. "Pure fluff", I thought for the first few chapters, but I kept reading because it was my Book Club's pick for a "summer beach book". I soon realized that I was enjoying the cast of characters, the humorous, witty writing, the shallowness of the clothes obsessed people who work in the fashion business, and the crazy, laugh-out-loud situations. The women protagonists were strong, determined, and very funny!
HALF THE SKY: Nonfiction by Nicholas Kristof and Sheryl WuDunn. Describes the plight of impoverished, oppressed women around the world, the inspirational stories of people who are working to meet the challenges, and concrete ideas for ways we can all help. I wish everyone would read this important book, especially women!
UNBROKEN: Nonfiction by Lauren Hillenbrand. This book which reads like fiction is the story of an adventurous and courageous man who rose to fame in the 1930's Olympics, trained and fought in World War II, endured years of incredible torture in a Japanese prison camp, and survived to begin a new life. I loved the writing and the message of hope and human endurance.
CITY OF VEILS: Mystery by Zoe Ferraris.. A mystery set in Saudi Arabia is a perfect book if you like a good mystery as well as a book that gives insight into the restrictive lives of women and men in a Muslim country. The characters portray a realistic picture of a culture that is in the process of confusion and change.
And one from my Mom:
The Paris Wife by Paula McLain: It's the fictional story of Ernest Hemingway as told by Hadley, his first of four wives. The story takes place in the fascinating world of jazz-filled Paris in the 20's. The young couple is surrounded by artists such as F. Scott Fitzgerald, Gertrude Stein, James Joyce and others. I loved the way the author brought their characters to life.
Do you have a favorite book from summer?  Please share your favorites in the comments below!