Blackened Salmon Tacos w/ Fresh Mango Salsa
Yield:
4 servings
Prep Time: 25 min
Cook Time: 5 min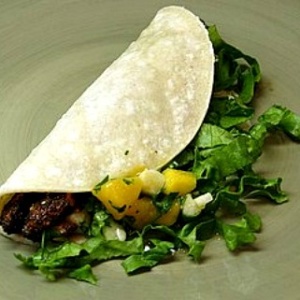 Ingredients:

SALSA:
1 large mango, peeled and chopped
3/4 cup jicama, peeled and chopped
1/2 medium cucumber, chopped
1 large nectarine or peach, peeled and chopped
15 sprigs cilantro, remove stems and chopped very finely
2 tablespoons white vinegar
2 teaspoons granulated white sugar, or more or less to taste
1/4 teaspoon salt
1 tablespoon olive oil

TACOS:
1 tablespoon canola or vegetable oil
2 tablespoons blackening seasoning
1 1/2 pounds fresh salmon
Eight taco-sized flour tortillas, warmed
1 1/2 cups chopped green leaf lettuce

Instructions:

1. In a medium bowl, mix all ingredients for Mango Salsa. Cover and keep refrigerated until ready to use.

2. In a frying pan (cast iron is best for blackening), add 1 tablespoon oil and heat to medium-high. Sprinkle about 2 tablespoons of the blackening seasoning to cover the bottom of a shallow pan. Slice the salmon
fillets in 1/2-inch strips. Dredge in blackening seasoning. Cook, turning once, for about 4 minutes.

3. Fill tortillas with salmon, mango salsa and lettuce.

Tips:

*The mango salsa recipe makes quite a bit, however, it's so delicious that you'll likely have no problem using all of this salsa!
*Blackening seasoning is available in spice sections of grocery stores.
*These unique tacos go very well with Spanish rice and black beans. Enjoy them with a delicious pale ale.