Blue Cheese & Mushroom Stuffed Beef Tenderloin
This recipe has been featured in a post on The Recipe Girl blog: Fall Dinner Party Menu. This dish is gluten-free adaptable- please see tips below the recipe…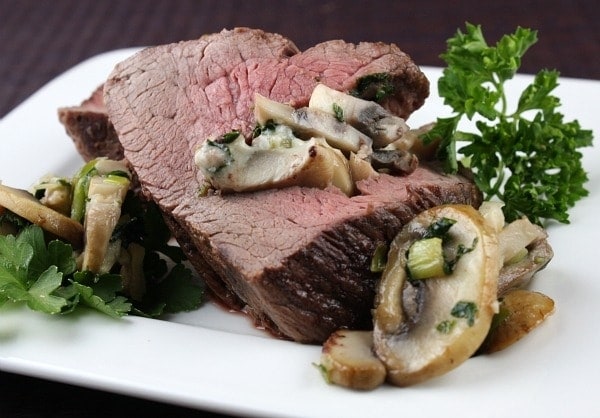 Blue Cheese & Mushroom Stuffed Beef Tenderloin
This simple stuffed beef tenderloin recipe is tender and melt-in-your-mouth good. Slice a tenderloin open and stuff with quickly sauteed mushrooms & green onions. Top with a sprinkle of blue cheese crumbles and use toothpicks to secure the tenderloin back together.
Yield:
6 servings
Prep Time: 25 min
Cook Time: 45 min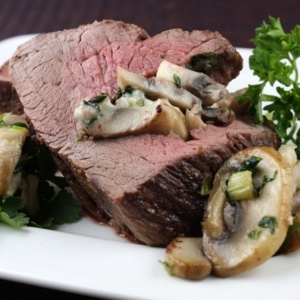 Ingredients:

2 Tablespoons butter
2 green onions, thinly sliced
10 ounces fresh mushrooms, sliced
1 large garlic clove, minced
1 small handful fresh parsley, chopped
2 pounds beef tenderloin, trimmed of fat
1/4 cup blue cheese, crumbled
melted butter

Instructions:

1. Preheat oven to 425 degrees F. Spray small roasting pan or rimmed cookie sheet with nonstick spray.

2. Melt butter in large skillet. Sauté the onion, mushrooms, garlic and parsley, just until mushrooms are softened.

3. Make a slit down the middle of the tenderloin (without cutting it into two pieces) and stuff mushroom mixture inside. Sprinkle the blue cheese over the mushrooms. Pull the slit closed and secure with toothpicks.

4. Brush the tenderloin with melted butter and bake 30 to 40 minutes, or until desired degree of doneness is obtained. Slice into 6 portions and serve immediately.