Blue Cheese Ball
This is a great recipe for parties:  Blue Cheese Ball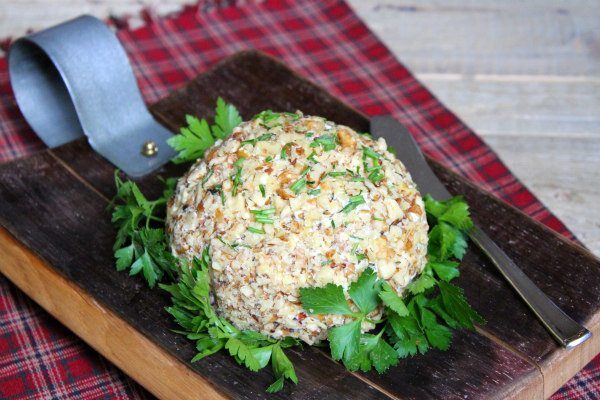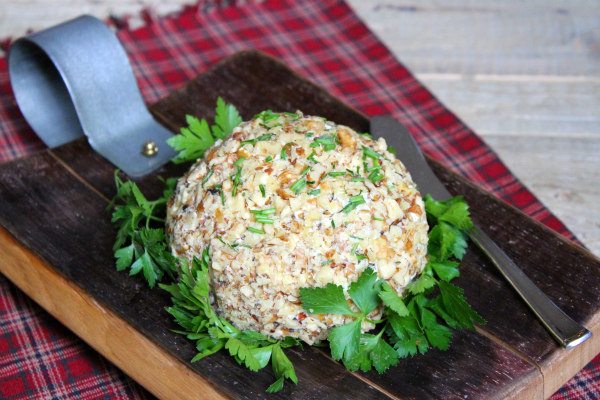 My Mom recently downsized into a smaller living situation, which means that I was tasked with helping her clean out her entire house.  It was definitely quite a task, but the kitchen was the fun part.
She handed me a big pile of recipes that she used often when I was growing up back in the 70's.  They're treasures that I can't believe I've had my hands on until now!  This blue cheese ball is one of those treasures.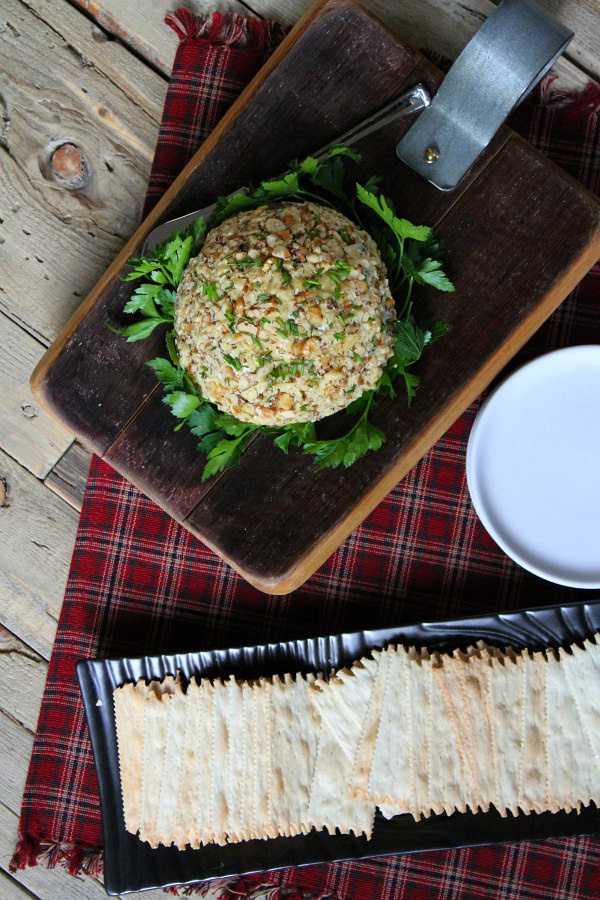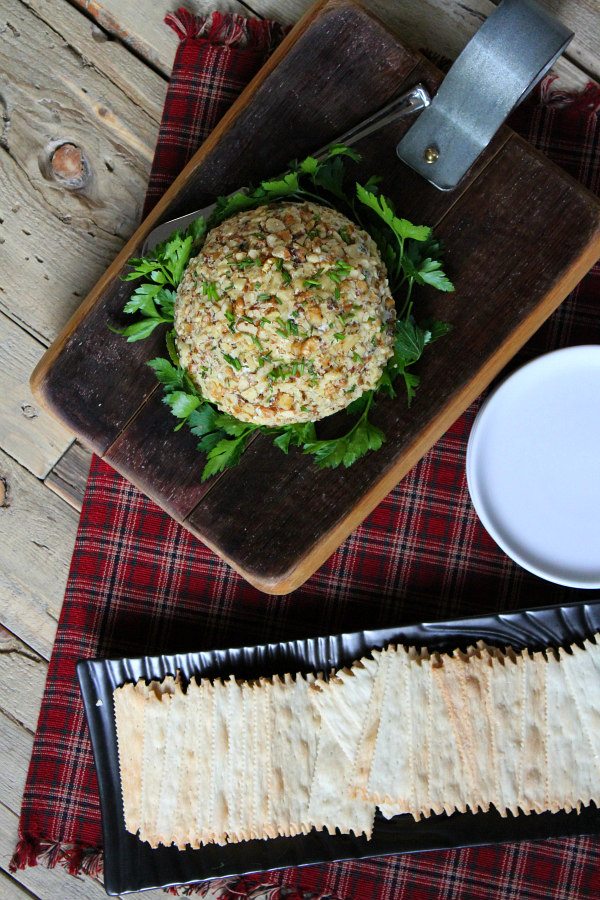 Mom used to serve up this blue cheese ball at her annual neighborhood Christmas party.  I remember it well because there were almost always leftovers stored in the fridge for days following the party… not because it wasn't a well-loved recipe (it was!) but because the recipe makes a lot… and also because Mom served a ton of food at her party.
This surely counts as a retro-recipe.  It seems like cheese balls were kind of all-the-rage in the 70's.  So easy to put together (basically just molding the ingredients into a ball and refrigerating until firm), it's the perfect sort of make-ahead appetizer.  Just wrap and refrigerate for up to a couple of days before serving.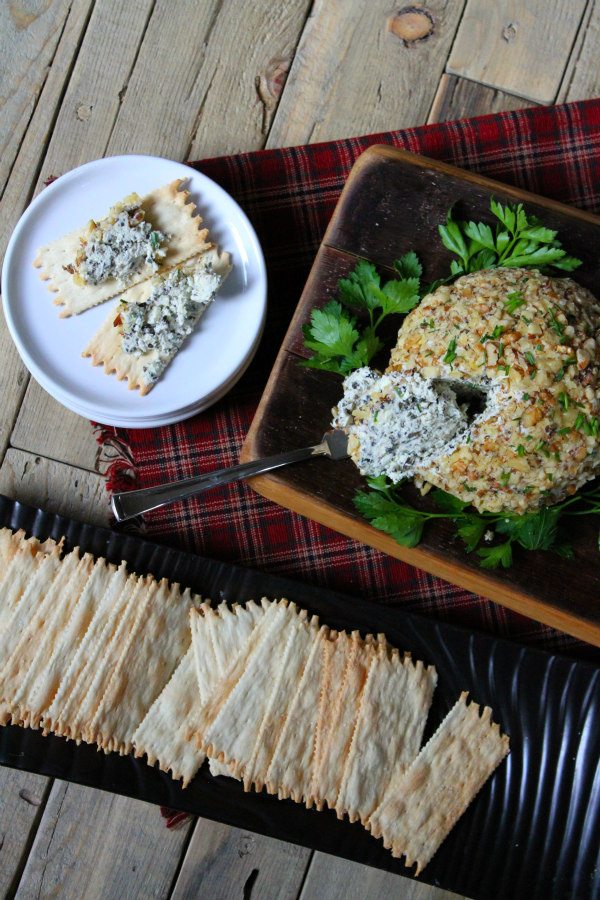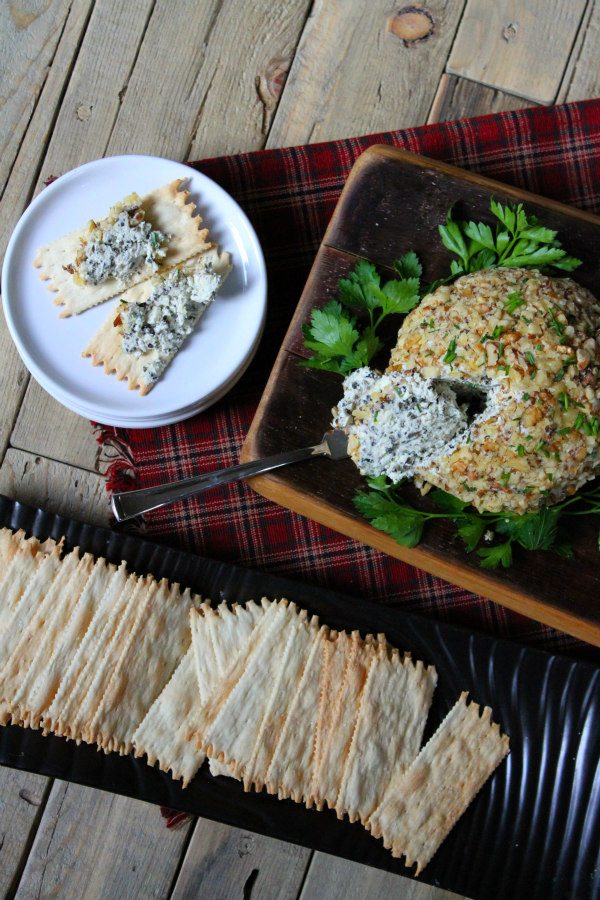 My recommendation is to serve fancy crackers with your cheese ball.  Of course, Ritz crackers have always been a nice cheese ball favorite too since they are quite sturdy.
Don't get your party-on without a cheese ball this holiday season!  It's an easy recipe to make, bring and share for a friend's holiday party or an office party too.
Blue Cheese Ball
Yield:
One 5-inch cheese ball
Prep Time: 15 minutes + chill time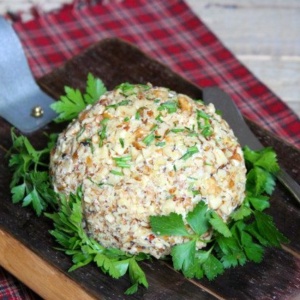 Ingredients:

One 8-ounce package cream cheese, softened
8 ounces blue cheese crumbles
1/4 cup (1/2 stick) butter, softened
One 4.25-ounce can chopped black olives, drained
1 tablespoon minced chives
1/3 cup finely chopped walnuts
crackers, for serving

Instructions:

In medium bowl, use a large spoon to blend together the cream cheese, blue cheese crumbles and butter until smooth and completely blended together.  Stir in the olives.  Cover and chill until firm enough to shape- at least one hour.
Form the mixture into a ball (use clean hands), and place on your serving dish.  Cover the ball with the chives and walnuts.  Chill until ready to serve.  Serve with crackers.

Nutrition:

You may prepare this a couple of days ahead and just keep wrapped in your refrigerator.  You may also wrap and freeze for up to a week or so.  Place in the refrigerator overnight to defrost.
SOURCE:  RecipeGirl.com
Here are a few more cheese ball recipes you might enjoy: