Blueberry, Blue Cheese and Glazed Walnut Salad
Here is a most wonderful spring and summer salad recipe:  Blueberry, Blue Cheese and Glazed Walnut Salad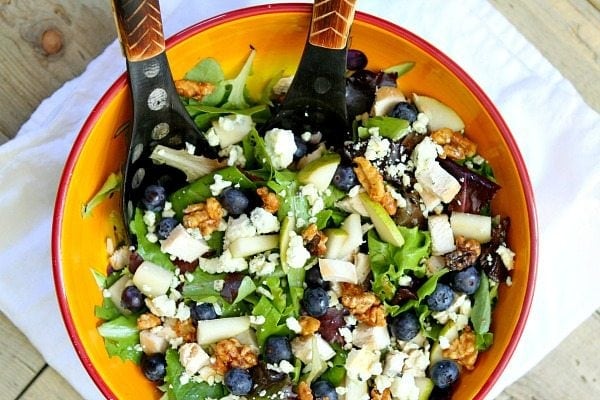 I've been poring through piles of recipes lately.  I have binders full of recipes (maybe 1,000?) that I collected as a young girl– always hanging on to as many recipes as I could get my hands on.  I've saved all of them- with the hope that I'd make each and every one of them someday.  This salad recipe is one of those recipes- scribbled on a piece of paper- source unknown.  I have a feeling it may have come from a restaurant.  It's definitely restaurant quality.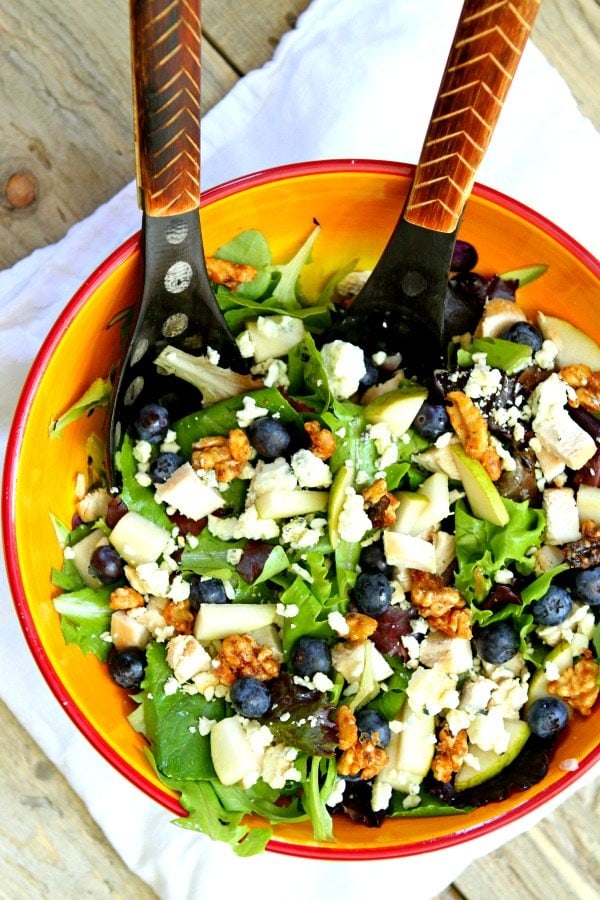 The walnuts in this salad are homemade.  The recipe for the glazed walnuts makes more than you'll need in this salad, but they're so good that you'll want to munch on them by the handful… or save for more salads!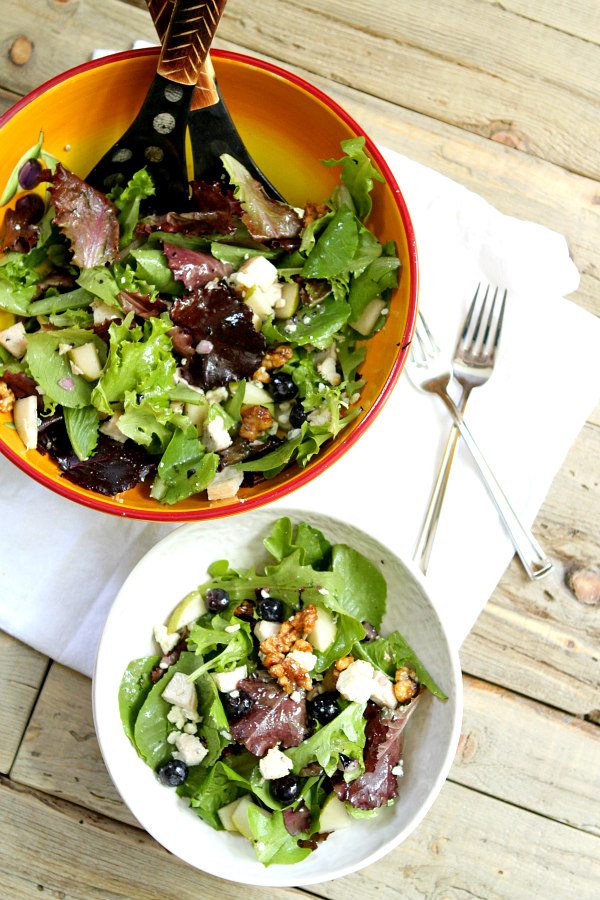 The blueberry vinaigrette is homemade too.  It has just the right amount of "sweet" to properly garnish the salad.
I'm so glad I saved this recipe.  I knew I'd eventually dig it up and make it.  And now I only have 999 more recipes to make from my collection!  That's why they call me, "RecipeGirl," you know?
Yield:
6 servings
Prep Time:30 minutes
Cook Time:30 minutes
Ingredients:
Glazed Walnuts:
2 1/2 cups halved or chopped walnuts
1/4 cup honey
1 teaspoon ground cinnamon
1 teaspoon orange zest
Blueberry Vinaigrette:
1/2 cup grapeseed oil (can sub canola oil, if needed)
1/2 cup fresh blueberries
1/2 tablespoon Dijon mustard
1 tablespoon brown sugar
1 teaspoon finely minced shallots
1/4 teaspoon freshly ground black pepper
1/8 teaspoon kosher salt
Salad:
16 ounces mixed salad greens
1/2 cup fresh blueberries
1 pear, chopped
1/2 cup of the honey glazed walnuts (recipe above)
1/2 cup crumbled blue cheese
chopped chicken (optional), to make this a main dish salad
Directions:
Prepare the walnuts:  Preheat the oven to 300 degrees F.  Line a baking sheet with parchment paper.  Combine all of the glazed walnut ingredients in a medium bowl.  Spread out evenly on the prepared baking sheet.  Bake for 15 minutes.  Remove from the oven, stir the walnuts, then bake for an additional 15 minutes.  Remove from the pan and transfer to a cutting board to cool- making sure you break apart any clumps of almonds.
Prepare the vinaigrette:  Place all of the vinaigrette ingredients in a blender or small food processor and pulse until smooth.
Assemble the salad:  In a large salad bowl, combine the greens, blueberries, pear and walnuts.  Toss with 1/3 cup of the vinaigrette.  Add the blue cheese and toss again.  Add additional vinaigrette, as desired.  Add chicken to the salad too, if you'd like.
SOURCE:  RecipeGirl.com (recipe given to me long ago)
Here are a few more blueberry salad recipes you might enjoy: