Brown Sugar Glazed Ham
One of my favorite things to eat on the planet:  Brown Sugar Glazed Ham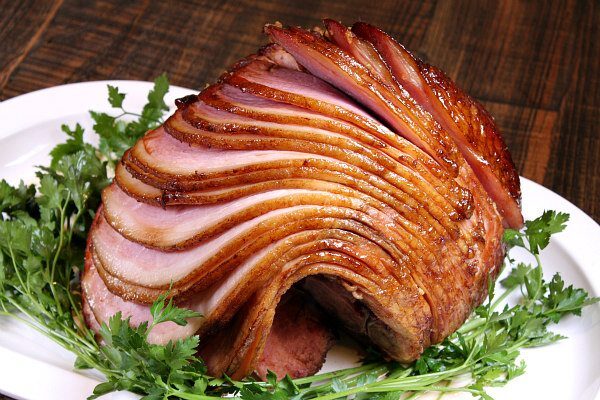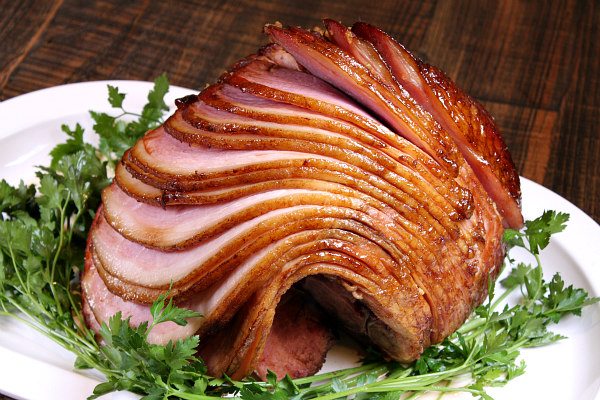 A couple of weeks ago, I found myself tasked with making a Sunday night dinner for family who was visiting us.  My Mom has to avoid gluten, so I needed to come up with something that was gluten-free.  And I needed a meal that would feed us for a couple of days.  Ham was the obvious answer as it would feed us a couple of meals, and I'd probably be able to get a soup out of it after that.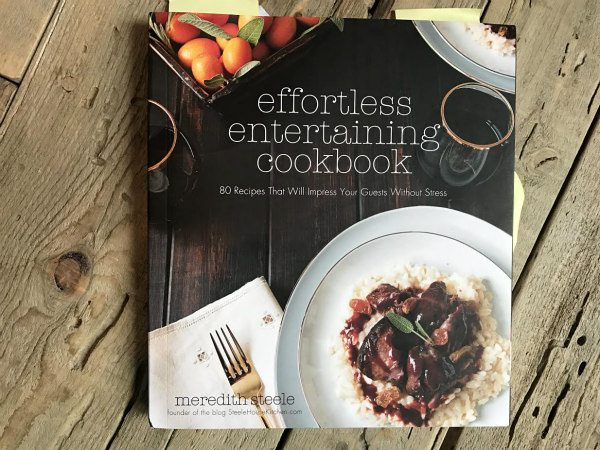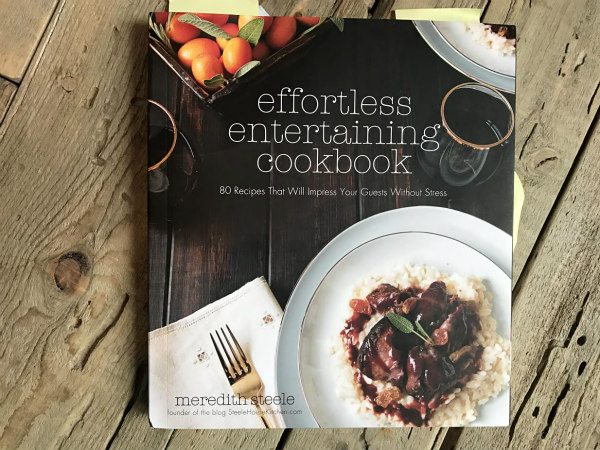 I remembered a recipe I had spotted in one of my new cookbooks:  Effortless Entertaining Cookbook: 80 Recipes That Will Impress Your Guests Without Stress by Meredith Steele (SteelhouseKitchen.com).  I'm always entertaining friends and family in our home, so I'm a sucker for cookbooks that focus on entertaining.  This book is divided into entertaining by season.  There are suggested menus: Let's Brunch, Dinner With Friends, Fiesta Taco Bar, Autumn Beer Dinner, Winter Harvest and more.  And there are beautiful photographs to accompany every recipe.
I've bookmarked several recipes to try:  Apricot- Curry Chicken Sandwiches, Bee's Knees Cocktail, IPA Quick Pickle Green Beans, 10-Minute Garlic and Rosemary Roasted Salmon, Dried Cherry and Sage Goat Cheese, Whisky Caramel Brownies, Make-Ahead Parmesan Risotto, Roasted Cauliflower and Pomegranate Farro and Winter Pimm's Punch.  There are so many good, easy-but-impressive recipes in this book for sharing with guests.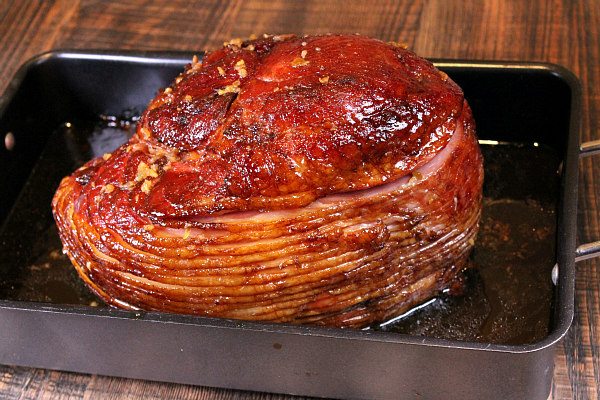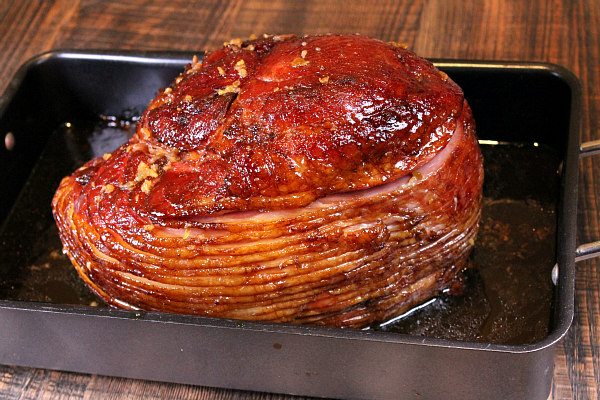 I didn't have any luck finding a gluten-free ham at my local market, so I called Whole Foods and had success there.  It wasn't a cheap ham, but it was one of the most beautiful, delicious hams I have ever eaten… so I'll be getting my ham there from now on!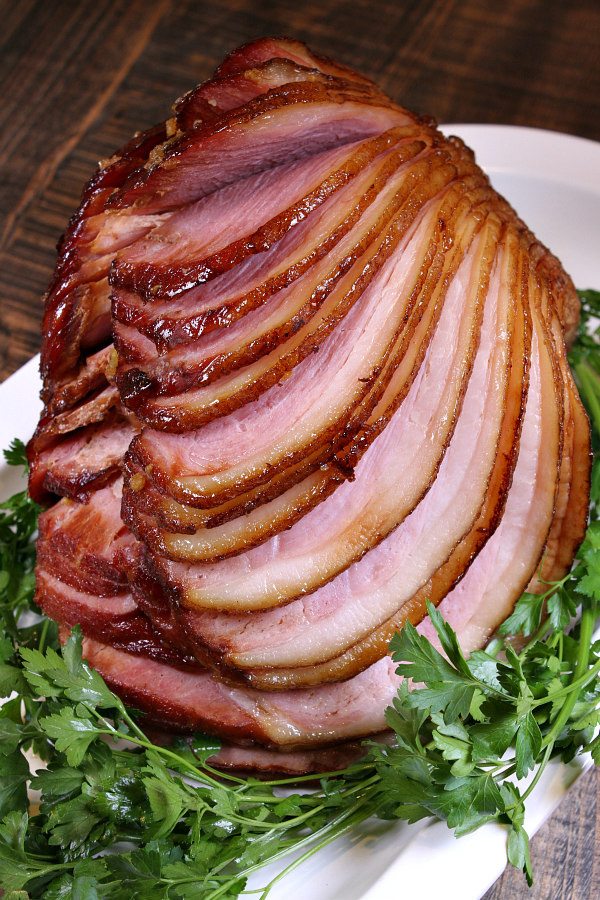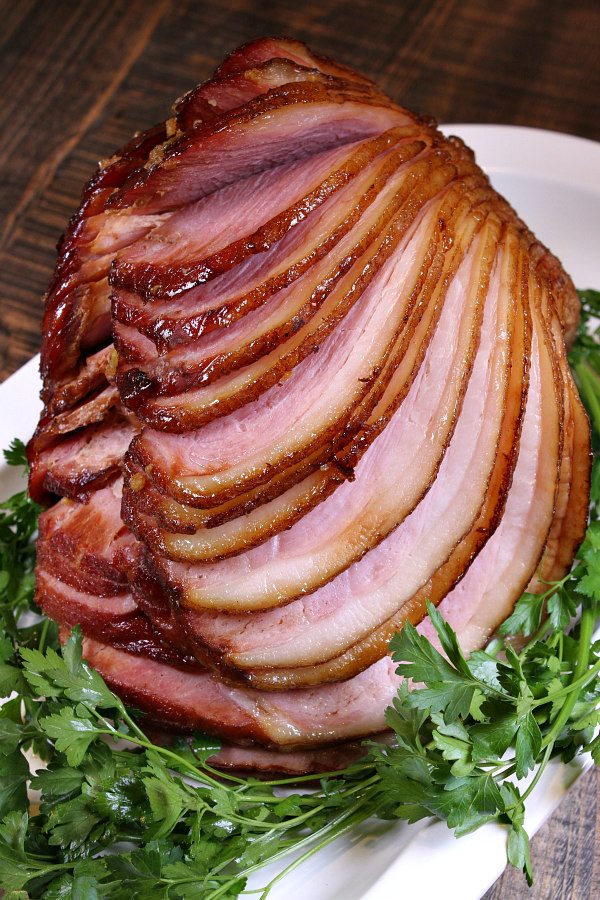 I love that this recipe is so incredibly easy to make.  The ham is simply roasted in the oven.  A sweet glaze is brushed on toward the end of baking.  And it turns out so perfect!
This recipe is exactly what I needed to make entertaining easy.  I don't like to feel overwhelmed in the kitchen when I have a lot of relatives milling about the house.  I'd rather prepare a stress-free dinner and have time for visiting instead.  We all loved this ham!
Glazed Brown Sugar Ham
Yield:
12 servings
Prep Time: 10 minutes
Cook Time: 1 hour and 30 minutes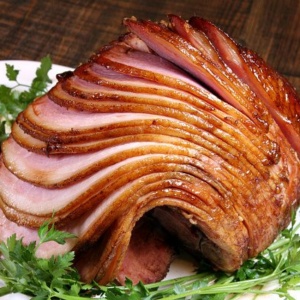 Ingredients:

One 10-pound bone-in, fully-cooked, spiral sliced ham
1 cup light brown sugar
2/3 cup apple cider vinegar
2 garlic cloves, minced
1 teaspoon Dijon mustard

Instructions:

Allow the ham to sit at room temperature 30 minutes prior to cooking.
Preheat the oven to 325 degrees F.  Place the ham in a roasting pan and bake for 1 hour and 10 minutes.
While the ham is baking, make the glaze by combining the brown sugar, vinegar, garlic and mustard in a saucepan and simmer over medium heat until it is thick enough to coat the back of a spoon, about 10 minutes.  This can be made a few hours in advance and reheated before use.
Pour the glaze over the entire ham and continue to cook for an additional 20 minutes or until the ham reaches an internal temperature of 140 degrees F.  Serve.
Here are a few more recipes for ham that you might enjoy:
Disclosure:  There are Amazon affiliate links included within this post.